No complaints from me but the Battle of Britain commemoration seemed to be quite an extended affair with flypasts and all manner of stuff going on this year. If anyone can find fault in it then move along, please, there is nothing to see here.
I count myself privileged to have been at the IWM Duxford for a very special display that saw seventeen Spitfires in formation. It was surreal. Given the choice I am a Hurricanes man and was chuffed to see four of them and a Blenheim getting in on the act.
There came a point when the Spits were wheeling about and the dulcet tones of Elgar 's Nimrod wafted under the Merlins. The message was about sacrifice and how much we owe to the men and women who fought and won the battle. Shiny planes are lovely things but people mean so much more.
These are the inevitable days when the last participants are starting to leave us. While the pilots hold preeminence it is right to remember the supporting players and salute them. There – I just did it. But the pilots reign supreme, a vestige of the aces of an earlier war as if they had the last of innocence before the bomber boys blew any frayed notions of chivalry away. Well that is simplistic claptrap, isn't it? But it is a sentiment that has gained some credence depending what channel you watch. The Battle of Britain pilots have earned collective nobility we will honour for years to come and I hope forever – but times change and having the best available info about them is essential.
I've said previously that the B of B book war has been intense but the big hitter is here like a night watchman coming into the middle order and smashing the ball all over the outfield for an innings saving fifty. I think a cricket analogy has it covered. This is the third edition of this monster but it is the first time I've seen it. The book is a substantial lump, like a Merlin engine block. It is neither cheap nor visually stimulating if I am honest and you won't want to prop it on your lap unless you like getting pins and needles. Happily weights and measures do not apply to great books.
This is a consummately produced reference work of stunning proportions. The thing lives and breathes as the author adds and subtracts names and details on the 3,000 pilots named in the previous editions. It remains a work in progress, definitive in every respect except, perhaps, in the mind of the author. He says as much in his introduction. The research goes on, there is no stopping. Even now tangible connections elevate pilots to the hallowed list or revisions relegate others. Maybe be there will come a point when a degree of backslapping goes on when there is nothing new to add. Perhaps our night watchman can come back into the pavilion at tea before declaring.
The author provides an A to Z of airmen who fought in the battle for Britain. Most come with a thumbnail headshot and each has a pen portrait of essential details where known. Some remain mysteries, bringing to mind stories of men who arrived at a squadron and went straight off to die in combat before any introductions. It happened.
The majesty of this book is in the decades of research and not in appearances. In actual fact it is crisp, business-like and easy on older eyes and very tidy. I like tidy. As a reference work it is gobsmacking. Last year i was stunned by Trevor Henshaw's astonishing Great War aviation bible and here is something equally immense. I don't think I can add much else unless we want to ponder how much life it represents. Maybe that's a bit deep, but the Battle of Britain does this, still. Come back in five years to see how deep the connection is eighty years on.
I will use this book. That's what it is for. If you are doing any historical work related to the battle this book must surely be essential. It has authority and passion running through it and that's about the measure of it.
Reviewed by Mark Barnes for War History Online.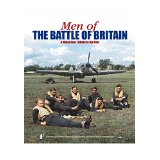 MEN OF THE BATTLE OF BRITAIN
A Biographical Directory of The Few
By Kenneth G Wynn
Frontline Books in association with the Battle of Britain Memorial Trust
ISBN: 978 1 47384 767 5