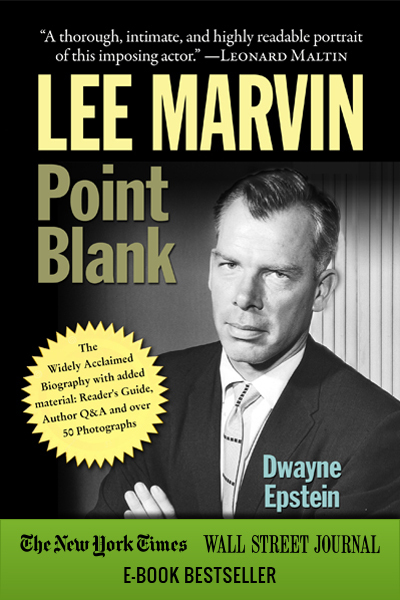 Because I read so much military history by choice I occasionally need a break and seek out something different to perform a reboot of my addled brain.  That time is now. By chance I was offered this book by the author's astute publisher and it arrived in rapid time from across the pond.
By coincidence this is also the time of year I attend a traditional fund raiser in aid of Combat Stress and this time out I was in the audience for the veteran war reporter Martin Bell who has a singular view of things, some of which resonate and others that don't. It was a pleasure to hear such a distinguished journalist give a lecture even if I didn't agree with all of it. I digress…
The connection here is the often well-publicised antics of Lee Marvin, one of my favourite film actors who happened to appear in a number of memorable war films. Aside from his perhaps underrated acting abilities, his "hell raiser" status was assured and, to the delight of elements of the British media he had some legendary sessions with those other prodigious caners Richard Burton and Oliver Reed amongst others. Marvin had a deserved reputation as a hard drinking tough guy. What we learn in this immensely readable biography is how Marvin earned his notoriety and how the legacy of his wartime experiences left him damaged both physically and mentally. It was the latter that accounts for much of his behaviour during his acting career.
My late father in law, who saw many deeply unpleasant things during his war service would look at modern day coverage of PTSD and always said his generation "didn't suffer stress".  With all due respect we know this is a fallacy guys like Jim chose to believe for reasons of their own. Marvin was a marine who did his share of fighting the Japanese. After a succession of adventures he was seriously wounded and did not recover in time to face combat again before the war ended.
Throughout his acting career he exhibited a range of behaviours that today would be identified as post-traumatic stress disorder. During his time, even with advances in psychoanalysis there was no consistent way of treating cases. So Lee Marvin went out into the post war acting world and let off steam in his own particular style.
The actor's military career takes up only a small part of this otherwise fascinating book. But the emphasis is really on what the war did to him rather than an extensive look at his time in uniform. Don't let this put you off. Think of it as an extension of a commitment to remembrance. So many men came home emotionally damaged and they should be included in our thoughts. Marvin should be revered for his contribution to victory over Japan as much as his movie fame. He happened to make a couple of war movie gems – the Dirty Dozen and the Big Red One perhaps resonate the most, I have always admired Robert Aldrich's Attack!in which he played a politically ambitious officer pressuring the cowardly Eddie Albert.
Marvin carried the practical side of his military service with him all his life. He was one of a few actors who had combat experience and he used his knowledge of weapons well whenever he needed to in his film and TV career and always quick to put down war like talk from other actors who hadn't served.
Like many more veterans than we perhaps realise, Lee Marvin was a troubled man deeply affected by his experiences in uniform. He could behave disgracefully, at times boorish or violent and scared a number of his cinema contemporaries.He had not enjoyed the happiest of childhoods, having an awkward relationship with his mother. He was dyslexic and struggled with formal education. As a kid he learned to fight to defend what he cared about and this pugilistic attitude stayed with him all his life. He was a very complex individual.
This book has much to divert to the military reader. We learn about a legendary star of the big screen who was much more than a cinematic thug or gunslinger. Marvin was a combat veteran who was proud of his service and made the most of his experiences in civilian life. He might not be everyone's cup of tea (or name your own poison) but he left a memorable legacy of movie moments. In this book you can learn there was so much more to him than tabloid tittle tattle.
After the Combat Stress event my mates and I moved on to a quiet place to polish off a couple of Old Fashioneds away from the frenetic pace of London life. This seems to be quite appropriate when I think of Lee Marvin and the charity we support. I doubt if he would care, but I salute him anyway. He was the real deal and a world without characters like him can be such a dull place.
Reviewed by Mark Barnes for War History Online.
LEE MARVIN
Point Blank
By Dwayne Epstein
Schaffner Press
www.pointblank.com
ISBN: 978-193618257-2