Here we go again with a roundup of recent Great War titles in the Images of War range from Pen & Sword publishers. For the sake of new visitors to WHO, if you haven't seen these books they offer a really broad range of subject matter from a who's who of authors and photograph collectors. The strap line 'rare photographs from wartime archives' is just that, a strap line – you can't take it literally. But this series has frequently offered up many superb books that are great value for money and while there are inconsistencies it remains a great source of archive photography. Some let the pictures do the talking more than others and the format is flexible enough to do the broad sweep stuff or more individualistic history. These books will usually cost you less than twenty-five bucks or fifteen quid. Nuff said.
First up is the first of two recent books by Ian Sumner I have in my 'to do' pile. One of his earlier works, They Shall Not Pass, is a firm favourite. I spent several days on the Verdun battlefield recently and have to say it is a most extraordinary place. I have been out on the trail for twenty years and had only managed a single day at Verdun back in 2006. It would take weeks of touring to do the place anything like justice.
The German plan was to draw in and kill thousands of Frenchmen to shake France and force her to the negotiating table. It was not about conquest. It was to be the honey filled jam jar to the French wasp. But the Germans underestimated French resolve and had not built up adequate reserves to see through their plan. In the event, Verdun became a watchword for death and suffering for both sides.
This wonderful book is crammed with an eclectic collection of imagery depicting the French Army during the battle. The author's impressive background in French military matters helps the thing along. The photography does all we could expect, showing the mindboggling scale of the fighting at Verdun. The destruction was off the scale and I suppose in WW2 terms it would be up there with Stalingrad. But it is wrong to place Verdun above events elsewhere on the Western Front. The Somme and Third Ypres were fought on very different terrain. It is the ground that marks out the singularity of these battles. Flanders was a bog, the Somme was on chalky downs and Verdun took place in a steep river valley where the topography was dominated by ridges and spurs. Having seen the Gallipoli battlefield, I can say Verdun is similar in many ways, especially inland of Anzac.
Verdun is characterised by the many fortresses and fortified places ringing the old city. That many of them featured so heavily in the battle is clearly seen in Mr. Sumner's book. Douaumont and Vaux may top the list in terms of reputation and scale, but there was bitter fighting for others and the scale of destruction caused by artillery of all shapes and sizes was immense. It is all captured in this book; along with a stream of images depicting the ordinary French soldier, Poilu or Bon Homme, the choice is yours. Great stuff.
THE FRENCH ARMY AT VERDUN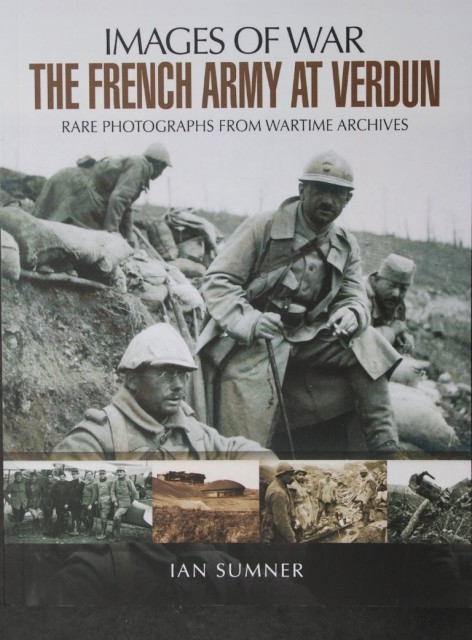 By Ian Sumner
ISBN: 978 1 47385 615 8
Bob Carruthers is a prolific author and we have seen a number of his books on WHO. The two on offer, today, are pictorial anthologies depicting the British and German armies during the Great War. To my mind, this corner of the WW1 story has become a little crowded, but these books fit exactly into the sphere of interest discussed in my introduction. I have seen some of the images in both books before and it is a given that many will turn up in compendiums like these; I have even worked on the original negative of one of them. But, I have to say I really like both books here. They have been put together well and they tell a story.
Mr. Carruthers keeps the interpretation to a minimum and cracks on with showing a superb range of images. Both books have their strengths and I have to say it is the German book that wins for me. With German subjects, any book is always going to overlap with the work of Jack Sheldon and this is definitely the case here. I am pleased to see a look at the British at the first two battles of Ypres because they are connected and it all makes sense. Views of Royal Marines at Ostend and elsewhere are a nice change. The quality of some of the British images is a little poor compared to the German stuff and I am always intrigued where the originals (or more probably third, fourth or fifth generation copies) come from. But the packages both work, and these two books do exactly what this range does best. Recommended.
THE BRITISH AT FIRST AND SECOND YPRES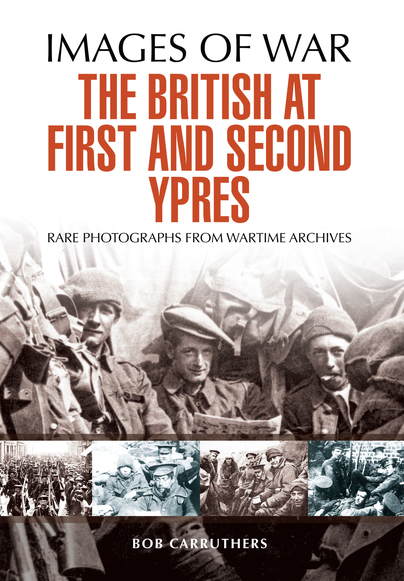 ISBN: 978 1 47383 607 5
By Bob Carruthers
THE GERMAN ARMY ON CAMPAIGN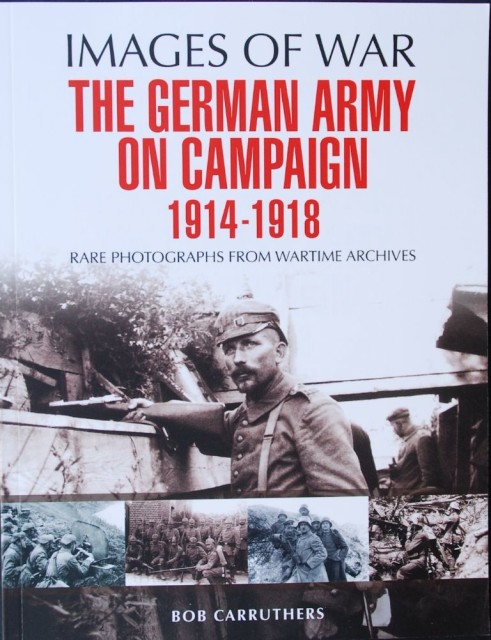 ISBN: 978 1 47383 782 9
By Bob Carruthers