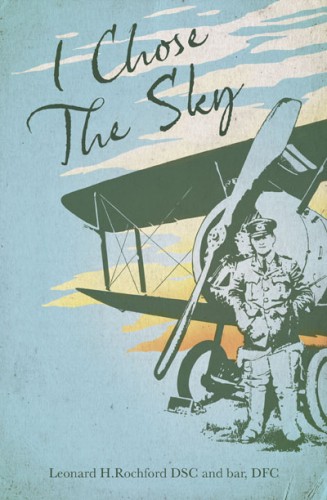 Leonard 'Tich' Rochford achieved twenty-nine victories as a fighter pilot during the Great War. His genuinely lovely account of his war service was first published in 1977, quite late by many standards, but the old mantra better late than never applies. He passed away in 1986. He served with No3 Naval Air Squadron that became No203 Squadron RAF when the force was founded in April 1918. He flew a range of aircraft, but rather appropriately for the classic image of a fighter pilot; it was in a Sopwith Camel that he wreaked most of the havoc credited to him.
Grub Street are to be applauded for the deft handling of biographies like this one. They don't mess with the text or make it acceptable to a modern audience and as such these books are wholly authentic. I was so pleased that similar volume landed on my doormat on the day I finished reading this gem. These books are pure gold.
Mr Rochford takes us through his training, first as a private individual and them with the Royal Naval Air Service. We see him on the Somme, in Flanders, on Home Service and during the Hundred Days after the Kaiser's last throw of the dice. He doesn't get involved in emotions or even very much about his private life. Everything is discreet and measured in a style of a lost Englishness many regret to see passing. This seems like a book out of time in many ways but make no mistake, this is a quality product, pure and simple.
How a book dealing with so much excitement, death and tragedy could be so genteel really speaks volumes about the author, who was clearly a man possessed of immense dignity. You cannot help but like him. The forward is by one of his COs – the great Canadian ace Raymond Collishaw who tells us Rochford had a gentle unassuming manner but he was 'hell on wings' in the air. Rochford was, the real deal. He was a killer.
I really enjoyed the chapters taking us to Flanders with his service flying from Bray Dunes with mentions of places I have visited in recent times. Connections like this only serve to make a book more real. His account of learning to fly and all the other details are quite enthralling. His eloquent remembrance of lost friends and colleagues is really touching.
In short, this volume is a genuinely lovely read. Grub Street have really got hold of this stuff and I look forward to many more of these personal accounts.  Leonard Rochford was a recipient of the Distinguished Service Cross & Bar and the Distinguished Flying Cross. He served his country in both world wars. Like his book, he was a class act. Highly recommended.
Review by Mark Barnes for War History Online
I CHOSE THE SKY
By Leonard H Rochford DSC and Bar, DFC
Grub Street
ISBN: 978 1 90980 832 4