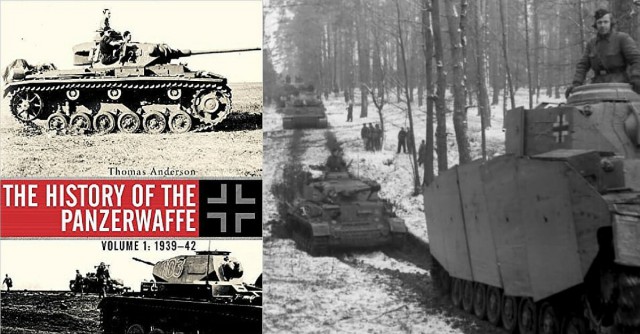 The latest from Osprey Publishing really is a wolf in sheep's clothing…..or a tiger!
The History of the Panzerwaffe breaks from the traditional paperback that we all know (and love) from Osprey and hits us fairly and squarely between the eyes like and anti-tank round with this gigantic, armour plated beast of a book. It's over 300 pages and weighs and feels as a book on this subject should…..bullet proof.
Cliches out of the way what's in store upon opening the book?
Well for one I was personally glad to be met by the usual, no nonsense logical approach of an Osprey publication. It is well laid out and easily followed as would be expected yet still manages to excite and inform. Gone are the excellent colour plates and artwork associated with usual Osprey titles but this doesn't detract from the book one bit. Technical data and concise yet educational text help to move you through the book with ease without bogging you down along the way. Then come the pictures!
If your a modeller, re-enactor or just a budding historian then this book will feast your eyes. The pictures throughout are fantastic and not at all predictable as if often the case with some books. Gone are the 'usual suspects' and in their place are new and unique photographs, many I haven't seen before. It never ceases to amaze me where these new photographs come from but rest assured there are plenty here for all.
They're clear, well printed and have an abundance of descriptive text accompanying each one so no one is left wondering.
There are footnotes on panzer tactics and formations and detailed accounts of the tanks in battle and how they fared in the various theatres of war. In all there are twelve chapters, all expertly laid out, from the conception of the tank during WW1 to the Poland and France Campaign of 1940 through to Africa and the heat of the desert campaign all the way to the deathly temperatures of the Eastern Front.
Of note here is the inclusion of the Condor Legion who fought during the Spanish Civil War. It was during this war that many panzer tactics and skills were honed and one reason why the success of the panzers and their crews was, for the most part of WW2 unequalled.
It's interesting to see the inclusion of this campaign even though it's well known it's rarely written about so, again, top marks to author Thomas Anderson and Osprey.
Of the book in physical form it's very well made, well bound and fantastically presented.
At £30 or $40 it's good value for money and would make a wonderful gift such is its beauty. Would I buy one? Yes, I would; but I wouldn't be giving it away at Christmas. This book will sit on my shelf and there it will stay. This book is for keeping.
Buy.
Read.
Keep.
Reviewed by Phil Hodges for War History Online.
THE HISTORY OF THE PANZERWAFFE
Vol 1 : 1939-1942
By Thomas Anderson
Osprey Publishing
ISBN 978-1-4728-0812-7
Image: Bundesarchiv