This latest offering from Haynes is written by Tony Hoskins and features the Douglas A-1 Skyraider. Haynes manuals have proved to be a big success, covering a wide range of subjects written by people who have a great knowledge on the relevant subject and this is no exception thanks to Tony Hoskins.
Tony is an aircraft engineer and hobby pilot who runs South East Aircraft Services here in England, specialising in the maintenance and restoration of classic and vintage aircraft. He is also an engineer at Kennet Aviation in Bedfordshire, England, which restores and maintains warbird aircraft including the AD-4NA Skyraider, G-RADR that often appears at air shows here in the UK during the summer months.  Tony is also the author of Flight from Colditz, published in 2016, telling the story of the attempt to escape from the infamous Second World War prisoner of war camp using a glider.
The centrepiece of this manual is G-RADR, a UK based airworthy Skyraider AD-4NA, which not only saw sustained combat in Korea, Algeria and Chad, but also kept its crews safe through accidents, civil unrest; finally escaping the scrap mans axe in the 1980s.
Some of you will know of the Skyraider from its involvement during the Vietnam War often flying low level and dangerous missions, being used for dropping various munitions including napalm. It was a very welcome sight to many a downed aircrew when it would fly on CSAR missions giving escort to the rescue helicopter when it flew top cover protecting the Landing Zone while the rescue helicopter attempted to rescue the downed aircrew.
The Skyraider was considered one of the finest attack and close support aircraft ever built and could carry more payload than a four engined B-17 Flying Fortress. The Skyraider is also the last piston engine propelled aircraft to shoot down a jet fighter; a North Vietnamese MiG-17 which was shot down jointly by Lieutenants Charles W. Hartman and Clinton B. Johnson flying their Skyraiders of Strike Squadron 25 (VA-25) from the USS Midway. They engaged the Mig-17 head on using 20mm cannons impacting direct hits on it before the jet crashed inverted into a small hill. This wasn't to be the only MiG-17 kill by the aircraft during the Vietnam War.
The Skyraider was too late to take part in World War II even though its first flight was in March 1945, entering service with the US Navy in 1946. Douglas built 3,180 Skyraiders in 28 variants before production ceased in 1957, twelve years after the aircraft had been introduced. These included carrier or land based aircraft that were also operated by the US Air Force. It was to enter the Korean War in 1950 where it first saw combat. This is where Tony takes this well illustrated and very informative book after the first chapter recounts the story of how it was conceived.
With his great wealth of knowledge enhanced by being involved with G-RADR he has managed to tell its story, along that of other variants. In true Haynes workshop manual style there are plenty of cutaway drawings, technical illustrations along with more than 260 black and white and colour photos of Skyraiders and their various components during refurbishment and repair.
Whether you are a fan of these Haynes manuals or interested in the history of the legendary Skyraider, this is the book for your collection.
Review by Paul Theobald for War History Online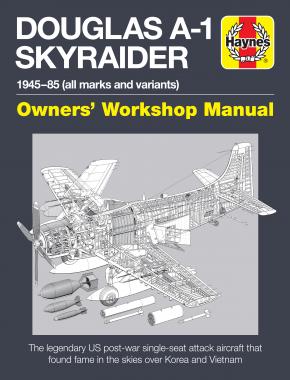 DOUGLAS A-1 SKYRAIDER
1945-85 (all marks and variants)
Owners' Workshop Manual
By Tony Hoskins
Haynes Publishing
ISBN: 978 1 78521 135 5