I am really pleased to see the third volume in this exemplary series from Messrs Langford and Holroyd. There have been countless photo archive books published during the no holds barred centennial-fest of the Great War, and many that I've seen have a happy place on my bookshelves. I will be careful with my wording here: Some books have an authority to them that have no basis in pretense or gloss, while others are out to look cool and a bit worthy. To be fair some of the latter have actually been really powerful and bordering on definitive, but variety is the spice of life and the more the merrier remains my mantra.
The books in this series just go for it in the classic crash, bang, wallop – what a picture! style our old chum Tommy Steele once sang about. They cram a lot in and I have an affinity with this approach because while less is more can be true of some projects, these chaps give us have both barrels delivering a knock out visual punch.
The book is short on interpretation and big on letting the reader see things for themselves. If you see something that piques your interest here, look beyond the book to other resources. It's how history is learned and loved. Books like this are the Saturn V rocket that turns the foggy events of the past into something clearer and worth keeping. I might also say you could end up with five books of the complete series in your library that give you the Great War in about ten inches of shelf space. It depends how OCD you are about these things, I guess.
It is pretty daft to review a book on the basis of its physical dimensions, so what about what counts – the images selected for our delectation? The range is vast and the variety of styles captures the nature of Great War photography really well. The layout is immensely nostalgic, pointing back to the days of pictorial magazines of the past and the style of 'picture pages' that used to appear in broadsheet newspapers. The effect is an assault on the senses and I love it.
1916 was an immense year. It saw the disaster at Kut, the staggering drama of Verdun, Jutland and the Somme. Tanks went into battle for the first time and the air war became a very serious affair as the first great aces took their place in public consciousness. These events are the pillars of this book, but much else was going on in the Middle East, Russia, Italy, the Balkans and in East Africa. 1916 was the year when the reality of world war was beyond doubt.
A London cab driver friend of mine would see something like this book and say it is as subtle as a flying chainsaw. He would not be wrong, but there are layers and subtleties to it that will become increasingly clear as you leaf through it. This is no simple project dumping loads of snaps into available space. It has been done with a keen eye on visual impact combining the most dramatic and mundane events to give them equality across the broad canvas of the conflict. I am chuffed to bits with this volume and have no problem recommending it to you. Once the set is complete it will have become something really special and while I don't want to wish my life away, I will be a little sad to think the job is done.
From my own experience, I can tell you preparing a photo archive book is a singularly draining task. When they are done they leave a hole and filling it is difficult. The same thing can impact on the reader, as you will know when you finish a treasured read. Now that the authors have reached the half way point I suspect the time it takes to prepare the next two will rush by. I wish them well and look forward to their window on 1917.
Reviewed by Mark Barnes for War History Online.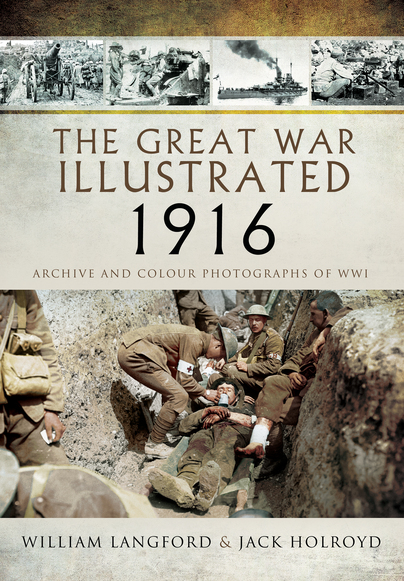 THE GREAT WAR ILLUSTRATED – 1916
Archive and Colour Photographs of WW1
By William Langford & Jack Holroyd
Pen & Sword Military
ISBN: 978 1 47388 157 0