Two new books in the soft backed Illustrated series from Casemate have an unmistakable French presentation style to them and this is no accident. They have been translated from the French originals but retain all the style and colour of their original form. I happen to really like what Histoire & Collections and other publishers across the Channel have been doing and welcome the opportunity to see their books in English, especially when they cover French subjects.
However, to get the ball rolling, Casemate have elected to stay on safe ground with looks at the 101st Airborne Division in Normandy and the fearsome Das Reich Panzer Division. I will be direct and say these books don't really have anything to them I need in my extensive library, but the point of a review is to elicit how good they are for others.
If you are new to the hobby or have only scant knowledge of these two units this book offers a selection of bite sized episodes in their histories accompanied by a number of well-known photographs mixed with others that are less familiar. The books are well presented and have a very clean finish I expect of French publications. The text does a tidy job and the overall effect is pleasing enough, but veteran readers of these subjects will not find a great deal to draw them in. Everyone has to start somewhere and these two books are just as good a place to start as any if you have youngsters wanting something to get their teeth into. If this does not sound like a ringing endorsement it is because I have seen quite a number of books on these subjects and it takes a bit more than this to peek my enthusiasm. I can't say fairer than that. But don't let me put you off.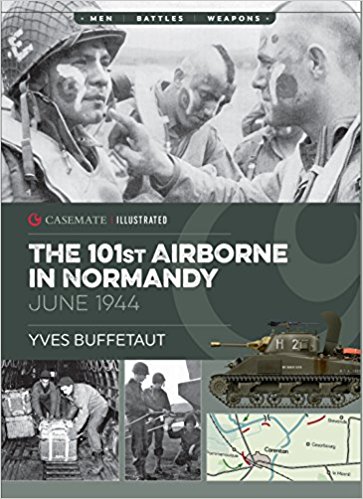 THE 101st AIRBORNE IN NORMANDY
June 1944
By Yves Buffetaut
Casemate Illustrated
ISBN: 978 1 61200 523 2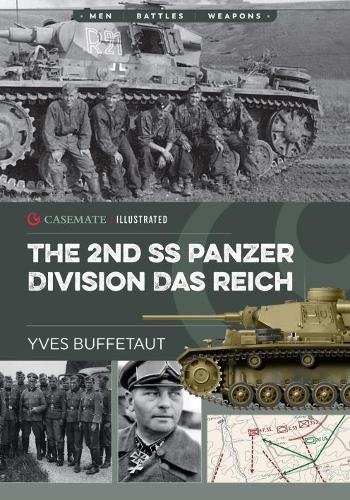 THE 2ND SS PANZER DIVISION DAS REICH
By Yves Buffetaut
Casemate Illustrated
ISBN: 978 1 61200 525 6
I have a strong interest in the work of official and press photographers from Britain's wars and have spent over forty years in the newspaper photo archive trade. My admiration for the wartime snappers knows no bounds and the same must apply to the newsreel cameramen recording similar scenes.
This intriguing book by Fred McGlade takes the form of a more or less verbatim transcript of interviews he recorded with a number of British cameramen serving in the Second World War. There are no frills to the end result whatsoever. The book comes without any fanfare, or, indeed, any photographs; something I found disappointing. But the meat and drink of the book compensates for this by including some quite fascinating recollections from a group of men who did so much to record the war going on around them.
The book works well as both a reference tool and as a gentle read with its conversational style. I think it could have done with some illustrations, because I like to see the faces of the men I am reading about. But the real value is in what these men had to say of their experiences and the author has done us a great service collating his work into a single volume.
If you are studying war photography and reportage then this book will give you insights you will find much more satisfying and accessible than you might get on the Internet. This is very useful stuff.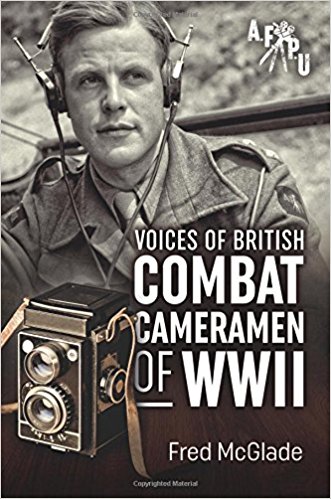 VOICES OF BRITISH COMBAT CAMERAMEN OF WWII
By Fred McGlade
Helion & Company
ISBN: 978 1 909982 79 6
Last up, we stick with the soft backed format with this excellent book from Chris Goss; part the Air War Archive series from Frontline. In it he looks at the Junkers Ju 88 through its development and early years of combat use from 1939 to 1941.
The Junkers Ju 88 was a handsome beast that became something of a jack of all trades. It is good to see it in its early form doing the kind of work it was designed for.
I am bound to say this book has a similar feel to the Images of War range from Pen & Sword and while the badge engineering seems a little frivolous, the quality and value for money of the product itself is never in doubt.
I really don't mind what titles and brands publishers want to use while they are collating interesting collections of archive photographs. The author knows what he is about and has produced a pleasing book that covers all the aces.
Two further volumes complete the Ju 88 story and I look forward to seeing more from this promising series.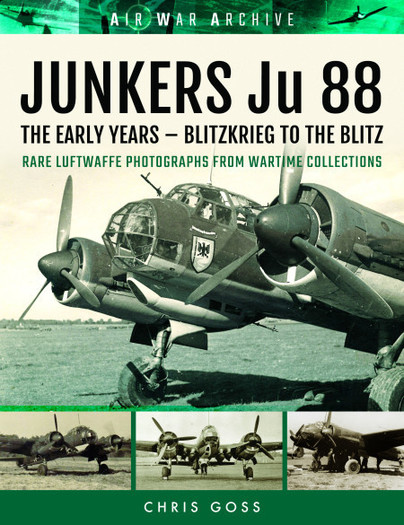 JUNKERS Ju 88
The Early Years – Blitzkrieg to the Blitz
Rare Luftwaffe Photographs From Wartime Collections.
By Chris Goss
Frontline Books
ISBN: 978 1 84832 475 6