I don't get to see many aviation art books doing this job so this collection by Jim Laurier is most welcome. He is not an artist I am familiar with, so, I did the intelligent thing and went away for a look round to see where his work appears. It turns out his work appears in books I have seen from another publisher but I tended to pass them on to my colleague Phil Hodges who has threatened to come back to do some proper work since he stopped flying X-wings against the empire.
This volume is a straightforward project whereby the artist selects ten fighter aircraft from the Second World War. He gives us a selection of images of the aeroplanes and provided a pen portrait of each type. It is all pretty simple stuff and the potential is there for further volumes on bombers etc from the war or other conflicts.
Mr Laurier's choices of subject matter are entirely subjective and while it is obvious we all have our own favourites, the book conforms to a fairly standard top ten of WW2 fighters. We see the Bf 109, Hurricane, P-38 Lightning, Zero, P-40, Fw 190, Spitfire, Thunderbolt, Mustang and Me 262. I suppose a YaK 3 might have made it into the ten or even a Grumman Wildcat; but this is Mr Laurier's book and not mine.
The thing that matters is the art and I am happy to say there are no grounds to be disappointed. In fact that isn't true because I checked out other pieces of his work and saw several that would have chosen for this book. But please don't take this as nitpicking because the work we do see is outstanding.
The artist uses a range of media to do his work and the effects he creates are very pleasing. I would like to have seen more of his sketches and preparatory images to accompany the completed works.
I find the process of creating art like this quite fascinating and have a few books filled with work by the chaps who painted model box art for Airfix and remember the thrill of walking round the hallowed halls of the RAF Club at Green Park where originals by Cuneo, Wootton and Turner, amongst others, provided a sensory overload while I sank a gin and tonic before dinner. A younger me collected postcard sized images of Michael Turner's work. I used to paint a long time ago and if you had the stomach to root around in the loft of my house you would find the bones of an abandoned painting of a Handley Page Heyford bomber amongst the racing cars and raging tides. Maybe one day….
The point of all this is to underline my love for military art – be it Washington crossing the Delaware or Lady Butler's rendition of the Charge of the Light Brigade. Frank Wootton's classic of Typhoon's busting up the Falaise Pocket is one I saw at the aforementioned RAF Club. Don Troiani's amazing visions of the Civil War and the American Revolution are outstanding and I always look forward to updates on his Facebook page. My mate Enzo Maio's tank art is fantastic. You will have seen it on model boxes. War on canvas can be exhilarating. Aircraft fit into this very well and Mr Laurier has added himself to my watch list.
The artist's choice of subjects for an otherwise impressive book aren't particularly exciting or even vaguely challenging but this is honest to goodness stuff and there is much to enjoy. I like this book and see it as an obvious Christmas pressie for the aviation buffs and budding artists out there.
Reviewed by Mark Barnes for War History Online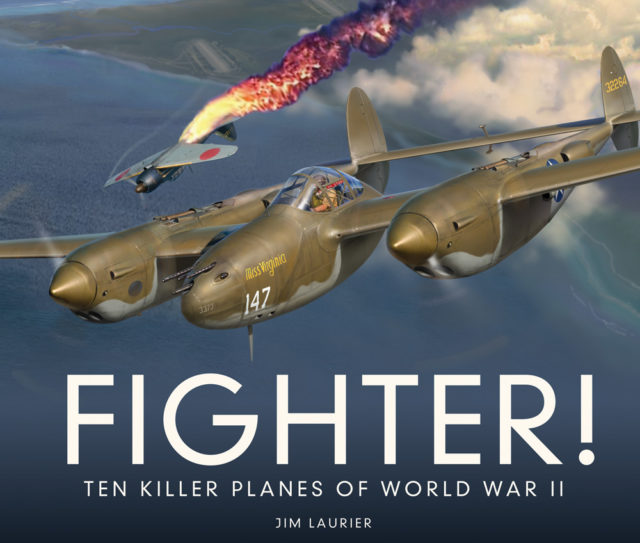 FIGHTER!
Ten Killer Planes of World War II
By Jim Laurier
Voyageur Press
ISBN: 978 0 7603 4952 6