When it comes to tanks this centenary year has been filled with highlights. Back in February, I got to see the original plans of the very first Mark I at the Tank Museum. On the same day, I got to sit in a Mark IV Male. In May I managed to get my best snap yet of the famous Tiger 131 after a couple of years of effort. This was followed by the brilliance of Armor & Embarkation when I rode in a jeep leading a column of armoured vehicles through Bovington and into the grounds of the Tank Museum itself. Later in the year I finally got some decent snaps of Jon Phillips' magnificent StuG III Ausf D rumbling round the arena at Beltring. That was swiftly followed by Tank 100 in London when I spent the day with the Tank Museum's running replica of a Mark IV as it lumbered along from Trafalgar Square to Horse Guards where it lined up with a Challenger 2 and mounted troopers from the Blues & Royals. And then there was Deborah….
The lovely Suzanne was determined to see her and contacted the gentleman who led her recovery from the battlefield where she had been buried for eighty years. It took a bit of organising but we made it out to Flesquiéres and spent a memorable hour marvelling at one of the most extraordinary relics of the Great War we will ever see. We spent a couple of days on the Cambrai battlefield visiting important locations from the story and found our way to a few others that are a bit special. History blurs its lines in places like this and we even found time to take in a field where the headquarters of 8th Panzer Division set up camp in May 1940. But Deborah, a twisted and torn shadow of her former self was the star of the trip and probably of the year. We will never forget our time with her but it was just as important to walk round to the British war cemetery to pay our respects to the four members of her crew who died fighting in her in 1917 during the Battle of Cambrai. They share the cemetery with several other tank men. Our plans to return to Flesquiéres are advanced and we cannot wait to go.
The lure of the village and its place in tank warfare history is immensely powerful. The Battle of Cambrai gave the tank men the opportunity to show what they could really do after a difficult start. Doubts about the efficacy of tanks had surfaced in Flanders where the lumbering beasts were defeated by the terrain rather than the enemy. Memories of Flers-Courcelette had evaporated by the start of Third Ypres and the failure of tanks to make any significant impact on proceedings might have been their death knell, but common sense prevailed.
At Cambrai the tanks were going pretty well until they came up against the defenders of Flesquiéres where a screen of German field guns succeeded in knocking far too many out. The story has echoes of the British armor in a later war, lured onto Rommel's anti-tank gun screen time and time again. At Flesquiéres the tanks did amazing work but the German gunners were bravery personified and made them pay a very high price for the glimmer of success that presaged the all arms war to come a year hence.
This outstanding book by John A Taylor tells the story of Deborah, her sisters and the tank pioneers of the latter part of the Great War. It is quite simply the must read book of 2016. Make no bones about it; Mr Taylor has given us one of the best tank warfare books ever written. It will turn your head away from the sexier armor of World War II and beyond, concentrating your mind on the amazing men who fought in the fickle beasts that were the first tanks to see combat.
Crawl inside one of these things and you will be struck by the claustrophobic nightmare facing the crews who fought in them. There is little room inside as it is without the addition of men, ammunition, food, water, petrol and personal kit. There was just enough space for a few homing pigeons and a used shell case to piss in. Unpleasant just doesn't cover it. King George V went for a short ride in one and quickly realized he had seen and heard enough. All this without having to clatter over a broken landscape splashed with incoming fire from a determined enemy.
Mr Taylor treats Deborah as the increasingly important figure central to the story of Cambrai. But this is done with great care allowing the author to bring on board a huge cast of other characters. While Deborah's primacy is never in doubt, Mr Taylor delivers a history where all men, tanks and guns are created equal. The crews are treated with quiet reverence and this has a collateral impact on accompanying British infantrymen and, significantly; the Germans who deserve our respect. There is so much information flowing from the beguiling narrative I was blown away and just like the movie song says I learned things I never knew I never knew.
The book comes with an array of maps and some quite stunning archive photos. I am minded to say that while I fully understand the importance of house style and economics, I think this book could have been a little more grand. Perhaps it could have had a colour section showing more of Claude Rowberry's wonderful paintings and the majesty of Deborah as she is today. Then and now style mages of the battlefield might have added to the effect. I just think that this wonderful book should have been allowed to stand out rather than slip into the ranks of so many others in the publisher's range.
Regardless of this, Mr Taylor has written one of my books of the year. As a tank warfare book it stands out as a future classic. The effect is to draw me in to the history of tank warfare from 1916-18. Britain's tanks were not invulnerable, but they had something others mimicked but could not beat on the battlefield. They were crewed by some of the bravest men the war produced. Equally courageous men would give all to stop them. Mr Taylor honours them all, friend and foe alike. At war's end many of the rhomboid monsters became monuments in British towns until they faded away. Rust never sleeps. You can see some in museums but they are few and far between. Happily Deborah survived as a force for good and she is destined to move into a new home adjacent to where her crew are buried just yards from where they died in 1917.
Right now all you can see is a hole in the ground but a visitor's attraction based on the muddy tomb where Deborah lay will retain the spirit and memories of how she was found back in 1998. The lovely Suzanne and I cannot wait to see her there. This wonderful book will take you to the Cambrai battlefield of 1917 and give you much more besides. So much so you may find the book gives you enough. But I suggest you make plans to visit Deborah. Once seen, never forgotten.
Reviewed by Mark Barnes for War History Online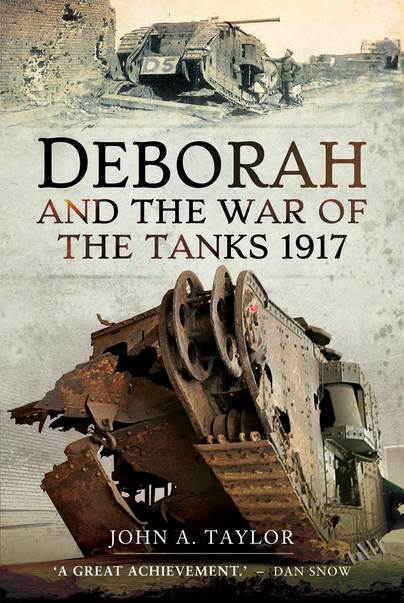 DEBORAH AND THE WAR OF THE TANKS 1917
By John A Taylor
Pen & Sword
ISBN: 978 1473848344