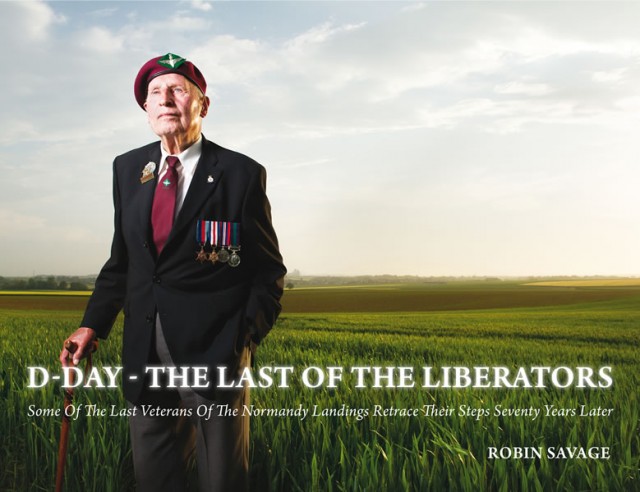 On the day Operation Goodwood started in July 1944; Kenneth Sturdy found himself in the unenviable position of being the target of bombs dropped short by an Allied aeroplane attacking Caen.  Diving into a ditch, he was lucky to survive and, amazing yet true, found he shared it with his brother Norman who, by chance had sought shelter in the same hole. They had not seen each other for a long time and providence had brought them together for a brief moment in the story of the Normandy campaign.
In 2013 photographer Robin Savage took Kenneth back to that field at Pierier-sur-le-Dan and after sixty-nine years and despite the fact the ditch had been filled, he was able to pick out the exact spot.  This is just one of the stories that goes with a book that has had such a profound impact on me that my first attempts at writing this review descended from daft hyperbole into drivel in a succession of ever more stupid paragraphs. I was talking bollocks and it all had to go.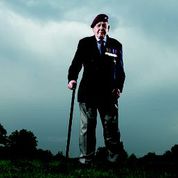 Gordon Newton of 9 Para
Photography is my life long passion. It is the only thing I am good at and I have done some really pleasing work seen in print, on websites and the odd toilet wall. But the notion I might leave something tangible behind is a concept I have struggled with.  The very nature of photography can make it an intensely personal medium. It can be instant and unforgiving. It can reveal something incredible out of all manner of weird and wonderful situations. It can lie. It is whatever you make of it.
Robin Savage presents all the classically positive elements bound up in the art in this superb book. He has produced something very special; it is very modern and yet nostalgic. It takes us back seventy years to a dangerous and uncertain world when everything we take for granted was held in the balance. He gifts us a personal connection with a group of Normandy veterans that would be impossible to enjoy without a direct link to someone who was there in the summer of 1944. I fully understand why it has been something of an obsession with him.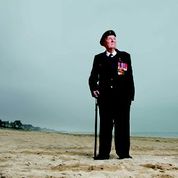 Peter Thompson of the Royal Navy pictured on Sword Beach
Upon attending the launch of the book I had the privilege of hearing some of the men featured describing their personal battles for Normandy. I love the spirit of confidence and defiance they exhibit. Still tough, still proud but losing the battle with the aging process, they have a bearing I find myself being intensely jealous of. They were soldiers once and that life is as fresh in their minds today as it was seventy years ago.
They look out at you from the pages of this book and reveal something immense, something wonderful. For a time they are yours and you might not want to let them go. They have been made to appear invincible, not in some theatrically trivial way, but in their dignified detachment from much of our modern world.
I suppose I am trying to put them in contrast with a culture built up around the men swept up in the phenomenon that was Band of Brothers or the Great War veteran Harry Patch. It was as if they had become something like para-celebrities and I suspect they were unsettled by it. Everyone seemed to want a piece of them, making the extraordinary from the ordinary and creating images far from reality. A book like this should give us just enough of the people featured to keep for ourselves without going in to deep.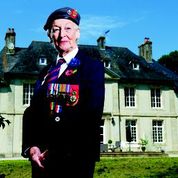 Vera Hay of Queen Alexandra's Imperial Military Nursing Service worked at 79th British Military General Hospital near Bayeux
I'm not going to crib any more from the book because I want you to get your own. But suffice to say the stories you read are a mixture of all the elements of the Normandy campaign we have come to know. Is there anything essentially new in this? I am not so sure. Is that necessary? Not at all, these stories act as an everyman for all of the people who served in Normandy, living and dead.
But what is new is the format – taking the veterans to a key place from their Normandy experience and photographing them in situ. The impact is intense.  It is quite apart from ordinary portraiture or the then and now concept I love so much. Instead it makes then as now in a wholly different atmosphere I defy you not to find immensely appealing.
The story behind the book is as fascinating as the end result. Robin described the project taking over two years of his life and how he became immersed in both developing contacts with the veterans and building trust with them. He described the logistical challenge of making a recce of all the locations and dealing with landowners who all proved to be very accommodating.  He had to take into account traffic and so many other factors that would have an impact on his schedule once the shooting days were upon him. The video that accompanies the book gives us a real impression of what a challenge the project was.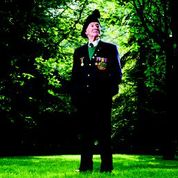 John Shanahan of 2nd Bn, The Royal Ulster Rifles
While he had planned his shots, nothing could stop the weather or other circumstances dogging his timetable. At one site that had a beautiful background, the farmer had installed rows of plastic barrels just before the shoot. As Robin says, it was always essential to have a plan B!  Time for shoots was minimal to say the least with many veterans having demanding schedules to visit all the people and places they wanted, it was never easy to get them to the appointed field, outbuilding or lane to get the photograph. Robin and his companions had a 360 square mile area to cover to get to all the locations featured in this book. Knowing these facts gives us a true appreciation of what it entailed and, I think, it makes the finished article even more special.
I was touched by Robin's strong feelings towards the veterans, many of whom are now confirmed friends. It must give you a great feeling to know you have achieved something appreciated as much by the subjects as by those who will look at the photographs.  He sees the book as a thank you to them rather than a memorial, though I think it represents a slice of both.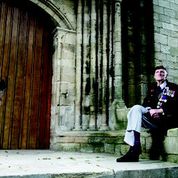 James Baker, DSM, of the Royal Marines
Robin is keen to offer huge thanks to the veterans themselves and everyone who has helped with the project. He singled out particular thanks to IWM Duxford and the Airborne Assault Museum for all their help.  His work is on display there at the time of writing.
Normandy has a place in my heart that never fades. It started with a cinema trip to see the Longest Day in the 1960s and was built on with reading Cornelius Ryan's great work and my first brief visit to Arromanches in 1975. Normandy campaign books fill my house and wonderful memories of trips there with family and friends are as strong as ever. While I have discovered so much more since those times, it is the cradle of my journey on the history trail and I am hankering to go back soon. I won't however, be at the anniversary events. It has the feeling of a circus to me and I will leave it to those who enjoy that sort of thing and more importantly to the men and women who served there seventy years ago. Robin will be there catching up with his new found friends and I hope they are pleased with what he has achieved.
I have no reservations about being a cheerleader for this book. It has had an effect way beyond my expectations and I hope it does really well. It isn't often I find myself so affected by a book. I salute the author. He was making something deeply personal and yet he shared it with all of us.  I hope and trust it has the same impact on you.
An exhibition of the photographs will be running at the Airborne Assault Museum at IWM Duxford until December.
Check out the video recording the making of the book at the dedicated website:
http://www.lastoftheliberators.com
~by Mark Barnes for War History Online
D-DAY – THE LAST OF THE LIBERATORS
Some of the Last Veterans of the Normandy Landings Retrace Their Steps Seventy Years Later
By Robin Savage
Helion & Company
ISBN: 978 1 909982 31 4