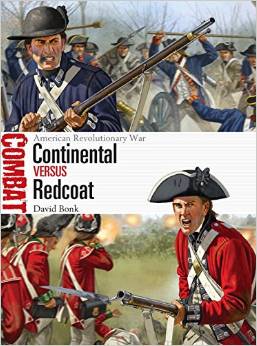 I am really stepping into the dark with this one and getting way outside my comfort zone. I don't have anything like a decent knowledge of the American Revolutionary War, as it is named here, at all. I have to go back to about 1973 when the American War of Independence featured for about a term or two in my lessons at an east London secondary school. We also did the French Revolution, bits on the Tudors and some things on the Bolsheviks but it's all a haze now. I got my highest exam grades in history and they remain nothing to write home about. My teacher, Dr Rahman, was a good bloke but he never really confirmed a belief he was enjoying what he was doing. I last saw him a few years later when he ran out of a pub to ask me for change to use a phone.  The only serious reading I have done previously is Mark Urban's superb book Fusiliers looking at the experience of the 23rd Foot, the Royal Welch Fusiliers in America. That's that.
So, up steps David Bonk with this thoroughly educational but far from lengthy book in the inimitable Osprey style. The book looks first at the differing tactics and quality of American and British troops before going on to describe three battles, Brandywine; Monmouth Courthouse and Cowpens. The author completes the book with analysis of the battles and a look at the fate of some of the regiments involved up to the time the British surrendered at New York.
The book has a really pleasing combination of maps and contemporary or historic images (bearing in mind that so much established art from this period of warfare was made later throughout the 19th century) coupled with new artwork by Johnny Shumate that really works well. The text cracks along and is not short of historical quotes from a wide range of sources showing that the author is no slouch.  We learn how soldiers were dressed and equipped in addition to the evolution of their field manoeuvres and tactics. All this stuff matters if events on the battlefield are to make sense. I really like the way modern views of the battlefields are interspersed throughout the book. It goes to show how thorough you can be even within the confines of eighty pages.
To my mind books like this do the right thing and encourage the reader to learn more. It might be easy and shrug stuff like this as being for a younger audience but this is simply not correct. Yes, the book is colourful and heavily illustrated but I found it to be a bloody good read and it has done a proper job. The battle descriptions are carefully composed and make it easy to get a grip on events. There is no hint of bias towards either side and this is entirely correct. You really cannot go wrong with books like this especially when they are going to cost you less than £12 or $20. Great stuff. These books are also available in PDF and ePub formats. More please.
Reviewed by Mark Barnes for War History Online.
CONTINENTAL VERSUS REDCOAT
American Revolutionary War
Combat series
Osprey Publishing
ISBN: 978 1 4728 06482