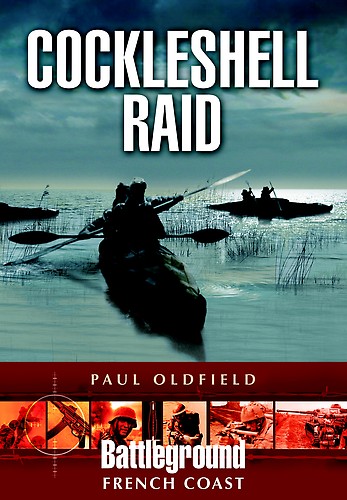 Ask anyone about Operation Frankton and they'll most probably look at you blankly.
However, ak anyone about The Cockleshell Heroes and they'll get mildly excited and quote from the 1955 black and white film of the same name staring Trevor Howard,  Anthony What kind of fool am I? Newley and six canoes, or Cockles; to give them their correct deceptive codename. For Operation Frankton became known to many as The Cockleshell Heroes, a daring, if not somewhat doomed, commando raid on Axis shipping in the French port of Bordeaux in 1942.
The story and background of the raid is as complex and as difficult to understand as any other I could think of. This book, however, shows there is clearly no shortage of archive photography, eye witness, and indeed, participant accounts; so why isn't it better known and better documented? The answer is in reality it was one of many other raids the Allies carried out in German occupied France during WW2 and also, to sound harsh, its effect was pretty minimal. That said, this book is fantastically and painstakingly researched and holds a wealth of knowledge on the Royal Marine  Commandos, or Royal Marine Boom Patrol Detachment as they were officially known,  who carried out the audacious raid.
As the title suggests, the book is a battlefield guide but it goes way beyond that on information and stories.
It begins with the background story and conception of the Cockleshell Heroes by Major Herbert 'Blondie' Haslar, a successful raid pioneer and proven causer of havoc to enemy shipping. It covers the unit's somewhat eventful training period at Southsea right through to the actual raid and subsequent escape via the Frankton Trail into Spain.  The more you read the testimonies the more you realise just how dangerous and perilous this journey was. You also realise just how controversial it was from start to finish.  It was planned initially that twelve men in six canoes would participate in the raid. One canoe never even left the Royal Navy submarine that took them to the Bay of Biscay after it was damaged onboard!
By the time of the actual raid (delayed due to high tides) there were only four men and two canoes left. Still, the raid was carried out. Heroic it may have been, effective it was not. One thing you can't deny though is the courage and bravery of these men The Cockleshell Heroes.
Review by Phil Hodges for War History Online
COCKLESHELL RAID
By Paul Oldfield
Battleground Series
Pen & Sword
ISBN 978 178159 2551