Here we have the second volume of the quite extraordinary warship recognition albums made by a remarkable man named Richard Perkins before the Second World War. He held a vast collection of warship photographs and produced beautiful drawings of the ships that interested him so he could plot the differences in classes and following refits to aid in the identification of particular vessels.
If anything, this volume is even more appealing than the first. Here Mr Perkins turns his attentions to the great ships of the latter part of the 19th Century when many were something of a half-way house between steam and sail in what were more colorful times before the advent of what was affectionately known as Grey Funnel Lines. Those amazing ships, including HMS Warrior, which you can see at Portsmouth Historic Dockyard, were a world away from the game-changing HMS Dreadnought found in volume one. It's important to remember that some quite regal combat ships of that age finished their days as humble coal hulks and accommodation ships and were often kept in use after 1945.
The book digresses to look at monitors and aviation ships, from the first seaplane tenders to the might of the wonderful HMS Ark Royal, the talismanic carrier that operated the Swordfish biplanes that crippled the Bismarck. Her predecessor, the Great War era seaplane tender, also features. The monitors include HMS M33, another ship you can see at Portsmouth.
There is no question a book like this is pretty niche. The format is huge, and the price tag reflects the quality of the reproduction of Mr Perkins wonderful drawings. Happily, his archive is safe in the hands of the National Maritime Museum at Greenwich, and we are likely to see more in this series. Mr Perkins' books are just the sort of thing that would have been torn up to make individually framed prints in less enlightened times so fans of his work are all winners here. I would also like to see his photograph collection presented in book form. Perhaps that is on the agenda. Until then more of his beautiful drawings and efficient notes will be most welcome. Gorgeous stuff.
Reviewed by Mark Barnes for War History Online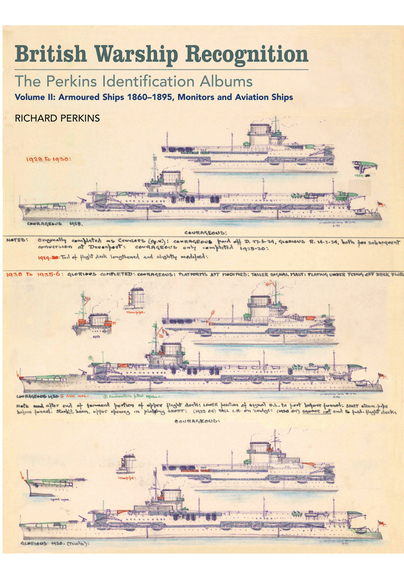 BRITISH WARSHIP RECOGNITION
The Perkins Identification Albums
Volume II: Armoured Ships 1860-1895, Monitors and Aviation Ships
By Richard Perkins
Seaforth Publishing
ISBN: 978 1 84832 386 5