A belated review of a book that has been published several times hardly makes this segment of our merry saga cutting edge stuff but this one appealed to me when I saw details of it and although I have been dragging my feet this really is a case of better late than never.
Ludovic Fortin aided by his translator Alan McKay has produced a really lovely book on British armour in the Normandy campaign and I can see from it that his work and the general design of the book has influenced a number of websites I use for reference.
I don't want to be overly simplistic, but French books on the British contribution to the liberation of North-West Europe don't exactly strike me as common and this one has managed to fulfil a wide range of tasks within it's one hundred and seventy-six pages.
First off we have histories of the armoured formations involved, coupled with really useful tables of formation and tactical signs.  This is followed by the tanks themselves – looking at the many Shermans, Cromwells and Churchills along with an array of derivatives in the specialised armour role.  There is much more besides.
For me the book represents one of the handiest guides to British armour in the campaign I have seen and it is worth remembering that many of the large formations here remained unchanged until the end of the war, save for some swapping of regiments here and there. The book is proving most useful in a major project I am conducting at my day job and I can see it being indispensible in the long run.
The author's passion for British armour of the period comes across well even taking into account the sympathetic translation. The artwork by Nicolas Gohan, Antoine Poggioli and Yann Erwin Robert adds to a book that is quintessential
Histoire & Collections fayre.
There can be little doubt that the British armour achieved much during the campaign and although encounters with Michael Wittman are perhaps the best remembered, this book shows there was so much more to the story. The history of the campaign has been debated all the time I have been alive and will, no doubt, be the stuff of books long after I am gone.  Alexander McKee talked about the Anvil of Victory in a book I cherish from my youth about the struggle for Caen. In it he recounted the trials and tribulations of the Anglo-Canadians in Normandy. His writing had a profound influence on me and although I read it a long time ago it is a direct link to this superb book by Ludovic Fortin. This softback edition is a welcome edition to my library and however tardy this review may be it is not to late to pick up a copy. Highly recommended.
Reviewed by Mark Barnes for War History Online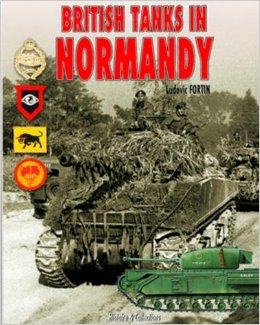 BRITISH TANKS IN NORMANDY
By Ludovic Fortin
Histoire & Collections
ISBN: 978-2-35250-204-3