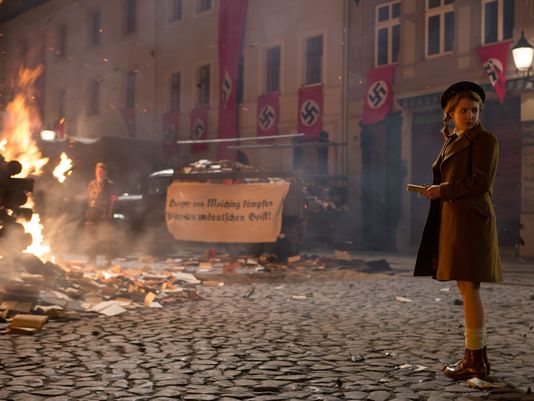 Friday night and after a long week at work I decided to treat Mrs Hodges to a night at the cinema. "Not a war film, though ", I was instructed (shouted from the kitchen) as I pondered what to go and see. "How about The Monuments Men?" I asked. After all, the reviews I had read made it out to be a comedy! However, after a swift debate and a one sided discussion we , the royal we , decided to go and see The Book Thief.
I had absolutely no idea what it was about and had never even heard of it. I didn't want to go and was sulking by the time we'd settled down in the cinema surrounded by popcorn eating women of a certain age and no men. As I sat there wondering what the film was going to be about I was suddenly horrified that what was yet to unfold would somehow include twenty-seven bridesmaids and their dresses; rows of gleaming white teeth; canned laughter and half the cast of Friends plus that bloke from Cheers; the geeky one from IT Crowd and all manner of other American 'must watch' crap TV actors.
PLEASE don't let it be another chic flick I thought!
The opening scene proved it was not. How wrong I had been?
The film is adapted from the book by Australian author Markus Zusak and is a little unusual in, that, as with the film, it is narrated by 'Death'! It stars Australian actor Geoffrey Rush and British actress Emily Watson, who are both exemplary in their roles as a German couple the Hubermanns who just before the outbreak of WW2 decide to adopt a child. The young girl is played by Sophie Nélisse who excels herself in the lead role of Liesel Meminger, a schoolgirl whose mother has been arrested by the Nazis for being a communist.
Liesel befriends Rudy, the boy next door and as WW2 breaks out the pair like tens of thousands of others become members of the Hitler Youth. It's whilst at a book burning ceremony that Liesel becomes upset at all the books being burned. When the ceremony ends, she creeps back and steals a book to help with her quest for knowledge and her reading lessons aided by her new father, Rush. And so the story unfolds, a girl with a love of books and a longing to read who has her own basement 'dictionary' which is in fact a wall which she uses to chalk words on, encouraged by her father, whose trade is a sign writer.
Along the way, as most children do; Liesel and her friend Rudy get into all sorts of scrapes, helped by the fact there is a war on. This is Nazi Germany after all. She also has the added strain that the family are harbouring a Jewish lad, Max, whose exact connection to the family I must have missed; but alas, there he is in the basement and the inevitable teenage crush begins. There are numerous subplots throughout the movie as one would expect, and at times, with all the swastika flags, SS officers and Star of David armbands it's a little bit clichéd and almost sanitised. This tiny street in small town Germany certainly seems to be the hub of the Nazi Party! It's clearly filmed on a traditional British budget, ( just under $19 million) very similar to, say, The Boy in the Striped Pyjamas, but that said it is well done. The actors are superb and the story is well told. It has it's humorous moments, for example when Liesel's young friend and admirer Rudy blacks himself up in his HJ Sports kit in order to pretend to be Olympic gold medal winner Jesse Owens. It may be aimed at the schools market as an educational film but even so, I wouldn't say it's patronising or naively made.
The uniforms are fantastic and, for the most part, correct. As a re-enactor and a German one at that, I may be a little biased but it's great to see such a large mix of German uniforms both military, political and home front. From the opening scene of a DRK (German Red Cross) matron to the postal service uniform it really is an i-spy for those in the know. Of note is when Geoffrey Rush's character is conscripted into the Luftschutz (Air raid Patrol) and consequently is kitted out in full uniform. Also, for the Americans amongst us, if you don't blink there's a nice shot of GIs in jeeps and trucks. Ok, strictly speaking it's not a war film, is it?
To sum up, especially to those involved in re-enacting or living history, it's a bit like a moving Osprey book…..only you don't have to turn any pages. Now that has to be worth viewing. But unlike a good Osprey book, at just over two hours long you may not want to sit on the toilet and watch it! The Book Thief is in cinemas now and there's not a single bridesmaid dress in site.
Film Review by Phil Hodges for War History Online
THE BOOK THIEF
Directed by Brian Percival
131 minutes