Here is another wonderful aviation re-issue from Grub Street, a publisher who have made a speciality out of reproducing classic books from Great War aviators. The one we have here was first published in 1929 and was revised by the author for publication 40 years later.
Norman Macmillan was a Western Front veteran with the Highland Light Infantry who forsook the mud for the thrills of the open sky. He learned to fly on Farman Longhorn and Shorthorns before graduating on to Sopwith 1½ Strutters with 45 Squadron. He flew many combat missions before the squadron re-equipped with Sopwith Camels. He was part of the British force sent out to Italy to help shore up the front after the disaster at Caporetto in late 1917, but after only a few missions he was injured in a bizarre accident he was unable to take part in combat operations. He was credited with nine combat victories.
After the war, he enjoyed a colourful career in aviation. He became a test pilot and worked for Parnall before progressing on to be chief test pilot for Fairey. Norman was the first man to fly from Britain to Sweden in a day and he was the first British man to fly across the Andes. He was a prolific writer on aviation matters and continued writing well into his seventies. He died in 1976.
This is a lovely book. The author really knew how to describe events in an enthralling and often quite moving fashion. He had an incredible memory for details and the people he fought with and against. His respect for opponents is palpable. One of several commanders he served under was the highly motivated Major Arthur Travers Harris, a man who was thoroughly committed to the job of beating the Germans and who would go on to leave his mark on the Second World War. Harris was the sort of man who did not suffer fools and who could be pretty ruthless. That Macmillan had a good working relationship shines through the passages were Harris is mentioned, but they do not seem to have been great chums.
1917 was the year when the Germans wrested air superiority from the British at a time when the RFC suffered heavy casualties. 45 Squadron spent much of the period of Bloody April flying armed reconnaissance missions with an aircraft totally unsuited to the role. The 1½ Strutter was inferior to German fighters and more high-powered two-seaters and it was only the introduction of the legendary Camel that saw an improvement in fortunes for the squadron. Macmillan describes the deaths of friends with great care and respect. While the majority were killed in combat there was an ever-present toll caused by accidents. Some of them seem utterly pointless.
Norman's accounts of air combat match any others I have read. His writing style is very appealing and he captures the drama and loneliness of it all. The book is of its time and seems very similar to others published by Grub Street. A large number of the aviators from that era possessed a kind of eloquence it is hard to find elsewhere. Violent death can seem quite genteel.
Great War aviation is more than a niche market for authors. There have been many recent histories and welcomed reissues and they keep the imagery of knights of the air, the chivalry and old-fashioned sense of honour, the danger and the valour, right up close in our thoughts. It is a no-brainer to conclude that contemporary works like this one are essential reading to the modern aviation historian. I have to say I lapped this one up. I hope Grub Street have more to offer because this stuff is becoming addictive. Highly recommended.
Reviewed by Mark Barnes for War History Online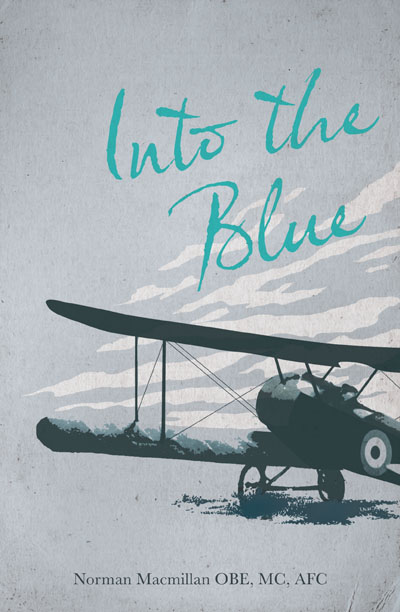 INTO THE BLUE
By Norman Macmillan, OBE, AFC, MC
Grub Street
ISBN: 978 1 91069 001 7