Billy Bishop's legacy has left an indelible mark upon not only the annals of World War 1 aviation but Canada as a nation. A small town boy of a middle class family, he rose to worldwide fame and the highest levels of Imperial society. His fame centred upon his claim to being not only a cold-blooded fighter pilot who preferred to hunt and kill on his own but also the top scoring Allied pilot of the war.
Kilduff has undertaken a review of a subject that has been written about and debated extensively by historians, scholars and journalists. HIs intent is to determine the validity, based upon the available documentation and a study of the personality of the man himself (in his own and others words and recollections), of the persona and the reputation that 'Billy Bishop' has become; for it is no secret that the symbolism of Billy Bishop has greatly eclipsed the man himself.
The author draws upon a wide variety of sources to tease out who Bishop was. His conclusions, that Bishop was not a saint and certainly exaggerated his exploits in his letters home for the benefit of impressing his future wife, reinforce the position held by those doubters of the accuracy of his claims. However, balanced against this, is the fact that he was undoubtedly extremely brave, aggressive and willing to take the fight actively to the enemy which suggests that his claims are not as far-fetched as they may initially have seemed. The truth, as it may be determined this far after the fact, lies, so Kilduff suggests, somewhere in between.
The book is a quick and enjoyable read. At times it feels somewhat shallow in terms of evaluation (especially in his early years) but it does effectively cover his training and operational flying time. It contains a great many photographs that give excellent perspective on why accurate determination of kills and damaged enemies was so difficult. The narrative utilizes first person recollections from Bishop himself, his trainers, fellow pilots and airmen and it builds a comprehensive picture of Bishop the pilot (and the personality that accompanied it). Additionally, Kilduff reviews each individual kill claim comparing them against British, German and eyewitness documents.
I didn't discover a lot of new material or revelations in this book that hasn't already been brought up in various other works, but it was well put together and useful as a reference. The production value of the book is excellent and the author has provided a solid bibliography for further reading. I found Kilduff's conclusion particularly poignant and relevant when compared with our modern tendency and need to challenge and discredit: does it really matter how many kills Bishop scored during the war; after all, it does not in any way diminish his bravery, service or legacy as one of the earliest Canadian heroes. True words and an enjoyable work.
Reviewed by Chris Buckham for War History Online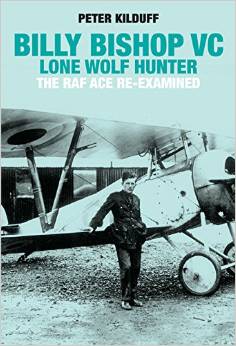 BILLY BISHOP VC
Lone Wolf Hunter
By Peter Kilduff
Grub Street
ISBN: 978-1-909-80813-3
Maj Chris Buckham is an active duty logistics officer in the RCAF who reviews books in his spare time. He maintains a blog of his reviews at: www.themilitaryreviewer.blogspot.com