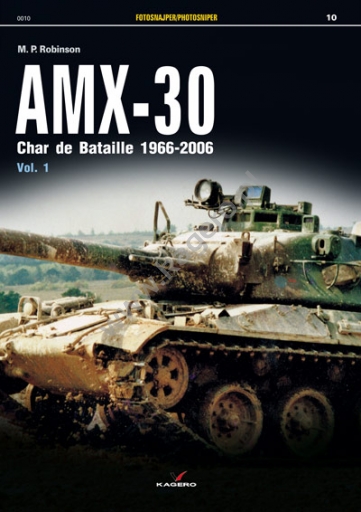 Produced in Poland and aimed at the modeller this book comes from an extensive series of soft-backed A4 format bargains offering a good selection of images of the subject in service.In addition we also get a highly detailed gallery building a walk round of the tank in question showing all the nooks and crannies. Production is crisp and clear and the text does the business. I can't see anything to fault it. The whole enterprise seems truly international and how can a website like ours not applaud the fact?
I don't make models any more, but in my loft are a number of RocoMinitanks AMX-30s my son and I were slowly detailing and painting when he was still in to all that. Now he has well and truly moved on they are just there waiting for a time when we might get all nostalgic and do some more. Don't hold your breath.
I am not especially attached to the AMX-30, but it comes from that classic Cold War era and exports have helped spice up it's history.  The archive photography in this book is of a high quality and I liked the additional artwork. So, all in all, I can happily recommend it. You don't necessarily have to be a modeller to appreciate these books, as I have proved. Well-produced tank books are always a pleasure and this is exactly what we have here. Quite how I am going to review two others now I have used up all my prose, I do not know but I will rise to the challenge.
Reviewed by Mark Barnes for War History Online.
AMX-30
Char de Bataille 1966-2006 vol.1
By MP Robinson
Kagero
ISBN:978-83-62878-99-4