Here is another impressive book in this mercurial series from Pen & Sword. This time, we benefit from the knowledge of Tony Holmes, one of the modern grandees of aviation historiography. In it, he tells the story of the American fighter pilots who flew with the RAF during World War II, and while some achieved legendary status and are well known, there are many more here who are new to me.
As usual, this book is about images, mixing what I would describe as 'standards' from the likes of Charles E Brown, one of the giants of the era, despite his diminutive frame, with official and other sources. I am really pleased to see a sequence of images taken at Gravesend in 1940 by Eric Greenwood of The Times, one of my photographer heroes. I have had the joy of handling the negatives from these images, and I suspect it is as close to the Battle of Britain as I am ever likely to get.
Photography aside, this is a superb look at a group of men to whom we owe a great deal. Many of them had to swerve the difficulties of leaving a neutral country to serve another where they no doubt faced many challenges of language, culture and social idiosyncrasies quite apart from getting into uniform and learning to fly combat aircraft. That many of them did not rush into the arms of the USAAF in 1942/3 is a testament to how they faired.
The author looks at the Americans themselves, but also at the units they served in and, in some cases, the Germans they encountered – not always for the best. We also get to see elements of so-called propaganda with a fleeting look at movies, notably A Yank in the RAF where there is no sign of Tyrone Power in the sequences filmed in the UK. He was safely tucked up back in Hollywood with the rest of the cast.
The stories of Don Blakeslee, Gabby Gabreski, and the tragic Billy Fiske are generally well known but; as admitted, there are a good number of people featured here who were unknown to me, and I am grateful for the education. While the likes of Lance Wade, Reade Tilley, Paul Davoud, Red Tobin and others will be familiar to more ardent devotees of this aspect of America's war; their lives are much more sketchy to me, and I am pleased to improve my knowledge. This is precisely why I find this range of books so appealing. They are superb value for money. There have been very few I haven't chosen to keep once reviewed. This one is definitely staying in my library. Recommended.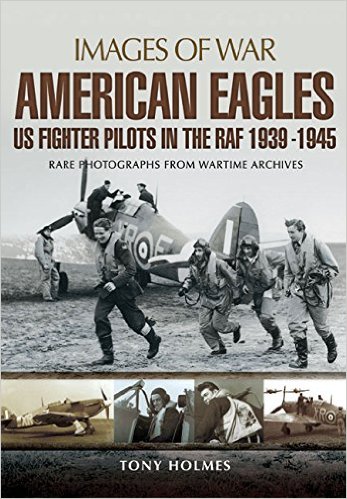 Reviewed by Mark Barnes for War History Online
AMERICAN EAGLES
US Fighter Pilots in the RAF 1939-1945
By Tony Holmes
Pen & Sword Aviation
ISBN: 978 1 47383 566 5