Hans Wiesman first came to my attention a few years ago on the publication of his book The Dakota Hunter, a book detailing much of the author's life and love of aviation. The fact he is both a shrewd businessman and an adventurer with his heart set firmly in the halcyon days of piston-powered aircraft is quite evident with even a cursory reading of his first book and the occasional blogs he has written for WHO. He has taken his passion a giant leap forward with this genuinely gorgeous book declaring his love for the Consolidated PBY Catalina.
Now, I don't know about you, but for me the Catalina is one of the prettiest aeroplanes ever built. It appeared at a time when a number of biplanes were soldiering on in the role it was intended for and just like the Douglas DC-3, it dragged the aviation world into the future, leaving so many other designs in its wake.
I have only ever seen a Catalina flying on one occasion during the glory days of the late lamented Southend-on-Sea air show here in the UK, but have seen several in museums and can see why the aircraft has such an appeal to Mr. Wiesman.
The Royal Air Force was racing to rearm in 1939 and looked to America for designs to supplement the urgent construction programme going on in British factories. Traditional manufacturers of flying boats were busy producing a variety of designs to meet a number of needs, so the superb aircraft being developed by Consolidated was bound to appeal to the men at the Air Ministry in London. The first aircraft bought by the British was flown from San Diego to England by an American crew and carried a US civil registration in tandem with an RAF serial and immediately impressed during testing at the Marine Aircraft Experimental Establishment. It was the British who gave the aircraft its name. The rest, as they say, is history.
The United States Navy had also taken notice of the aircraft and its design fitted easily within the service's preference for radial engines. Like any great design, the PBY went through a range of improvements based on the experience gained from service with the American and British (and Commonwealth) military and came through World War II with flying colours before going on to enjoy a varied career after 1945.
As much as the wartime stuff is of huge interest to me, it is the post war period where the aircraft served in so many roles that appeal to me most. It is perhaps most thought of in the firebomber role, as seen in the Spielberg movie Always.
I used to borrow copies of a magazine called Propliner from my brother-in-law that he picked up from the small shop at the old Southend Airport terminal and it would be filled with features on the kind of planes I love from an era that seems both romantic and free spirited before regulation and corporate muscle gained a complete stranglehold.
Hans Wiesman knows all this stuff and his knowledge, experience and passion is all over this book like a rash. The photography is quite outstanding and will blow your socks off. The reader will have hours of fun going through the chapters and the author is at the heart of what appeals so much about this fantastic book. Perhaps it is a Dutch thing, but there is an atmosphere and a spirit to this book I have only found in work by authors from the Netherlands. To be fair, Mr. Wiesman is very much a man of the world who has drawn influences from all over the planet and this worldliness runs through the book like the seaside town name in a stick of rock. I've spent several hours looking at the thing and I have struggled to find what I would consider a fault. This book is an intensely personal affair wrapped up in a far more generic set of clothes but the effect is so pleasing it confirms why this style of book works so strongly for me.
It doesn't matter what your passion is, but if you want to put it all into a book and have the means to do so, you need to learn from an exercise like this one. Hans Wiesman knows how to draw on all his personal experience, use the connections he has built from a life of hard work and most importantly, how to stamp his personality on a book that is a colourful, vibrant and immensely entertaining love letter to a big old lump of aluminium and rivets. How he achieves this is from being one hundred percent honest and true to the spirit of the project. You cannot ask much more from a book.
Reviewed by Mark Barnes for War History Online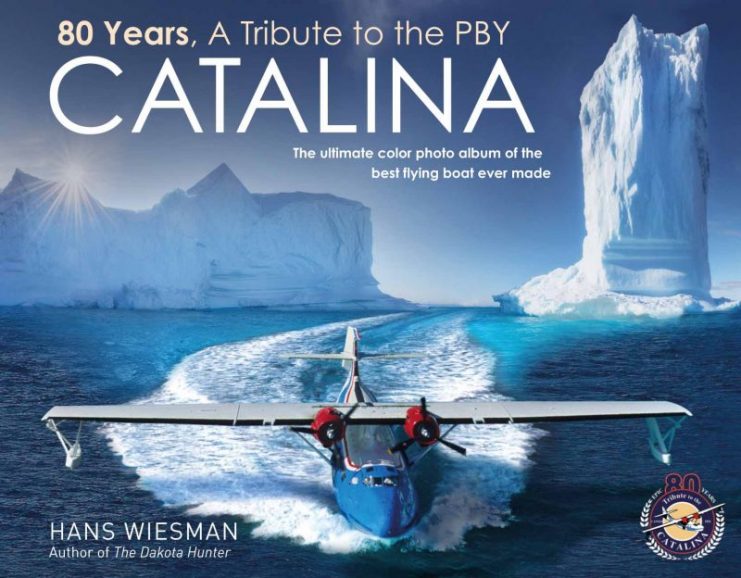 80 YEARS, A TRIBUTE TO THE PBY CATALINA
The ultimate color photo album of the best flying boat ever made
By Hans Wiesman
www.catalinabook.com
www.dc3dakotahunter.com
ISBN: 978 9 08281 000 4