ICYMI, on March 3 Wargaming partnered with Stack Up, a nonprofit supporting veterans through gaming, to raise funds and awareness for Stack Up's Overwatch Program (StOP) which provides round-the-clock access to a team of trained and certified crisis-intervention volunteers for military service members and Veterans.
Watch the video from Stack Up about this project here.
Today, March 13, Wargaming will be hosting a World of Warships charity stream on Twitch with the founder of Stack Up to help raise additional awareness and raise funds for the campaign which is called Operation Lifeboat. The charity stream will begin at 2PM Pacific time on this channel: http://www.twitch.tv/worldofwarships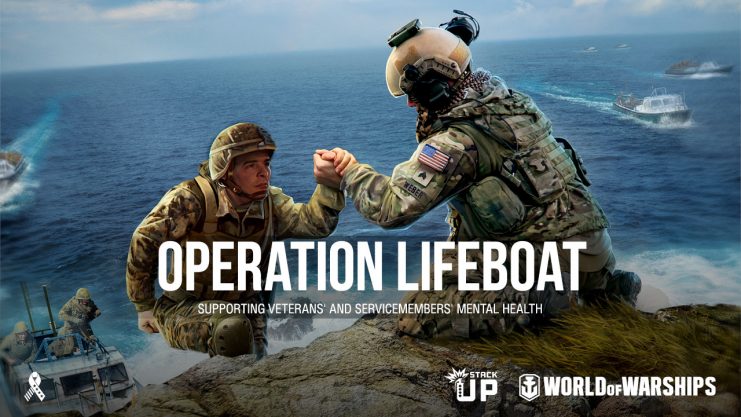 Operation Lifeboat includes two special bundles within the highly popular World of Warships online game for which 100% of the proceeds from the sale of the bundles will go directly to Stack Up's Overwatch Program (StOP). See in-game bundle items below.
Our goal is to raise $100,000 for Stack Up so they can continue to offer round-the-clock access to crisis intervention volunteers.  We hope you'll consider sharing the details of Operation Lifeboat with your readers and encourage them to tune-in to the charity stream this Friday.  Thank you!
Life Line ($12):
Country Roads Camouflage
StackUp flag
Personal mission "Romeo-Sitka" with 10 skill points US Commander Theodore Chandler as a reward
Personal mission "November Charlie"
Stug III Recovered From The Seabed
Life Ring ($30):
W.Virginia 1941
Port Slot
Stack Up flag
Personal mission "Take me home" with 10 skill points US Commander Dusty Rodes as reward
Personal mission "November Charlie"