Participants from Across the World Vote on Poster to be Featured in Upcoming Exhibition at National World War I Museum and Memorial
The National World War I Museum and Memorial provided the public with the opportunity to vote to determine a poster to be featured in an upcoming exhibition and the voters have spoken.
Individuals from more than 40 countries across the world participated in the two-week long contest with 1,812 votes cast (people could only vote one time). Ultimately, with 70% of the vote, the Great Britain Blue Cross Fund for Wounded Horses poster was selected.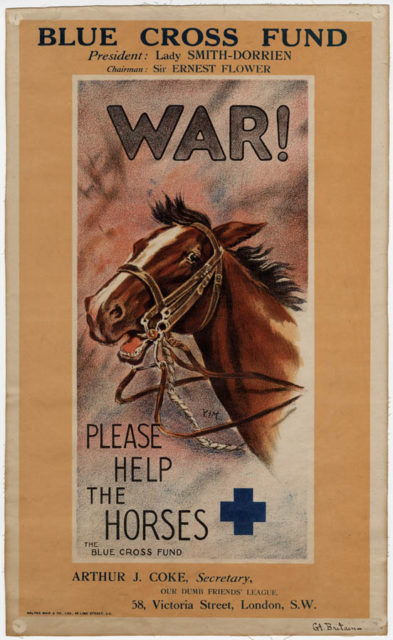 "We're thrilled with the international turnout and overall participation," said Dr. Matthew Naylor, President and CEO at the National World War I Museum and Memorial. "World War I was the first truly global war in that it featured participants from every inhabited continent. Similarly, this contest featured individuals interacting from North America, South America, Europe, Africa, Asia and Australia, which is absolutely terrific."
The American U.S. Navy Recruiting Poster finished in second place with 16% of the vote, followed by the French "One Last Effort and We Will Get Them" poster (7%), the French Bastille Day Commemoration poster (4%) and the French "Exposition of Propaganda Materials About Germany" poster (2%).
The Blue Cross Fund poster will be featured in the Museum's upcoming special exhibition Posters as Munitions, 1917. Soon after the outset of World War I, the poster, previously the successful medium of commercial advertising was recognized as a means of spreading national propaganda with unlimited possibilities. Its value as an educational or stimulating influence was more and more appreciated. The poster could impress an idea quickly, vividly and lastingly.

Debuting Tuesday, Feb. 21, Posters as Munitions, 1917 showcases the depth and breadth of the collection through a series of works on exhibition for the first time at the Museum. Posters from France, Germany, Great Britain, Italy, the United States and more are featured, providing a sense of the global nature of this form of communication.
The National World War I Museum and Memorial holds the most comprehensive collection of Great War objects and documents in the world and its internally curated exhibitions are based on this expansive collection.
To find out about the February Events at National World War I Museum and Memorial then click the link!