Marking the 50th anniversary of its entry into service, the Chieftain Main Battle Tank is the latest vehicle to be celebrated by publisher Haynes in its line of military-focused Owners' Workshop Manuals.
Serving as the British Army's Main Battle Tank from the mid-1960s until 1986, many features of the Chieftain's revolutionary design were innovative during the Cold War period. The Haynes Chieftain Tank Main Battle Tank Manual aims to understand how, against all odds, the Chieftain maintained its immense legacy in British battle tank history, despite a number of engineering faults and difficulties experienced from design through to operation.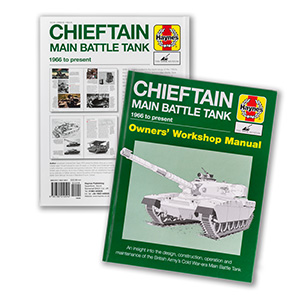 Throughout the manual, which is published in association with The Tank Museum, author, and former Chieftain tank commander Dick Taylor provides a fascinating insight into the design, construction and maintenance of this mammoth machine in true Haynes-style.
Providing personal and unique insights into the Chieftain, Lieutenant Colonel Dick Taylor of the Royal Tank Regiment shares his intimate knowledge and experience of the tank's systems and history, while teaming up with The Tank Museum to provide a wealth of previously unpublished photographs and diagrams.
Commenting on the book's release, Dick Taylor said: "Not only does 2016 commemorate the 50th anniversary of the Chieftain's entry into service, but this September also marks the 100th anniversary of the first use of tanks in war. Since 15th September 1916, tanks have been the most important equipment in land warfare, and it is fascinating to be able to explore how engineering has progressed and history has been made by these machines.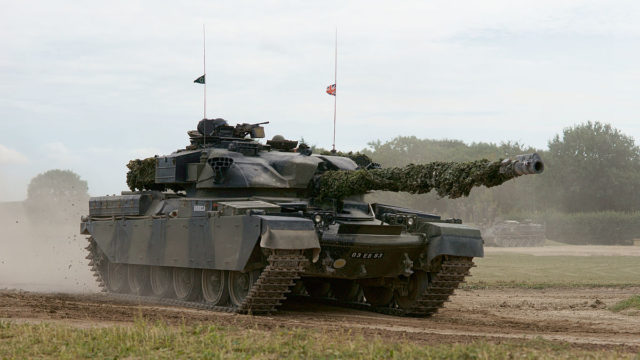 "The Chieftain was created under the multi-fuel policy imposed by NATO in 1955, but Britain was the only tank-producing nation to abide by this restriction, creating challenges from the start that doomed the tank with a flawed engine design. As a former Chieftain commander with considerable experience of the many vices and virtues of the tank, the 'warts-and-all' approach I have adopted for this manual provides an insight into a fascinating vehicle that epitomises the numerous pitfalls faced by engineers and crews at the time."
David Willey, Curator of The Tank Museum, said: "This is another great title from Haynes, written by Dick Taylor, using the resources of The Tank Museum's extensive Archive and Library. The book brings to life the story of a tank that never had to fire its gun in anger in British service, yet did sterling work as a deterrent in the Cold War.
"Dick Taylor traces the development of the Chieftain through its trials and tribulations; showing its tremendous success, such as a superbly accurate and powerful gun, and its great weakness – the notorious L60 engine. As a crewman on the Chieftain, Dick brings first-hand knowledge and experience, as well as a wealth of stories from his fellow servicemen."
You can purchase a copy of the Haynes Chieftain Manual here.
The Tank Museum
A message from the Tank Museum:
"Please Support Us: As a charity, we rely on public support for all our activities. Our work is funded entirely by people like you. With your support, we can continue to create content. With the right support we might be able to do it more regularly – and can be even more ambitious. Please Click on the Banner Below"