Ambitious plans to create a new memorial naming the 1.7 million Commonwealth casualties of the two world wars have been funded by a £0.5 million grant in the UK budget.
The memorial is to be constructed at the summit of Dover's iconic White Cliffs overlooking the English Channel. The site itself is derelict land on the periphery of the massive nineteenth century fortification complex known as Dover Western Heights. The ridgetop fortifications run to over 2.5 miles of ditch ranging between 9 and 15 metres in depth and featuring a number of redoubts and bastions. The fortification have suffered from decades of neglect but recent years has seen a reversal of fortune with local volunteers cutting back and managing much of the destructive vegetation growth.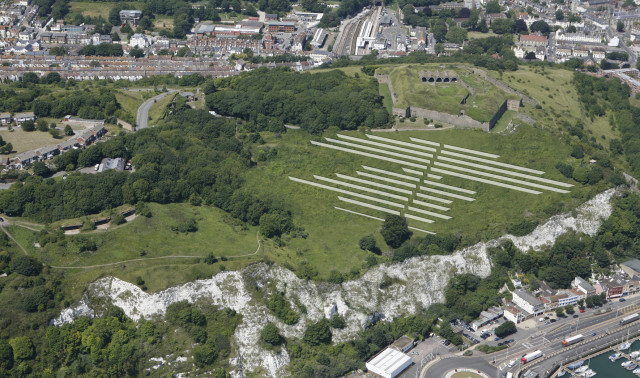 One of the bastions is the Drop Redoubt, an isolated hexagonal fortress with it's origins dating back to the Roman period and was the base for cross channel Commando raids in World War II. This fort will see significant investment and be brought forward as the memorials visitor centre and museum. The memorial itself will step down the 30 metres slope to the south of the Redoubt to the top of the White Cliffs themselves, connecting to the seafront via the remarkable Napoleonic triple spiral stairway, the Grand Shaft.
The form of the memorial comprises 12 white granite walls, each representing one of the years of conflict from 1914 – 1945. On each wall will be inscribed the names of each of the 1.7 million casualties recorded by the Commonwealth War Graves Commission. These will include members of the Army, Navy, Air Force, Merchant Navy as well as civilian victims. It will also include those individuals recorded by the CWGC whose nations are not currently in the Commonwealth of nations such as Eire.

John Pegg, of craft:pegg the designers behind the £15 million memorial scheme stated that "In honouring all Commonwealth Casualties Britain will be recommitting itself to the remembrance of all who gave their lives in the two world wars at a site that was, for many, the last sight of home before arriving on the western Front and the very front line in the defence of Britain in World War II." Ends