On April 14, Stackpole Books, a major publisher of books related to World War II aviation and Air Force aviation history, will release "The Jagged Edge of Duty", authored by Robert L. Richardson.
Jagged Edge follows the life and service of a young air force pilot from Lewiston, Idaho who flew with the 14th Fighter Group (49th Fighter Squadron) in North Africa during the summer of 1943, a time when the Allied forces were preparing to break out of North Africa into Sicily, and when the still fearsome Luftwaffe began to buckle under the overwhelming Allied air power.
The book describes the pilot's participation in the Civilian Pilot Training Program, his selection for the Air Force Flight Training Program, and the four stages of flight training he received. It follows his transition into twin-engine P-38 aircraft, describes his trans-Atlantic transit to North Africa, and the additional combat training he received near Casablanca, and later with his squadron in Tunisia.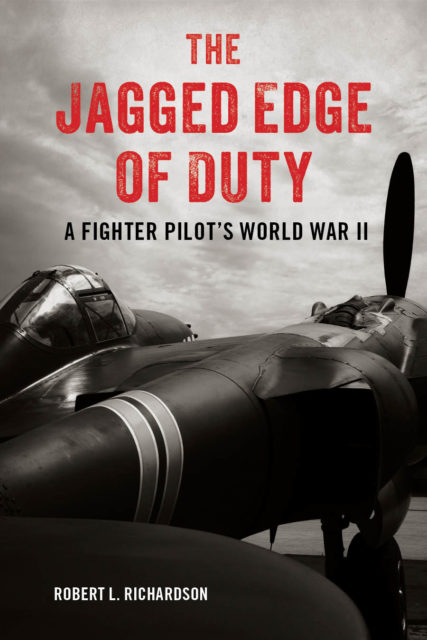 Jagged Edge describes the tactics and doctrines employed by the fighter groups at that time and place. It discusses the squadron and group leadership, the missions flown, the bombers escorted, and the successes and losses as they came. It deals in some detail with the lives of the pilots on base between sorties, with the multiple layers of stress they endured on the ground and in the air, and the results when that stress become unendurable.
In the words of the publisher:
"Richardson recounts Knepper's experiences from training through combat and uses them to discuss the aircraft, tactics and doctrine, training, base life, and aerial combat of the war. This is the intimate account of one pilot at war, but also the anatomy of the fighter pilot experience in World War II"
In the words of a man who flew with the 49th Fighter Squadron in North Africa in 1943:
"This remarkable book tells more than just a "shoot 'em up" account of individual pilots. It illustrates the overall experiences of the 49th Fighter Squadron, recounts their missions in Africa, Sicily and Italy, and is a tribute to all P-38 pilots and crews who fought to win the greatest war in history"
By special permission of the publisher, Chapter ONE of the Jagged Edge of Duty is available for online reading at Scribd. Click the link, or click here to find out more
It can be found on all online and retail outlets, and will be placed in libraries around the country.