Thousands of people were evacuated from the Italian city of Turin on December 1st after a 500-pound bomb from WWII was discovered.
Everyone living near Nizza Street in Turin was ordered to leave between 7am and 4pm. 50,000 more people in the city were asked to either evacuate before that time or stay in their homes during that period. Airspace over the city was shut down as was the Porta Nuova train station.
La bomba è stata disinnescata con successo – Torino torna alla normalità… pic.twitter.com/S3rDKSqUTJ

— Torino News 24 (@TorinoNews24) December 1, 2019
During that period, experts defused the British bomb which had been dropped on the city during the war. Authorities stated that the bomb contained 65kg (410lbs) of TNT explosive.
Army officials planned on the defusing procedure to take seven hours. Army soldiers patrolled the nearby neighborhoods to prevent looting. The mayor of Turin, Chiara Appendino, was present at the scene, as well.
Fortunately, the process took less time than anticipated and residents were allowed to return home.
According to the mayor, a detonator in the tail of the bomb had to be deactivated.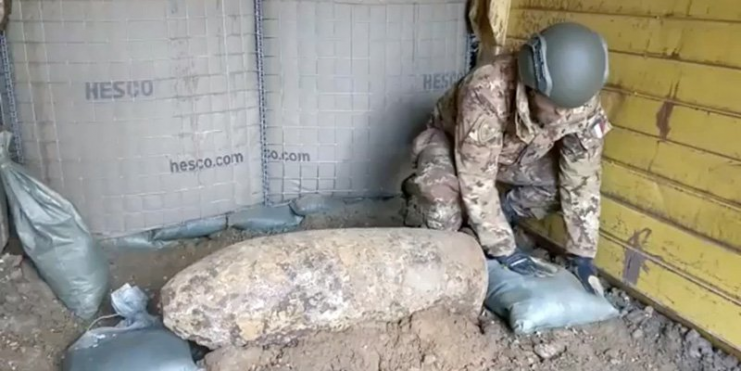 The Allied forces began bombing Turin in June 1940 after Italian dictator Benito Mussolini joined with Nazi Germany to fight against the Allies. Naples, Genoa and Milan were also included in the bombing runs.
Earlier this year, another WWII bomb was found in Regensburg, Germany. 4,500 residents were evacuated while that device was defused.
The US and Britain dropped an estimated 2.7 million tons of bombs on Europe during World War II. About half of those were dropped in Germany.
Hannover had over 250,000 bombs dropped on it in a single raid. When Germany finally surrendered in May 1945, most of Germany's infrastructure had been reduced to rubble.
It is believed that up to 10 per cent of the Allied bombs dropped during the war failed to detonate. To this day, over 2,000 tons of unexploded munitions are discovered every year in Germany alone.
In 2018, authorities recovered 296 tons of old bombs in Brandenburg alone. It is a requirement in Germany to have an area certified as being free of munitions before any construction work can begin on the site.
Each year one or two of the WW2 munitions explodes without warning. Sometimes farmers are killed when their machinery hits a shell or a bomb.
Britain has the same problem. A 500-pound WWII German bomb was once found under a school playground.
Allied bombs were often designed with a special fuse that used acid to weaken metal plates. Depending on the amount of acid and the thickness of the plates, the bomb could detonate hours or even days after being dropped.
This was a tactic to sow fear in the population by having bombs continue to explode long after the bombers had returned home.
But many of the fuses were either defective or the circumstances a particular bomb happened to land in kept the fuses from working.
These bombs have lain dormant for over 70 years while the metal plates have grown weaker from being exposed to the elements.
Another Article From Us: Man in the High Castle: Nazi Symbols from Amazon Show Destroyed
This has put an emphasis on finding as many bombs as possible before people get hurt. Fortunately, the one in Turin was found in time.