On the 5th of August 2019, the Circle of Heroes military veteran memorial opened to the public.  Of all of the military memorials in the United States, this is certainly the most unusual.  The monument is comprised of twelve six foot concrete statues of soldiers arranged in a circle forty feet below the surface of the Gulf of Mexico near Clearwater, Florida.
The two thousand pound bases keep the statues firmly planted on sea floor.  The sculptures are meant to honor military veterans, both male and female.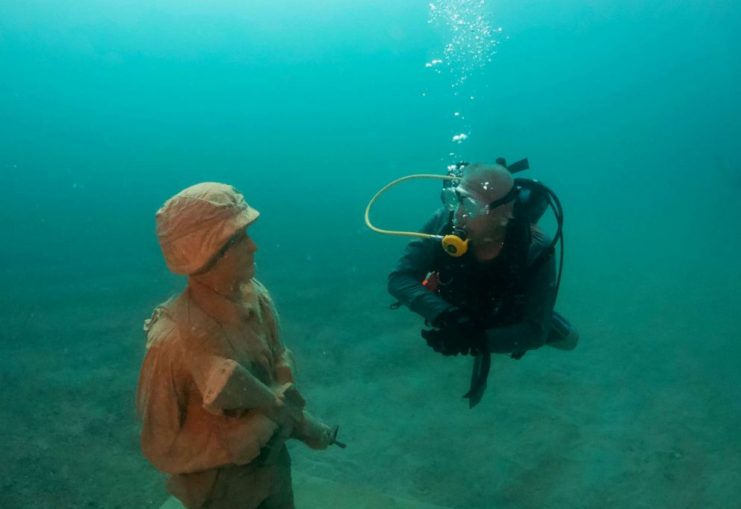 A center pentagon shaped stone holds five bronze markers to represent each branch of the military, Air Force, Army, Navy, Marines and Coast Guard. Facebook and YouTube videos of the statues show soldiers in dress uniform standing at attention, military pilots wearing their parachutes and holding flight gear and soldiers who appear to be marching and carrying their rifles.
Do you scuba dive? Here's a great destination for you! https://t.co/OKZ0bXxf2K

— FL Assn of Museums (@flamuseums) August 5, 2019
Another features a soldier carrying a wounded comrade on his shoulders as well as one that represents a soldier kneeling in front of a burial marker of a boot, rifle and helmet.
The memorial was the innovation of a Professor Emeritus of Oceanography who has taught biology, ocean sciences and scuba at St. Petersburg College for almost fifty years, Dr. Heyward Mathews.
Mathews has been involved with efforts to save the reefs and attract more scuba divers and fisherman to the area since the 1990s.  He has sunk several steel barges, limestone boulders, concrete tetrahedrons and culverts and hundreds of hollow pyramids in order to create an artificial reef to provide fish and other sea creatures with hiding places.
At one point in 2000 he, with the help of the Florida Military Aviation Museum in St. Petersburg, sunk a Lockheed P2V Neptune bomber airplane but it disappeared after only three months – most likely because of strong underwater currents.
Mathews had also considered dropping discarded Army tanks but they would rust and mar the beauty of the memorial which will be about one quarter of a mile southeasterly from Mathews' artificial reef.  Militarytimes.com tells us Mathews, "just wanted something that was going to be permanent and also wanted something that was going to honor our veterans in a unique and different way,"
Mathews' nephew, former US Congressman David Jolly, has created a website for his non-profit organization brighterfutureflorida.org, to help raise funds to create and sink twelve more statues to complete the one hundred foot Circle which, according to the Tampa Bay Times, will be chosen by veteran's organizations.
Mathews remarked, "We're even thinking of having specific people immortalized on the reef, like Army General Norman Schwarzkopf."  Schwarzkopf was in command of the Gulf Wars in the 1990s and spent his retirement in Tampa, Florida.
U.S. Army Vet Shawn Campbell didn't know his name was on one of the statues in the Circle of Heroes until he dove the site earlier this week.

Watch the incredible moment he found out. pic.twitter.com/zsxhsMdmOf

— Circle of Heroes (@COHFlorida) August 7, 2019
Pinellas County has raised about fifty thousand dollars from local businesses and residents and Brighter Future Florida was able to gather one hundred and fifty thousand dollars.
The statues themselves cost more than twenty thousand dollars each and a tug boat and barge with a crane must be hired to safely sink the one thousand three hundred pound statues.  Mathews estimates another four hundred and fifty thousand dollars will be needed.
Mathews and Eric Waltz, the general manager of the Sandpearl Resort in Clearwater, anticipate a rise in popularity of the area they call Veterans Reef from tourists and veterans alike.
Many veterans, handicapped both physically and/or emotionally, find scuba diving to be calming, pain relieving and releases chair bound veterans from the force of gravity on land.
The relaxing effects are often used as therapy.  According to taskandpurpose.com, the diving organization, Deep Sea Valkyries, is already organizing sessions for disabled veterans and Neysa Grzywa, the director of business operations, claims: "When you descend below the waves you enter a world of peace and tranquility.
Another Article From Us: WWII Wrecks Are Being Stolen from the Bottom of the Oceans
The sounds of chaos are replaced with nothing but your own breath, reminding you that you're alive and not to waste that miracle on the pain."