America lost an inestimable number of men, ships, and other equipment during World War II. Some were recovered, but of course thousands of men did not return home, and when ships were lost in battle, they sank and were often shrouded in the sea's mysteries, inaccessible and out of reach.
That was certainly true for the USS Eagle PE-56; even how it sank, and where it lay was not known for decades. Now, more than 75 years after it vanished, it's been found – almost under the American military's nose, so to speak.
Civilian divers found the wreck only five miles off the coast of Maine on the U.S. eastern seaboard. When the divers spotted the wreck and some Naval insignia on a couple of artifacts, they knew immediately it was the USS Eagle-56.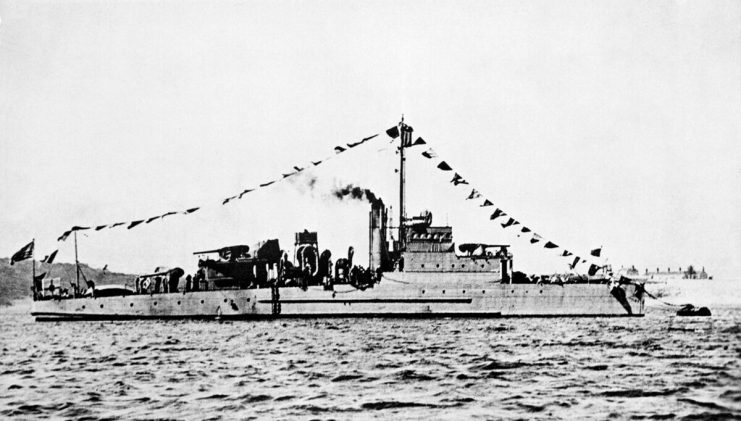 When the USS Eagle 56 disappeared in April, 1945, it certainly seemed to vanish almost into thin air. Although a German submarine had destroyed it, and witnesses heard an explosion, the Navy first put its demise down to a mechanical failure in the boiler room.
But in 2001, they acknowledged it was, in fact, attacked by the Germans, thanks to research done by local lawyer and naval historian Paul Lawton.
He had looked into the case of the "vanished ship", and convinced the Navy to support his conclusion that it was, in fact, destroyed by a German sub.
Because it happened so near the war's end, the USS Eagle 56 is the last Allied ship that was sunk by the ever-weakening German U-Boat forces, and two weeks later, the Allies sank the German vessel off the coast of Rhode Island.
Searchers have found relics and artifacts from the ship's deck and hull. In one photograph taken near the wreck, what appears to be a wheel, perhaps from the engine room, lies on the murky ocean floor.
Recovery was a year-long, tough process, as the team was hampered by temperatures as low as 40 degrees F, and cloudiness is down to a mere five feet in some spots. But fortunately divers could take all the time they needed, as it is now protected under federal law as a war grave.
Surprisingly, perhaps, there were 13 survivors, although 49 of the crew's 62 men lost their lives. The survivors were picked up by another passing Navy ship and taken safely to shore. (The survivors have all since passed away).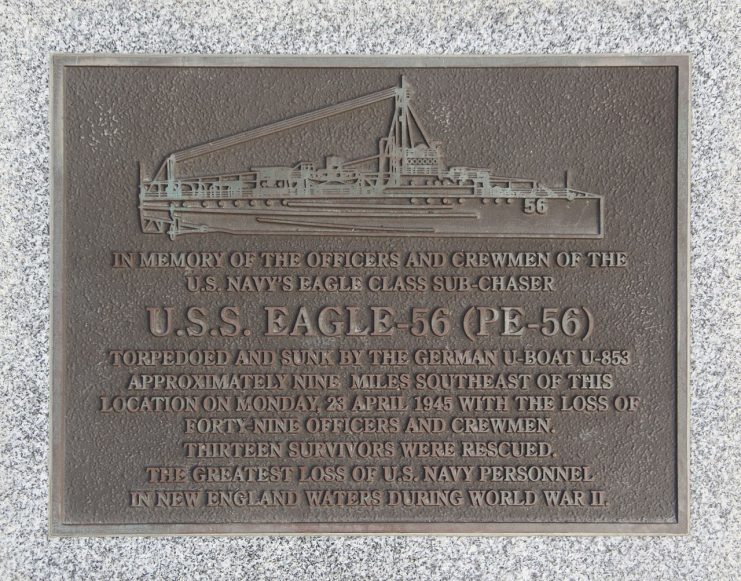 The team that worked with Lawton realized it was in fact the USS Eagle 56 were not "career sailors," but they were professional, expert divers. Ryan King was the first one to spot the wreck, and used sonar to explore it in June, 2018.
He recently told the New York Times he had no doubt at all what he was seeing. "When you see a four-inch deck gun, you know you're not dealing with a fishing boat."
He saw something else, too – the ship was equipped with anti-submarine gear, not just guns. "You realize you're looking at a rack of 15 – 20 depth charges," King told the Times, "(and) it's a sobering thought."
Lawton, who also dives, said he has no concerns that amateur divers will try to go down and see the wreck. "This is not Caribbean diving," he said. "The wreck is in extremely dangerous waters…it's like it's the dead zone, you may not be able to see the back of your outstretched hand. It's almost pitch black. There's no natural colour."
The team went down on 15—20 dives for an upcoming documentary, "Eagle 56," that will be broadcast in America this fall.
But the most satisfying part of the whole, rigorous process, King explained to the Times, was that it brought closure to the families of the men aboard the USS Eagle-56.
Although the Navy acknowledged the attack by the German boat in 2001, they now know where the sailors died. King only hopes it site is considered as sacred to others as it became to him, and the whole team.
"I just hope that people treat it with as much respect and care as we have," King said to the Times. "To be able to provide closure to the families – that was probably the most rewarding part of this process."
That, and seeing all those men's families receive Purple Hearts on their behalf was inspiring and gratifying. No longer do those families have a question mark about their men's fate – they know exactly how and where they died – in battle, in service to their country. And now they know precisely where they are at rest, too.
Another Article From Us: Graf Spee's 1/4 Ton Eagle Causing Controversy In South America – Again