For most people, reaching their 100th birthday is a significant milestone, but for Tuskegee Airman Col. Charles E. McGee (Ret.), it was just one more milestone in a remarkably distinguished career.
Charles E. McGee was born on the 7th December 1919 in Cleveland, Ohio.
His father, Lewis, was a Methodist minister, a social worker, and a teacher, and his mother was Ruth Elizabeth Lewis McGee. He had two siblings, an older brother, Lewis, and a younger sister, Ruth.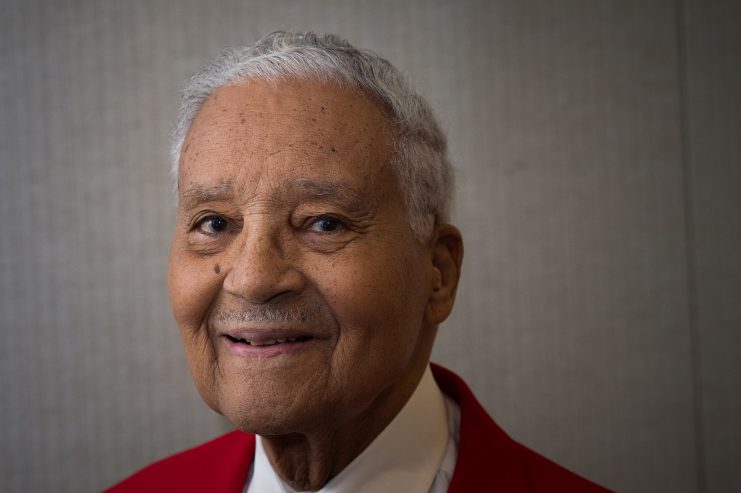 Charles McGee attended the University of Illinois, where he studied engineering, but he did not complete his degree.
On the 17th October 1942, Charles McGee married Frances Nelson, in a ceremony officiated at by his father.  Sadly, he was to get no honeymoon as the day after his wedding, he received his call-up papers and was sworn in as an Aviation Cadet.
Charles and his wife were blessed with three children, two daughters Charlene and Yvonne, and a son, Ronald.
On the 26th October 1942, Charles McGee joined the wold renown Tuskegee Airmen. He earned his pilot's wings on the 30th June 1943 when he graduated as a member of class 43-F.
By February of the following year, he was flying combat missions from his base in Italy, where he was attached to 332nd Fighter Group in 302nd Fighter Squadron.
He flew various types of fighter aircraft both as an escort to bomber squadrons as well as low-level attacks against Nazi rail yards and airfields. McGee's P-51 Mustang was nicknamed 'Kitten,' his wife's nickname.
McGee was promoted to Captain and flew 137 combat missions. After the war, he returned to the U.S. and became a pilot instructor. In 1948 he moved on to join the air-refueling unit and also kept up his flying as a fighter pilot.
When the U.S. entered the Korean war, he flew a further 100 missions flying P-51 Mustangs and was promoted to the rank of major.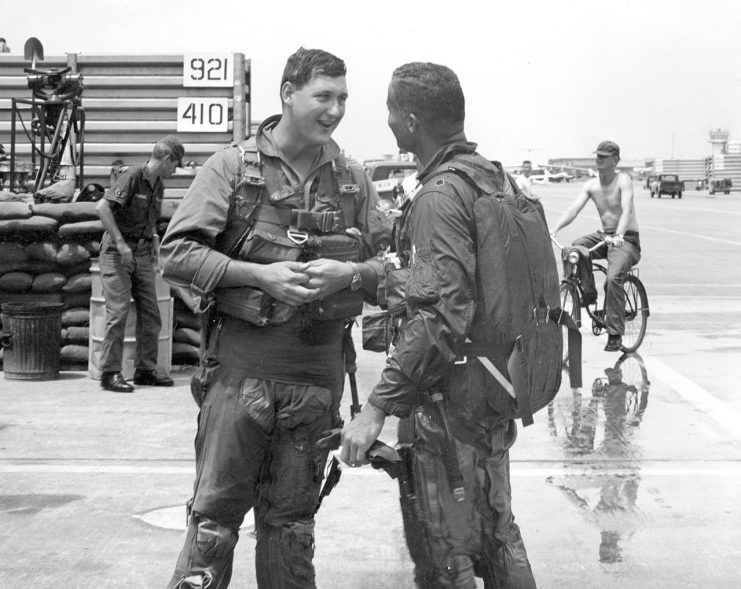 McGee entered the Vietnam War with the rank of lieutenant colonel and flew a photo-reconnaissance aircraft on 172 combat missions.
In his 30 years of active flying service, Charles McGee flew a total of 409 combat missions. This is one of the highest numbers of combat missions flown by any pilot in the U.S. Air Force.
Charles McGee was promoted to Colonel and retired on 31st January 1973 with a total of 6,308 flying hours under his belt.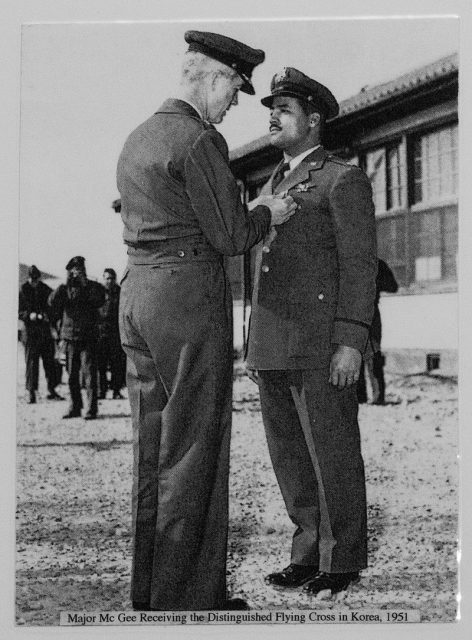 Charles McGee continued to live a full and active life after his retirement, and in 1978 he finally completed his degree, thirty years after he first started.
He has always been an exemplary ambassador for the Tuskegee Airmen and acted as a consultant on the 2012 film 'Red Tails,' directed by George Lucas.
President George W. Bush presented Charles McGee with the Congressional Gold Medal in 2007, and he was honored with being enshrined in the National Aviation Hall of Fame in 2011.
In December, to celebrate his 100th birthday, he piloted a Cirris Vision Jet to the Dover Air Base, where he was feted by the base commander and the men stationed there.
They were honored to meet one of the famous Tuskegee Airmen that did so much to breakdown the stereotypes and destroy the barriers that stopped African-American pilots from achieving.
This year he was honored to undertake the coin toss at Super Bowl LIV, with three other WWII vets.
To top all of this, he was honored to be promoted by President Donald Trump to the rank of brigadier general at a ceremony held in the Oval Office on the 4th February 2020.
That evening, as Charles McGee was a guest at the State of the Union address, President Trump mentioned him by name and said that the nation saluted him.
Air Force Chief of Staff Gen. David L. Goldfein summed it up perfectly when he said, "Charles McGee is a genuine American hero whose courage in combat helped save a nation, and whose legacy is felt to this day across the entire U.S. Air Force.
It was an honor to witness his promotion and to thank him yet again for paving the way for today's Air Force. The Tuskegee Airmen continue to inspire generations of Americans."
We Lose the Last Battle of Britain Fighter Pilot Ace Paul Farnes, Aged 101
Through all of this, Charles McGee has remained the same humble man, saying, "I'd like to pass on what I call my four 'P's' — perceive, prepare, perform, persevere — dream your dreams but get the good education to accomplish the desires and needs of the country. Always seek excellence and always do your best in things that you do. Finally, don't let the negative circumstances be an excuse for not achieving.