War is an expensive business and World War Two was no exception. British Prime Minister Winston Churchill had to use every penny the British Empire could muster to pay for the War effort, but in February of 1941 a Nazi U-Boat wolf pack sunk a ship load of silver bullion on its way from India.
The SS Gairsoppa was making a last bid dash for the safety of Galway Bay, Ireland, when it was sunk with the loss of eighty-five crew. She had sailed from Calcutta, India, in December 1940 with a cargo of silver, pig iron and tea, all items key to the British War effort.
At Freetown in Sierra Leone, she joined Convoy SL 64 on its way to Liverpool. It was a slow convoy. Many of the ships had seen better days and the average speed of eight knots, which made them an easy target.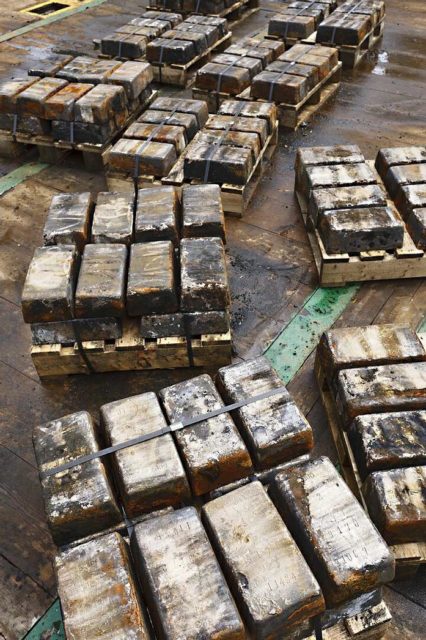 Running low on coal, the steamer split from the main convoy and slowed further in order to be able to make it to the neutral Irish port. The seas were rough, driven by an Atlantic storm that had been pushing in from the West, making progress difficult. In fair conditions and with a full head of steam the ship could reach speeds of up to 10.5 knots.
Early on the morning of February 16th the SS Gairsoppa was spotted by a German Focke-Wulf FW200 which circled twice and reported her position. At just after midnight, according to the German U-Boat logbook, the Gairsoppa was struck with one torpedo on the starboard side, in hold no 2, and sank.
She was still three-hundred miles (480km) from her objective in Southern Ireland and there was only time to launch three lifeboats before the Gairsoppa went down twenty minutes later. Two capsized in the heavy seas, the remaining lifeboat drifted for thirteen days before it was spotted off the Cornish coast.
The Lizard Point Lifeboat put to sea and was able to pull just one man alive from the sea, the SS Gairsoppa's 2nd Officer R H Ayres. He was awarded the MBE for his efforts in trying to save his fellow crewmen. He died in 1992.
Maritime archaeologists were able to discover the wreck off Southeren Ireland in 4,700 metres (15,400 feet) of water in 2011. Odyssey Marine were awarded a two-year contract by the British Government to retrieve the seven million ounces of silver bullion currently valued at £150m.
To date the company's chief executive, Greg Stemm, has said the team have recovered some 99% of the silver. "To add to the complications, the remaining insured silver was stored in a small compartment that was very difficult to access."
President of Odyssey Maritime, Mark Gordon heaped praise on his dive and salvage team. In a statement he said, "We have accomplished a world-record recovery at a depth never achieved before. We're continuing to apply our unique expertise to pioneer deep-ocean projects that result in the discovery and recovery of lost cultural heritage, valuable cargoes and important and needed natural resources."
RT:@KerryNBC Coming up 740am @todayshow @NBCNews 100+ tons of silver – lost in 1941 & now found. pic.twitter.com/agcfx4PAkv

— Odyssey Marine (@OdysseyMarine) July 23, 2013
It was reported that in 2013 a further expedition by treasure hunters recovered a further £23m in silver, which would indicate that there had been a significant amount of uninsured cargo on the ship when it went down. However, Lloyds of London records are sketchy as to the veracity of any such claim.
The total recovered amounted to 61 tons of silver bullion had been recovered, with 20% of the value to be paid to the UK Government, the estimated total value was £137m or $210m.
Another Article From Us: Physicist Who Worked on the First Soviet Nuclear Bomb Dies at Age 101
There may yet be further attempts to recover what might remain on the SS Gairsoppa's ship's manifest, until then some 85 documents, photographs and other personal items recovered by the Odyssey Marine team are on show at the Postal Museum London.