UPDATE, 11/16/2022 – US President Joe Biden has revealed the supposed Russian missile strike that killed two individuals in eastern Poland was likely the result of air defense action by Ukraine. Speaking on behalf of NATO and America's G7 partners, he shared that the preliminary evidence doesn't support the theory that the missile originated in Russia.
"There is preliminary information that contests that," he told reporters in Indonesia on November 16, 2022. "I don't want to say that until we completely investigate, but it is unlikely in the lines of the trajectory that it was fired from Russia, but we'll see." He added, "We agreed to support Poland's investigation into the explosion in rural Poland, near the Ukrainian border, and they're going to make sure we figure out exactly what happened."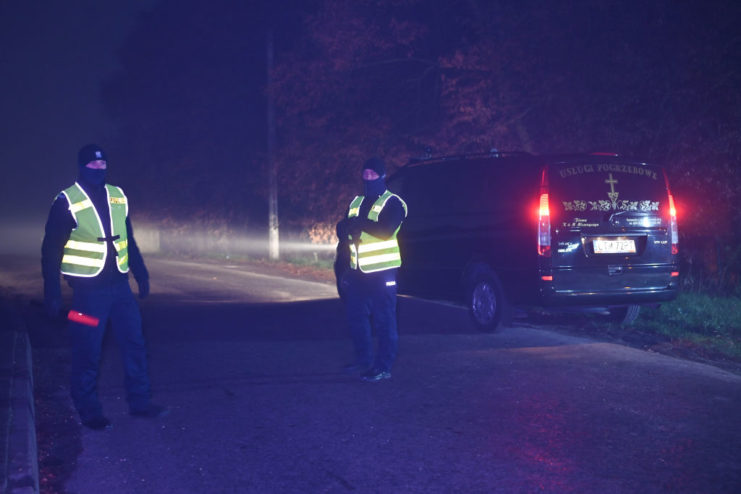 Poland appears to agree with this conclusion, saying debris found at the site in Przewodów was that of a Soviet-era S-300 rocket operated by Ukraine. "From the information that we and our allies have, it was an S-300 rocket made in the Soviet Union, an old rocket and there is no evidence that is was launched by the Russian side," said President Andrzej Duda. "It is highly probable that it was fired by Ukrainian anti-aircraft defense."
Polish Secretary General Jens Stoltenberg added that there was no evidence to show the missile strike was an intentional attack, saying, "Let me be clear, this is not Ukraine's fault. Russia bears ultimate responsibility as it continues its illegal war against Ukraine."
The S-300 ground-to-air missile has been in service since 1978, and has seen use by a number of Eastern European countries. At the start of the Russo-Ukrainian War, Ukraine had 100 active S-300 batteries and 300 launchers. While some have since been knocked out by Russia, many remain operational.
Speaking about the incident in a statement, Russia's Ministry of Defence said that none of the Russian missiles fired around the time of the strike came closer than 35 km from the Polish border. Ukraine has requested "immediate access" to the site, saying it's ready to provide "evidence" the Russian military is responsible for the strike.
We advocate for a joint examination of the incident with the missile's landing in Poland. We are ready to hand over evidence of the russian trace that we have. We are expecting information from our partners, based on which a conclusion was made that it's a 🇺🇦 air defense missile.

— Oleksiy Danilov (@OleksiyDanilov) November 16, 2022
"We advocate for a joint examination of the incident with the missile's landing in Poland," tweeted Oleksiy Danilov, the secretary of Ukraine's National Security and Defence Council. "We are ready to hand over evidence of the Russian trace that we have. We are expecting information from our partners, based on which a conclusion was made that it's a [Ukrainian] air defense missile.
"Ukraine requests immediate access to the site of the explosion," he added.
ORIGINAL ARTICLE:
A possible Russian missile strike against Ukraine's power grid has resulted in not just electricity being cut to multiple regions, but multiple deaths, including two in the Polish border town of Przewodów. Along with marking the first time weapons have fallen on a NATO-member country since the start of the Russo-Ukrainian War, the attack comes just hours after Ukrainian President Volodymyr Zelenskyy addressed leaders at the G20 summit being held in Indonesia.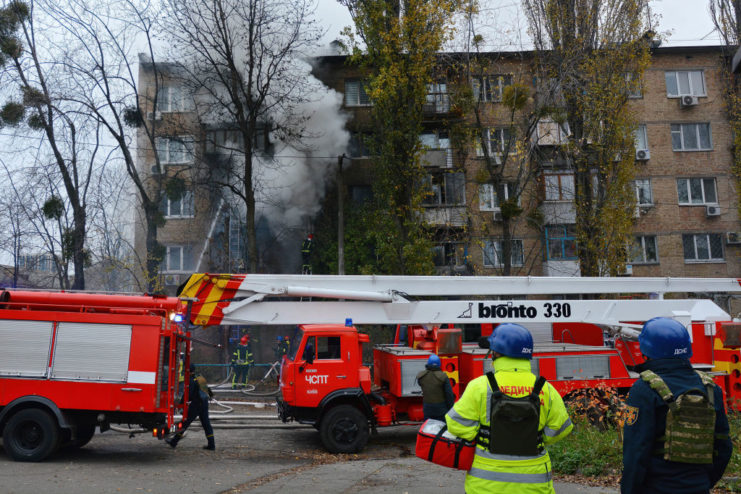 When asked by the Associated Press about the missile strike, Piotr Müller, a spokesperson for the Polish government, refused to confirm any details, but did say leaders were holding an emergency meeting due to a "crisis situation."
According to Zelenskyy and other Ukrainian government officials, Russia launched at least 100 missiles at the country's various power facilities, resulting in rolling blackouts, including in the capital city of Kyiv. Dozens of areas, including settlements in the west, reported strikes and efforts by air defenses to shoot down missiles flying overhead.
Zelenskyy added that 15 energy targets sustained damage in the attack, which the Ukrainian Air Force claims featured X-101 and X-555 cruise missiles. Earlier this week, the service had warned that the Russian military was stockpiling weapons to renew its assaults on Ukrainian targets.
Ukrainian Energy Minister Herman Halushchenko said the attack is "the biggest" to occur against the country's energy grid, damaging transmission and power generation systems. Prior to the missile launch, it was estimated that around 40 percent of Ukraine's energy infrastructure had been destroyed.
BREAKING: Polish @RadioZET_NEWS reports 2 stray missiles fell in the Polish town of #Przewodów on the Polish side of the border with #Ukraine!

2 Polish citizens died during the explosion.

The local police, the prosecutor's office and the units of Polish Army are on site. pic.twitter.com/X1uel8HxbR

— Zbigniew PISARSKI 🇺🇦 (@Pisarski) November 15, 2022
The two fatalities in Poland occurred in an area of Przewodów where grain was drying. The town has a population of 710 and is located just seven kilometers from the Ukrainian border. One person was also pronounced dead in Kyiv, after three residential buildings were struck in the city. In Moldova, the missile strike knocked out a key power line, sending the nation into darkness.
Russia's Ministry of Defence has denied reports Russian missiles landed in Poland, calling the claims "a deliberate provocation aimed at escalating the situation." The statement also said that "no strikes on targets near the Ukrainian-Polish border were made by Russian means of destruction," and added that wreckage found in Przewodów "has nothing to do with Russian weapons."
A number of Eastern European leaders have spoken about the incident. Lithuanian President Gitanas Nausėda tweeted that the nation's government is "keeping a close contact with our Polish friends. Lithuania stands in strong solidarity with Poland. Every inch of #NATO territory must be defended!"
According to a spokesperson, Hungarian Prime Minister Viktor Orbán convened the country's Defence Council for an emergency meeting over "the missile hitting territory of Poland," while the United Kingdom's Foreign, Commonwealth & Development Office is "investigating these reports and liaising closely with allies."
Speaking with reporters, US Department of Defense Press Secretary Patrick Ryder said the Pentagon was investigating the attack and attempting to gather additional information. "I'm not going to get into hypotheticals or speculate," he said. "As I mentioned, we have no information right now to corroborate that there has been a missile strike. Again, we're looking into it."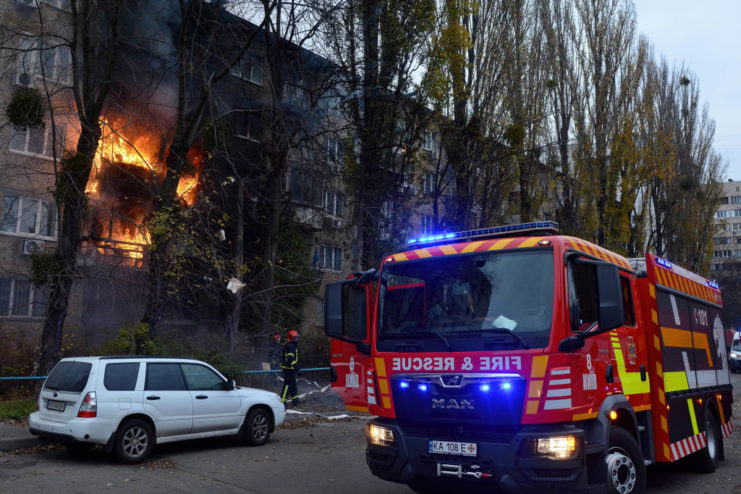 The strike is the first to occur since the complete withdrawal of Russian troops from the Ukrainian city of Kherson and follows days of military victories by Ukrainian's military. Given the missiles landed in Poland, some have begun to question whether Article 5 of NATO's treaty will be put into action.
Created in 1949 along with the establishment of the organization, Article 5 codifies the concept of "collective defense" – an attack against an allied country is an attack against all member nations. It's only been put into action once, following the terrorist attacks against the United States on September 11, 2001.
More from us: Over 500 UAVs Delivered to Ukraine Since Mark Hamill Began Work with 'Army of Drones'
What's more likely to happen, according to sources close to the situation, is the activation of Article 4. Unlike Article 5, which is intended to lead to direct action, Article 4 involves a consultation among NATO regarding threats to member countries. Nothing moves forward after discussions about how best to counter said threat, and no action can occur without unanimous agreement
*This article will be updated as more information becomes available.*