Rector Peter Dyson of St Saviour's Church in Jersey has been astounded to find over 100 graves of veterans of the Napoleonic Wars in the graveyard attached to the church.
Rev. Dyson received a letter in 2018, where the author asked if there was a grave for a man named William Deane in the graveyard of St. Saviours in Jersey.
The author of the letter went on to say that he was a Battle of Waterloo specialist, and he had traced the gravesite of a soldier by the name of William Deane to St. Saviours. Rev. Dyson delved into the church's books, and sure enough, there was a record of William Deane being buried in the graveyard.
Following this revelation, Rev. Dyson was at a dinner party when another guest said he thought there were several graves of Waterloo veterans in the graveyard. This revelation sparked a two-year project to trace as many graves of veterans from the Napoleonic Wars as possible.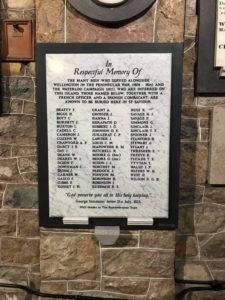 Several turned out to be seriously understating the actual number, and now the project team believes that there are over 100 graves of Napoleonic veterans in the graveyard. Experts believe that there may be more graves of Napoleonic veterans in this one churchyard than any other churchyard in Britain.
With these graves' discovery, a project team was put together to organize a tribute to all these fallen heroes.
More than 100 Napoleonic graves found in Jersey churchyard https://t.co/EUqaPxQ9V5

— BBC Jersey (@BBCJersey) September 28, 2020
A plaque has been erected in the churchyard detailing 58 men who fought with the Duke of Wellington during the Peninsular War (1808-1814), or at the Battle of Waterloo in 1815. There is also an appendix naming 43 soldiers who fought against the French in other theatres of the Napoleonic Wars era.
The question that was most asked was, how did these men end up in Jersey?
https://www.youtube.com/watch?v=oGYP35MK_aA
Rev. Dyson believes that when the Napoleonic Wars ended after the Battle of Waterloo in 1815, the numbers of men in the British Navy and Army were slashed by around 90%. This left thousands of men with no means of earning a living, but those willing to go to Jersey were paid a government subsidy. It also meant that the people of Jersey felt safer as Jersey is geographically close to France.
Many of these veterans married local girls and became part of the social fabric of Jersey. As St. Saviours church was the center of the island's social and religious life, it makes sense that so many were buried in the graveyard of the church.
An expert on this era, Sir William Mahon, has written a book that brings some of the names to life. One of these stories is about Daniel Herapath, who was a drummer boy in the army.
He joined up at the tender age of 12, and as a drummer, he would have been right on the front line of any battle as he marched at the front beating his drum to keep the men in step and moving forward. It is therefore quite remarkable that he survived six of the major battles of this campaign, including the Battle of Waterloo. He then went to Jersey.
Sadly, his grave is one of those that cannot be identified. As he was poor, his grave is not marked by a headstone, and it is likely that he was buried in the graveyard's paupers section.
Another Article From Us: E Company's Bill Wingett, One of the Famous 'Band of Brothers', Passes Away
Most of the names that Rev. Dyson has been able to find are of the officers, who being wealthy, could have gravestones erected marking their graves. All the graves identified have been marked and each of these graves will have an English rose planted on them to identify them as veterans of the Napoleonic Wars. Those graves in the pauper's section will share one rose to ensure that their service is not forgotten.