Anyone in the market for an offbeat, one-of-a-kind home that will have friends and family talking for years should look no further than the former gun tower for sale in Pembrokeshire, on the southwestern coast of Wales.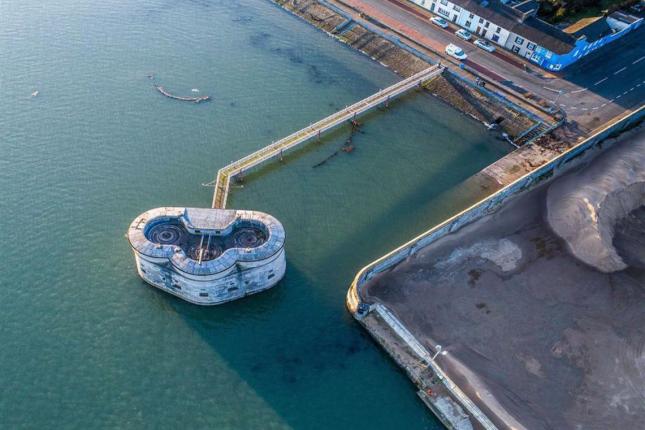 It's in need of a little work – okay, a lot of work – but it could be a unique, three-story waterfront home for someone with a little vision and a whole lot of elbow grease. The property is going for a relative song, a mere 70,000 pounds; usually a vacation home on the water goes for many time that amount and is being marketed by Zoopla.com
The gun tower was constructed in 1851 to defend the Royal Dockyard from potential invaders. It has three levels, and the guns mounted on top are original. The possibilities for renovations are limitless.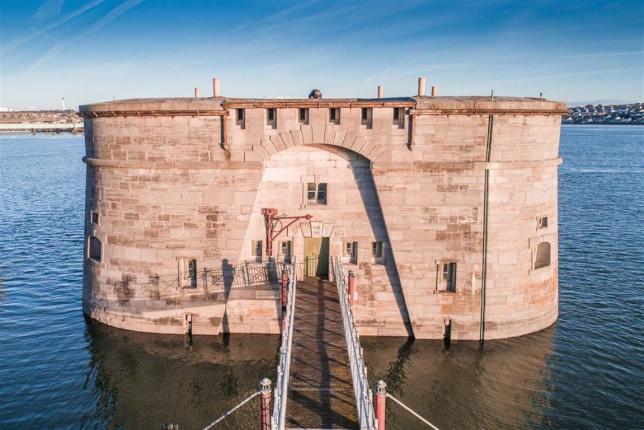 A long walkway out of the dockyard and over the sea's edge is owned by the Crown Estate, and presumably a new owner would continue that leasing arrangement, John Francis, the sales agent handling the listing, recently told the dailymail.com. The tower has never fired its guns during a battle or invasion, never "in anger," as Francis put it.
But it stood watch over the dockyard from the mid-19th century on, and was not "decommissioned" until 1982. During the Great War, it was used as an observation post.
But during World War II, machine guns were placed on the roof and Royal Air Force (RAF) personnel kept watch for potential threats from Germany – a very real possibility, as Adolf Hitler wanted nothing more than to conquer Great Britain.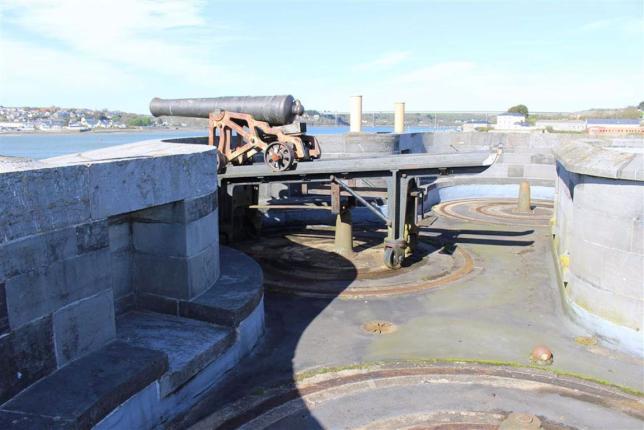 It may never have had its guns fired "in anger," but it certainly played a role in guarding the Wales coastline during both world wars.
And since the original guns are still in place on the roof, it would be a fabulous project for any amateur historian with a little extra cash and a lot of initiative.
It was purchased by the Pembroke District Council in 1975, and ultimately became the Gun Tower Museum around 1995. It was held by the Pembroke Dockyard Museum Trust since then, until 2017.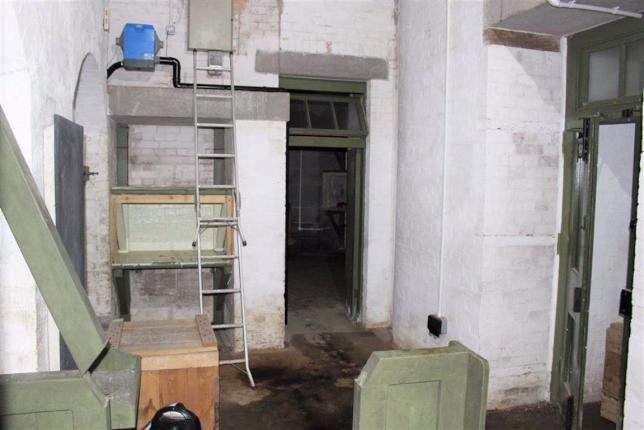 One sales agent, Henry Pryor, told the dailymail.com that he believes many of his clients will be very interested in the unusual property because it has "bags of potential..(it's) ideal for some Captain Pugwash or some aspiring James Bond villain." (Now those are unique sales pitches!).
But that buyer must be willing to deal with a few major inconveniences, like no traditional toilet facilities, Pryor explained. "No main drainage means you either need a composter loo, or restricted swimming around the base, but there is water and electricity.
The lucky buyer will need to get planning permission to convert it into a home, but I expect there will still be commercial ventures that would relish the chance to set up shop here."
It may be for sale at a bargain price, but Pryor predicted that, "Someone wanting to convert it will spend two or three hundred thousand pounds, and hope to have a half-million pound property at the end of it."
It certainly wouldn't be the first time a historic property was purchased, renovated and turned into a successful enterprise. One fort near the Isle of Wight was bought and repurposed into a nine-bedroom, boutique hotel in 2012, and went on the market for a cool five million pounds in 2018. So it can indeed be done.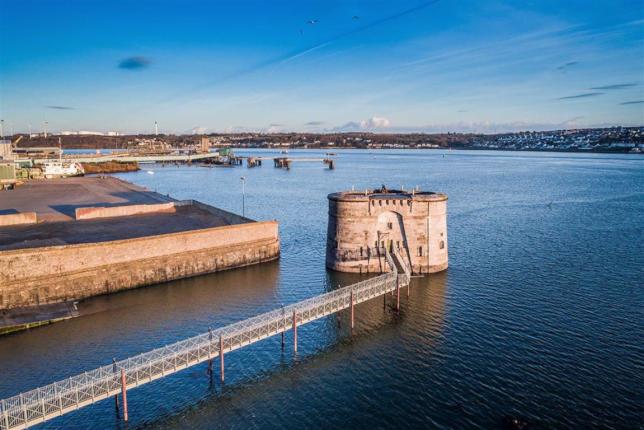 Another Article From Us: Third Reich's Abandoned "Highway" For Stolen Gold
When a newspaper ran its piece about the sale of the gun tower recently, many folks saw fit to poke fun at the gun tower's layout, seaside location, and potential uses. One gentleman commented, "I'm going to buy it for my mother-in-law, then pull up the bridge." Now that's an idea…tsk, tsk.