Andy Travnick of Hampton, New Hampshire, died on Friday after the plane he was flying crashed shortly after takeoff.
The 50-year-old commercial pilot and U.S. Air Force veteran was the only person onboard the plane when it crashed near the Wilkes-Barre/Scranton International Airport. During his time in the Air Force, Travnick piloted a C-5 Galaxy cargo plane, among other aircraft. He was a graduate of the Air Force Academy. Following his graduation, he serviced in Spain, Qatar, and Afghanistan.
According to Military.com, the plane "suddenly veered to the left" for "reasons unknown."
Immediately following the crash the GEICO Skytypers, which flies the planes, identified the pilot. The team also announced that an investigation was immediately started following the tragic accident. The investigation also includes investigators from the National Transportation Safety Board (NTSB) and the Federal Aviation Administration (FAA).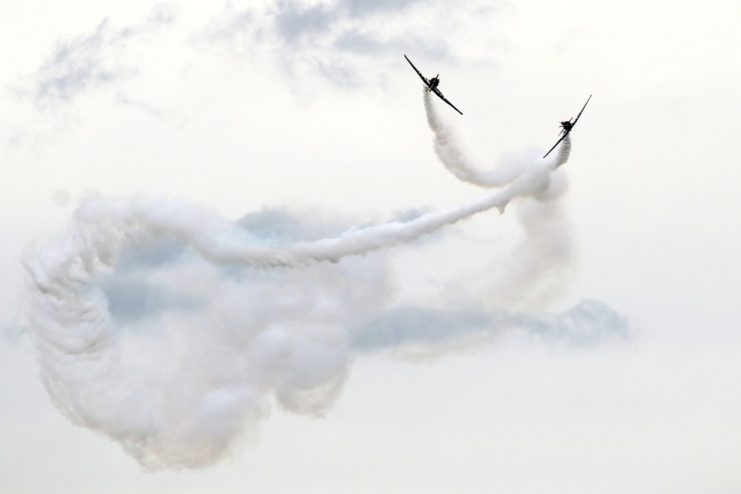 Following the crash, eyewitness Carol Paupst told PA: "I mean, literally, the flames went sky-high… I watched two go off, and then two go off, and then the last two go off. And so I said, 'when these go off they're going to go up in the air'. And as soon as I said that, it crashed."
The Skytypers released a statement in which they wrote,  "Our thoughts and prayers are with Andy and his family at this time."
Executives at Pocono Raceway spoke with the GEICO Skytypers team and decided to move forward with the shows which took place on Saturday and Sunday. The GEICO Skytypers did not perform following the tragic loss of their teammate.
This isn't the first accident for the Skytpers team, in 2018 they lost a vintage plane in Melville, New York. It was another accident that claimed the life of the pilot.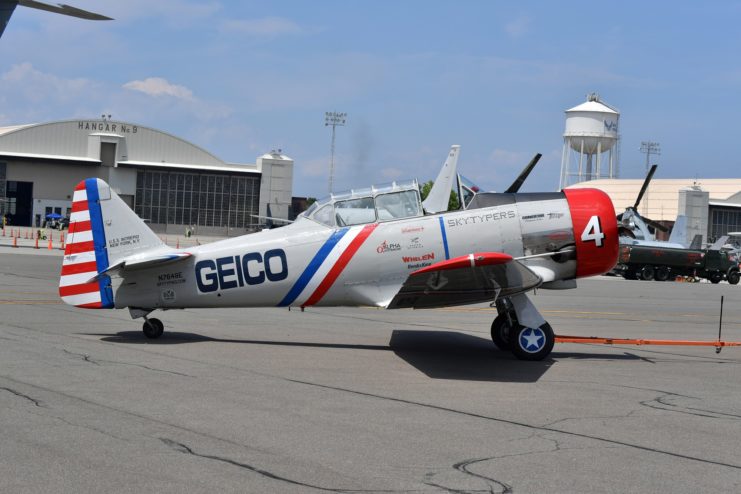 The GEICO Skytypers team uses North American SNJ-2 World War II aircraft to perform various aerial maneuvers. As the team's name suggests, they also write messages and draw various symbols, such as hearts, in the sky. The team is comprised of highly skilled pilots who perform electrifying movements in close proximity to each other.
The SNJ entered the picture right before World War II and served into the 1950s. The plane is best known for training Navy and Air Force Pilots.
According to the National Naval Aviation Museum, the plane, also used by our allies for training purposes, has delivered more than 17,000 units since its inception. Started with a fabric-covered fuselage, the plane eventually evolved to include a more modernized all-metal build while including retractable landing gear.
No further details from Friday's crash have been released at this time.