One of the first ladies to enlist as a Marine Reservist, Dorothy' Dot' Cole, has passed away at the fabulous age of 107.  Last September, her 107th birthday was widely celebrated. She was lauded as being the oldest living Marine in the United States.
Dot lived with her daughter, Beth Kluttz (67), for the past 20 years, but sadly she passed away in Kannapolis from a heart attack on Thursday ….
Shortly after the Japanese bombing of Pearl Harbour in 1941, she responded to the call to enlist. At 28years old, Dorothy Schmidt, as she was then, set off on a 150-mile bus ride from Warren, Pennsylvania, for Pittsburgh. Her objective was to enlist in the Navy.
Dorothy was bitterly disappointed when the recruiter told her that she did not meet the Navy's enlistment standards. She had always had the nickname 'Half-Pint' due to her short stature, as she was only  4 feet 11 inches tall.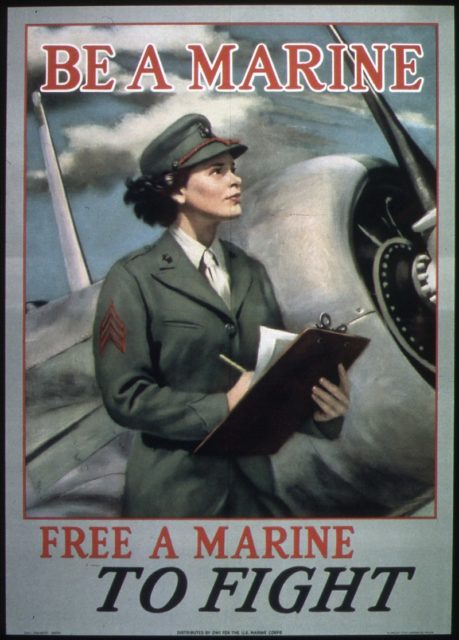 But where there is a will, there is a way, and Dorothy came up with a new plan. Returning to Warren, she decided to learn to fly and then do all she could to persuade the Marines to let her fly planes for them.
This was a bold idea as, from 1918, the Marines had only permitted females to fulfill clerical positions, but Dorothy's plans and the war effort were to mesh.
In July 1942, with the war escalating, in both Europe, Africa, and the Pacific, President Franklin D. Roosevelt signed the law enabling the Marine Corps Women's Reserve to plug the gaps. These were in the administration, supply, and training at Marine bases.
The Marine Corps dragged its feet in setting up the Women's Reserve, and it did not come into being until February 1943. Five months later, on the 12th July 1943, Dorothy enlisted at age 29, one of the first ladies to do so.
When she enlisted, she was the owner of a private pilot's license and had over 200 hours logged on a Piper Cub. Much to her disgust, this was not enough to tempt the Corps to let her fly.
After completing her basic training, she was assigned to a typewriter instead of an airplane. Still, her cheerful personality shone through, and she loved her uniform, especially the hat she was issued.
Dorothy spent the next two years at Quantico, responsible for typing up correspondence for the firing range officers. She remembers that this was a difficult time as the ladies were not welcomed by all the men.
She met her future husband, Wiley Cole, a 6 foot 2-inch sailor. Wiley served on the aircraft carrier USS Hornet in the Pacific. In October 1942, the USS Hornet was torpedoed and sunk.
Our deepest condolences to the family of U.S. Marine Sergeant Dorothy Cole. A Kannapolis resident, Dorothy (Dot), passed away last week. At 107 years old, she was the oldest living U.S. Marine. Semper Fidelis pic.twitter.com/CVRRdV8c7q

— Kannapolis, NC (@Kannapolis) January 14, 2021
Dorothy was discharged honorably from the service in December 1945 and moved to San Francisco to join Wiley, where they married. Both went on to work at Moffett Field, Silicon Valley, for the Ames Research Centre, which was incorporated into NASA in 1958. Wiley was employed as an aerial photographer, and Dorothy was taken on as a secretary.
Their only child, a daughter Beth, was born in 1953, and Wiley died two years later from a heart attack.
Dorothy was lauded later in life as she became the oldest living female Marine. At age 107, as of September 2020, she was the most senior living Marine of either sex. With this accolade, she became a minor celebrity and took part in several interviews.
Another Article From Us: Group of Volunteers Working to Restore Historic Skymaster Plane
Today, the ladies who enlist in the Marine Corps have a plethora of opportunities to take advantage of. Still, it is the pioneering spirit of the ladies like Dorothy Cole that has enabled this transformation.  However, it is just as well that Dorothy did not hold out for a pilot's position as women were not permitted to fly aircraft for the Marines until 1995.