Doris Miller was the first black recipient of the Navy Cross and has inspired generations of African American sailors who have followed him into the service.
Ten of the last fourteen US Navy aircraft carriers have been named for US Presidents, all of whom have had military experience, two for Congressmen and one for Admiral Chester W. Nimitz.
The fourteenth will be named for a man who achieved the rank of Cook Third Class and seen by many as the first American hero of World War Two.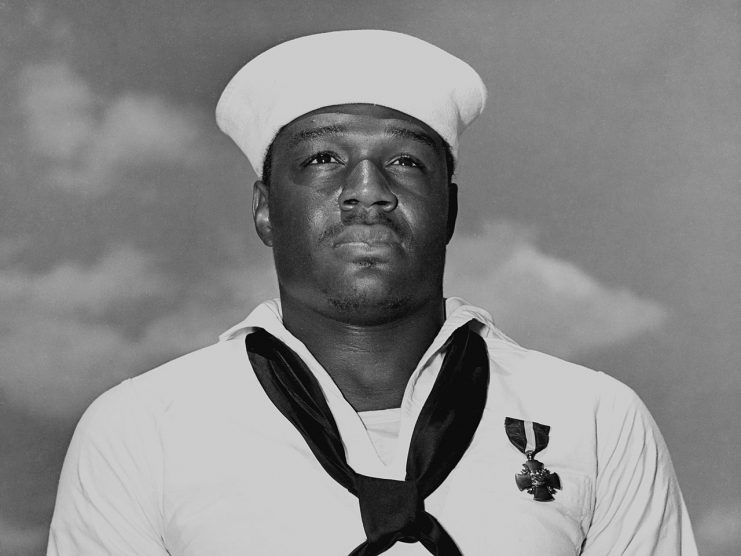 On that fateful day, December the 7th 1941, when the USA was finally dragged into the global conflagration that became World War Two, Doris Miller was up at six in the morning to serve breakfast on the USS West Virginia.
He was collecting laundry just before eight when the first of nine torpedoes launched from the Japanese Imperial Navy Aircraft Carrier Akagi struck amidships. He immediately scrambled to his battle station but discovered it had been completely destroyed.
Instead, he reported for duty at 'Times Square' where he was taken up onto the bridge to assist in the evacuation of the ship's captain, Mervyn Bennion, incapacitated by a shrapnel wound to his abdomen.
In the melee it was impossible to leave the area with the captain, so he was taken to a less exposed position behind the conning tower.
Here there were two Browning 50 calibre anti-aircraft guns which Miller was ordered to help operate, despite having no formal training.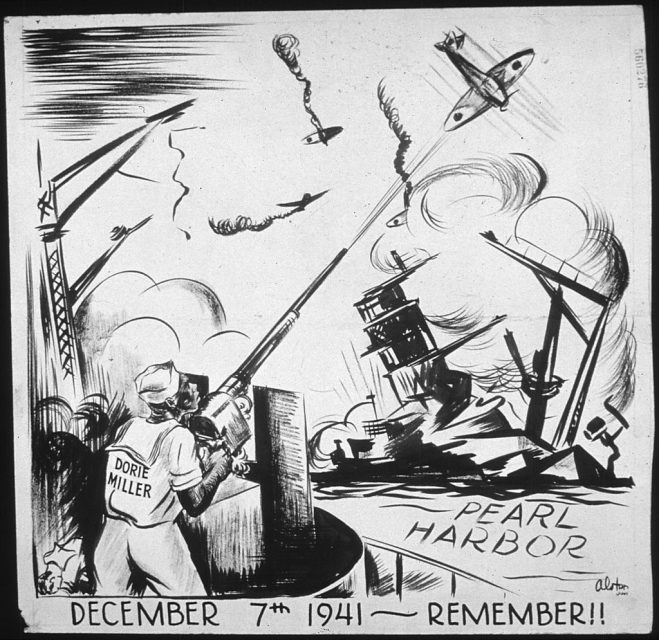 He was expected to simply load ammunition but instead he took control of the starboard gun and fired until he ran out of ammunition.
'It wasn't hard. I just pulled the trigger and she worked fine,' Miller said. 'I guess I fired her for about fifteen minutes. I think I got one of those Japanese planes. They were diving pretty close to us.'
After the ammunition was gone Miller helped to move the wounded to a place of safety through the smoke and oil and water.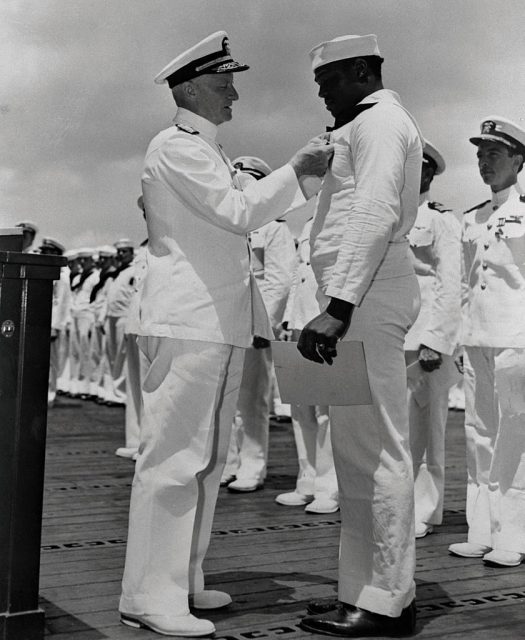 Sadly, Captain Bennion did not survive and the USS West Virginia eventually sank following direct hits from two armour piercing bombs and five aircraft torpedoes.
Following the attack Miller was transferred to the USS Indianapolis and in January the commendations were announced following the action on December 7th.
Miller wasn't named in the list, but an 'un-named negro' was mentioned and it took until March 12th for Miller's name to become public following a story in the Pittsburgh Courier.
His commendation arrived on April 1st, and on May 27th he was awarded the Navy Cross by Admiral Chester W Nimitz.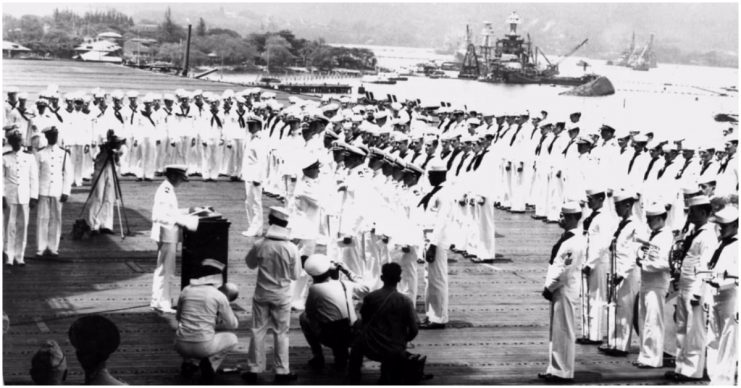 The citation read, 'For distinguished devotion to duty, extraordinary courage and disregard for his own personal safety during the attack on the Fleet in Pearl Harbor, Territory of Hawaii, by Japanese forces on December 7, 1941,'
Despite accusations of tokenism the announcement has been broadly welcomed across the media, with an official ceremony due to take place soon in Pearl Harbor, Hawaii, the site of Miller's medal-winning actions.
Acting Navy Secretary, Thomas Modly had wanted to name the carrier after a Navy hero and Miller's name survived extensive consultations with current and former senior personnel.
The story goes that Mess Attendant 3rd Class Doris Miller, sometimes called Dorie, got his female name from the midwife, who was convinced that after three sons his mother was due a girl. Doris grew up on his parent's smallholding in Waco, Texas.
Despite a reputation for hard work he dropped out of school after being held back in eighth grade and instead went on to complete a correspondence course in taxidermy.
In 1939, shortly before he turned twenty Miller decided to enlist and was sent to a Naval Training Station in Norfolk Virginia, where at six feet three inches (1.91m) and two-hundred pounds (91kg), Doris's name didn't cause him any problems.
Another Article From Us: Grumman TBF Revealed in Amazing Seabed Images
Doris Miller continued to serve in the Navy until November 1943 when he was killed by a Japanese torpedo attack on escort carrier USS Liscome Bay shortly after the Battle of Makin.