Major Dick Winters endures as an iconic figure of the American experience during the Second World War.
Representative of countless officers who exerted confidence and resolve on the battlefields of Europe, his story has entered the pantheon of popular imagination thanks to the various books and films that have chronicled his noble deeds.
Scroll down for video of the authors being interviewed by WW2TV

Hang Tough: The WWII Letters and Artifacts of Major Dick Winters is the latest scholarly endeavor that seeks to analyze the famed paratrooper in the realms of history and memory.
Compiled by Gettysburg Museum of History curator Erik Dorr and Penn State history professor Jared Frederick, the book incorporates previously unpublished diary entries, military reports, postwar reminiscences, and private photos to comprise a textured tale of leadership and 1940s society.
A core element of the book is Winters's correspondence with a naval reservist pen pal named DeEtta Almon. Throughout World War II, she composed over one hundred letters to the 101st Airborne officer, and Winters responded in kind—perspectives that offer compelling glimpses of his growth from a private to a major over a four year span of time.
Hang Tough does not claim to be the definitive biography of Dick Winters. Nor should it be considered a comprehensive history of his lionized unit depicted in HBO's Band of Brothers. Rather, the authors seek to present Winters as a man of his times, adding background to his own words.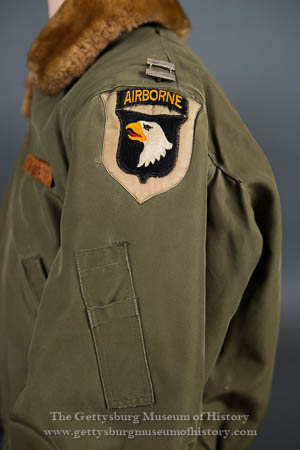 How were his motivations, principles, and worldview representative of Americans at war? How did his experiences in barracks and on battlefields align with those in comparable circumstances?
To answer these questions, Dorr and Frederick have employed a wide array of primary and secondary sources to present broader perspective. Throughout the text, each of Winters's letters is bridged with supporting commentary to offer a coherent historical timeline.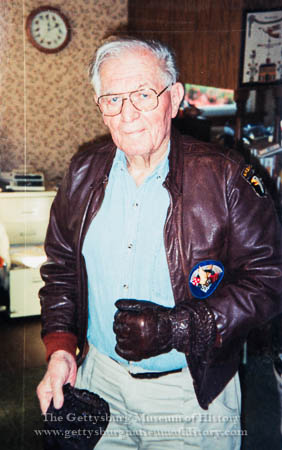 Infusing additional layers of history into the narrative, the authors have incorporated a host of fascinating World War II artifacts, documents, and photographs into the book. Scores of these relics were used by Dick Winters himself.
Other showcased items pertain to people and places Winters encountered throughout his journeys. Most of these noteworthy mementos can be viewed in person at the Gettysburg Museum of History in Pennsylvania.
Like newspapers of the era, the correspondence offers immersive opportunities. The letters plunge readers into iconic places and moments of the historical record.
A notable excerpt from the letters includes thoughts Winters shared with Almon on June 19, 1945. As Winters attempted to expedite his seemingly inevitable deployment to the Pacific, he wrote:
I am not going down there for the trip or any personal gain. I feel that God has been good enough to let me go through this war. As a result, I am combat wise and in a position to do some good to help a lot of men. I know I can do the job, better than, or as well as, any of the rest. How can I sit back and see others take men out and get them killed because they don't know; they don't have "it." Maybe I'll get hurt or killed for my trouble, but so what if I can make it possible for many others to go home. Their mothers want them too, the same as me. So what else can I do and still hold my own self-respect as an officer and a man?
According to the authors, such insight offers invaluable perspective on Winters's frame of mind as the war progressed. "We earnestly hope readers gain fresh views on Winters and his times," explains co-author Jared Frederick. "The distant wartime relationship of Dick and DeEtta reminds us never to underestimate the value of quiet dignity and friendship. There is much we can gain from this story."
"The narrative offers a unique blend of personal wit, leadership ethics, and many observations of the world at war," adds co-author Erik Dorr. "We expect the book will be a timely reflection on a rising officer and the philosophies that molded him. Even seventy-five years after the war's end, there's so much we can learn from Winters and those of his generation."
Another Article From Us: Remains of Missing Marine from WWII Returning Home for Burial
Historian James Holland, author of the bestselling Normandy '44, likewise recognizes the value of examining the personal testimonies of GIs such as Winters: "Expertly edited and framed with a highly knowledgeable contextual narrative, Hang Tough offers perspective and detail of one soldier's extraordinary wartime career."
Portions of the Dick Winters Collection can be viewed at www.gettysburgmuseumofhistory.com.
You can pre-order here Amazon. Featuring a foreword by Bradford Freeman, one of the last surviving members of Winters's Easy Company, Hang Tough hits bookshelves on October 27, 2020.