Massachusetts resident Arthur 'Mac' McIntosh is looking forward to celebrating his 101st birthday with his family following his recovery from the respiratory disease Covid-19.
The veteran, who helped maintain supply lines as a truck driver following D-Day, advised other elderly sufferers to "keep moving around".
His son Chip, 52, was diagnosed with Covid-19 on March 18th. He described the illness as starting with a fever and a headache.
He immediately moved into a hotel to self-quarantine, but it was too late to stop his father, Mac, and his sister Marifrances, 72, from catching the virus.
Chip McIntosh works at a Boston medical centre and commutes daily on the MBTA, meaning that the bug could have come from anywhere. His sister had travelled down from Vermont to help out Chip, who lives with his father.
Both Marifrances and Chip were aware that Mac had a pre-existing lung condition from his years working as a plumber and so they feared the worst.
Rather than go into hospital, Mac decided to remain at home knowing his family would be there if things turned out badly for him.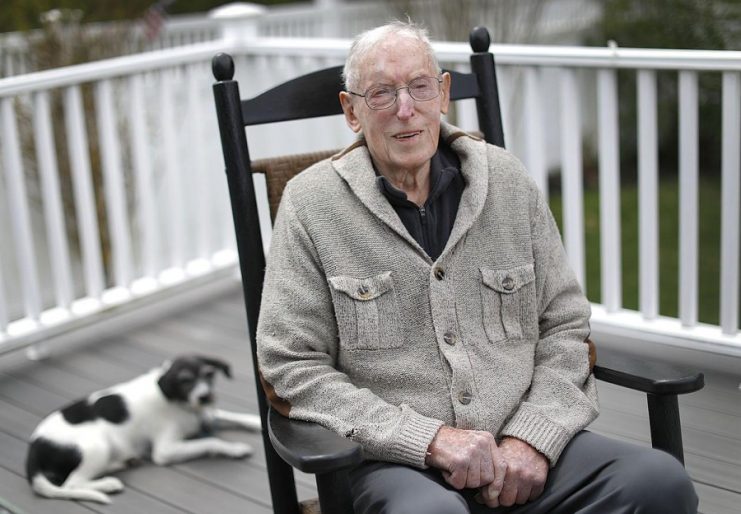 Supported by extended family and neighbours who brought food and other essential items to the front door, Chip and Marifrances said they were overwhelmed by the kindness shown to them.
"The neighbourhood was terrific." said Marifrances in a phone interview, "People brought gloves, food, paper towels."
To his family's relief, Arthur McIntosh's recovery began after about ten days. His daughter confirmed he also remains the oldest member of the Boston Plumbers and Gasfitters United Association Local 12.
Covid-19, known to disproportionately affect the elderly, has claimed the lives of more than five-thousand Massachusetts residents with nearly 80,000 confirmed cases to date.
This dwarfs recently confirmed figures from the US National D-Day Memorial Foundation which has confirmed two-and-a-half-thousand American dead on the beaches of Normandy.
Overall, the Battle of Normandy claimed the lives of more than 125,000 US ground forces, but it gave the Allies the decisive victory needed to begin the pushback against the Nazi war machine.
It has often been said that supply lines and logistics can make all the difference in a battle, so Arthur McIntosh and his fellow drivers played a key role in the Allied Invasion of Normandy.
Supply lines were a prime target for the Nazi Luftwaffe as they also understood that these were the lifeblood of the battlefront.
By June 11th, 1944, some 326,547 troops had been landed on the beaches of Normandy along with 54,186 trucks, tanks, jeeps and other vehicles, and 105,000 tons of supplies.
All of this material had to be loaded and transported to where it was most needed, from troop camps to just behind the front line.
in May 1942, under the command of Major General John C H Lee, the Services of Supply, or SOS, was later referred to as COMZ, the Communications Zone in 1944 as preparations for D-Day were ramped up.
At more than 459,000 regular service personnel, logistics made up almost a third of the total invasion force based in Britain before Operation Overlord went into action.
By July 25th the front line advanced much more rapidly than planned, causing any number of problems for COMZ. While engineers raced to patch up bombed out pipelines and railway tracks, the Allied progress became more dependent on truck drivers to deliver essential supplies.
There were major shortages of petrol, and so the Advanced Section organised the "Red Ball Express" which, while successful, had a terrible cost in the number of lost and damaged vehicles.
For Arthur 'Mac' McIntosh to have come through the fierce fighting in Normandy was, for some, miracle enough.
Police Swoop on a 'Suspicious' Medieval Swordsman…He Was Doing Daily Exercise
That he has also been able to survive the rigours of this latest World War is another reason we must all have hope in difficult times.