When traveling, many people like to obtain a keepsake or souvenir to remind them of somewhere that has either inspired, moved, or otherwise affected them.
In the nineteenth century, Victorian visitors to Stonehenge in Wiltshire could rent a small hammer and chisel in order to take a little bit of the prehistoric stone circle home.
Memorabilia is also available to buy for almost anything, and in the most diverse ways. Some things can be very personal.
For example, a search on eBay for historical items for sale relating to the Nazi death camp at Auschwitz in Poland will deliver results such as letters written by inmates. Some of these are truly poignant pieces of writing that serve to illustrate the horrors of the Holocaust. Understandably, such items also come with quite a high price-tag.
It is also possible to purchase medals awarded for the liberation of Auschwitz and for surviving if you were an inmate.
More than 1.3 million men, women, and children lost their lives at the camp, and it has been preserved as intact as possible, to act as a reminder to the world of the atrocities that can arise if certain forces are left unchecked.
Further down the hierarchy of mementos are less personal, more mundane objects. What got a British police constable, Matt Hart, into hot water was his eBay listing of barbed wire and electric fence insulators that he claimed, in a note of authentication, were "personally obtained from the ground beneath the WWII electric fence at Auschwitz-Birkenau."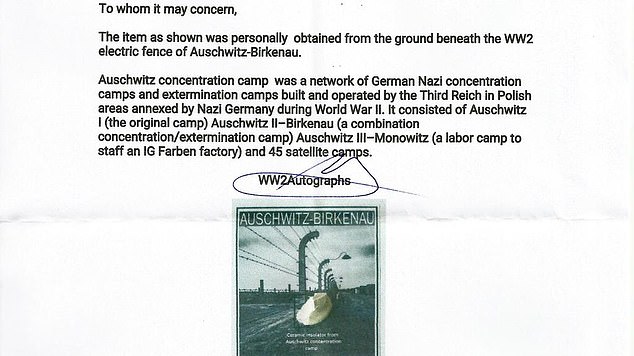 Under Polish law, it is forbidden to remove items from the camp, and selling items obtained in this way is also a crime. However, this law does not extend across Europe. As such, Hart has been told by his employer, the Northamptonshire Police Force, that he has not broken any UK law.
However, Karen Pollack, who is the Chief Executive of Britain's Holocaust Educational Trust, branded PC Hart's listing of the relics for sale as "shocking."
In a statement to the Jewish Chronicle, Karen Pollack said, "It is disgusting that anyone could think it appropriate to take or acquire items from the site of the largest mass murder in history, and even more so to try to profit from them."
A Northamptonshire Police Force spokesperson confirmed that PC Matt Hart had discussed the situation in depth with officers from the force's professional standards team. While he had disclosed a business interest in line with standard policy, the Force recognized that in this instance it could result in deep offense to most people.
Following the intervention by the standards team, Hart agreed to remove the items from sale on eBay and has since closed the account that traded as WW2Autographs.
The listings included four lots of barbed wire that had been obtained from the "Mexico"' part of the site, which is described as an "outer-region" and not part of the current enclosed area.
Even so, this part of the camp relates directly to the extended warehouse where, in 1944, hundreds of thousands of Hungarian Jews were held until the gas chambers had capacity to cope with the huge numbers of new arrivals.
It has not been determined who was responsible for the removal of said items from the site, even though a certificate of authentication stated that they were "personally obtained."
Karen Pollack also said, "Auschwitz-Birkenau is a universal symbol of the Holocaust. Every part of the physical fabric of the camp is material evidence of the brutal murder… which took place there."
On its website, eBay has a very clear policy of what it will allow to be sold with regards to World War Two memorabilia. It has a ban on Nazi propaganda and other items "that are disrespectful to victims."