This is an extraordinary and unusual tale of bravery from D Day! It shows the biggest victories in war don't always mean death and destruction.
Yarnhub a relatively new YouTube channel has been pumping out lots of historical content in a mixture of 2d and 3d. Recently they tackled the fascinating story from D-Day and was their first attempt at 3d animation.
Scroll down for video
At the village church in Angoville-au-Plain (Normandy), visitors may be surprised to see 2 unique stained glass windows. One features Lady Liberty at the bottom and an American Eagle at the top.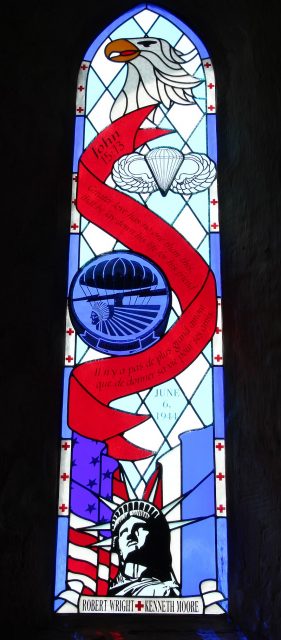 The other has a soldier parachuting earthwards with his men. Exciting but far from Biblical… and certainly not what people expect to see in a French place of worship!
So who are the windows paying tribute to? They highlight the Herculean efforts of Robert E Wright and Kenneth Moore, 2 US medics from the 'Screaming Eagle' 101st Airborne division. Wright and Moore occupied the church during those early days of June 1944.
Both men arrived separately and with high drama. The Douglas C-47 planes that brought them across the sea from England were under fire. As the Independent wrote in 2015, "several of the C-47s were shot down and their airborne infantrymen never saw France." Moore made a nail-biting judgement call, estimating "at several hundred feet, that he was on the limit of surviving a parachute jump."
Thankfully he did, with a water-logged field cushioning him as he landed. Ironically it had been floaded by the Germans.
His path crossed with fellow parachutist Bob Wright, who had identified the 12th century church at Angoville-au-Plain as an aid station for wounded troops. The pair were about to experience the strangest and most intense 3 days of their lives!
Reportedly, Moore figured he'd be treating his own side. That assumption soon changed during events in Normandy. Together with Lt Ed Allworth, they took the brave decision that everyone from a German soldier to a French resistance fighter would be tended to.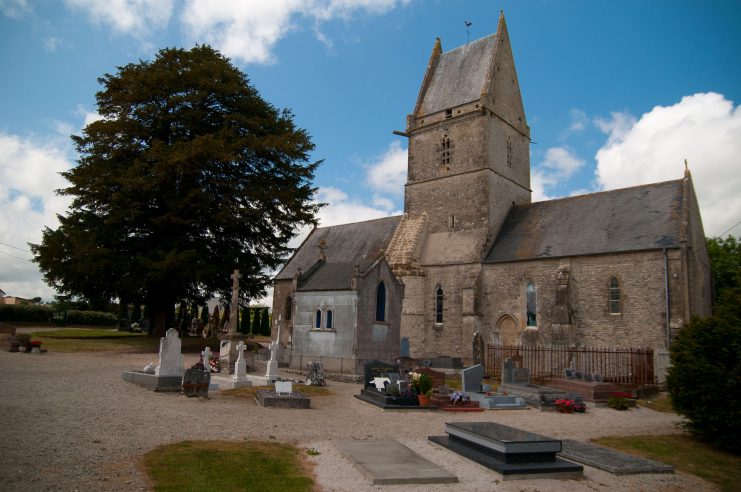 The medics "hoisted a white sheet with a self-painted Red Cross beneath the old bell tower and tried to save the lives of anyone wounded during the American landings on nearby Utah Beach."
"When you cut through a uniform to get to a wound," Moore told the Independent, "it doesn't matter what arm-patch, from what regiment, is on that uniform.
You cut through to save a life." Wright would face down visitors who arrived brandishing weapons at the church door. Unless they left their arms outside, they weren't allowed entry.
Their unorthodox policy was dangerous but necessary. Braving bullets and bombs to collect their "patients", the men grabbed hold of farm carts, barrows and even parachutes when the terrain was bumpy. Whatever helped them push, pull or drag the needy into the House of God.
Not that the Almighty was watchful the entire time – at one point a mortar hit the roof, and Moore was struck on the head by masonry.
Another mortar round came through the window. Amazingly it failed to detonate and had to be lobbed back in the direction it came!
The men knew the risks they were taking by treating combatants – and civilians – of every stripe. What they didn't anticipate was the leeway they were given by military on all sides. Once the enemy – in the shape of the 6th German Parachute Regiment – got wind of what they were doing, they allowed them to move around without fear of attack.
It didn't mean the makeshift hospital wasn't in terrible danger. The war wouldn't stop just because 2 guys were trying to do the right thing.
More than once, a German barged in with his gun raised, before being persuaded to calm down. And talking of raised, Wright and Moore's eyebrows must have hit the ceiling when a couple of German soldiers came down from the church tower.
The marksmen had been hiding up there the whole time, and wound up part of the medical staff as conditions of their surrender.
The scenic location flipped from one side to the other, with Wright and Moore remaining neutral for the good of all. Lt Allworth had to depart once the Nazis got too close – his presence as a fighting man would have put lives in peril.
Yet Wright and Moore stayed put. When German forces finally arrived, they respected the aid station and left them to it… no doubt to the medics' relief.
However, they did have some trouble with fire from a Sherman tank once the cavalry arrived! Thankfully they managed to alert the Americans and avert a last minute disaster.
The hallowed structure still has blood stains on its pews as a grim reminder of times past. Wright and Moore utilized them as beds, and even rested people on the altar.
The wounded were eventually moved onto the floor when no more spaces were available. Despite overwhelming odds, the heroes never lost their determination to save lives.
"Two of our casualties died" said Moore, quoted by the Normandy Then and Now website. "But among those I could tend, none lost their lives. I tended all sorts of wounds, some were skin deep but others were more serious abdominal cases."
The site also draws attention to the memorial outside the church, the inscription on which reads: "In honour and in recognition of Robert E. Wright, Kenneth J. Moore. Medics 2nd Bn 501 PIR 101st Airborne Division. For humane and life saving care rendered to 80 combatants and a child in this church in June 1944.'"
That the men succeeded in preserving life to the extent they did is genuinely awe-inspiring. They received the Silver Star for their service.
In 2011, Wright was awarded the French Legion of Honor during the 67th anniversary D Day celebrations. He passed away 2 years later aged 89 in 2013.
Some of his ashes were smuggled into France, so he could be part of the place that meant so much to him. Ken Moore died in 2014, having reached the milestone of 90, year on from his pal.
Book – "How Easy Company Became a Band of Brothers"
Bob Wright and Ken Moore must have had a huge amount of faith to keep going in that deadly situation. Appropriately enough, it was a religious landmark that formed the venue for this heroic true story…
For more information, we recommend the book Angels of Mercy by historian Paul Woodadge. His website can be found here. And a great documentary from the World War Two Foundation