The bulk of this machine was recovered from Russia and a number of mechanical parts have been recovered separately from various collectors and fairs.
It is a 1941 SDKFZ 223 armoured radio vehicle. The Wheatcroft Collection purchased it from a well-known English collector who recovered the bulk of the armoured remains from a forest where is had lain since hitting a mine during the invasion of Russia.
The chassis and mechanical parts where recovered from a separate location, it being used as some sort of beach buggy in Australia. More recently the Wheatcroft Collection has recovered a number or parts from Poland, Russia and the Czech Republic. The vehicle now is almost complete less radiator, cooling fan assembly, steering wheel, instrumentation and one or two interior fittings.
Once we have these last few parts it is our intention to start its restoration. Whilst the storage container had recently been unlocked we took the opportunity to photograph it before the restoration starts.
Sd. Kfz. 223
An armoured car with similar features to the Sd. Kfz. 221, but with the addition of a raisable frame antenna and a 30-watt FuG 10 medium-range radio set. Later versions of the vehicle were equipped with an improved 80-watt FuG 12 radio set. It was originally armed with a 7.92 mm MG 13 machine gun, but in 1938 this was changed to a Maschinengewehr 34. The crew was increased to three by the addition of a radio operator. Production ran from 1936 to January 1944, with only 567 vehicles being produced for the army. Its full name was Leichter Panzerspähwagen (Fu).
The Leichter Panzerspähwagen (German: roughly "light armoured reconnaissance vehicle") was a series of light four-wheel drive armoured cars produced by Nazi Germany from 1935 to 1944.
The vehicles were developed by Eisenwerk Weserhütte of Bad Oeynhausen by using the chassis of the type Horch 108standard heavy off-road car with an angled armoured body and turret.
Chassis were built by Horch (Auto Union) in Zwickau and assembled by F. Schichau of Elbing and Maschinenfabrik Niedersachsen in Hanover-Linden.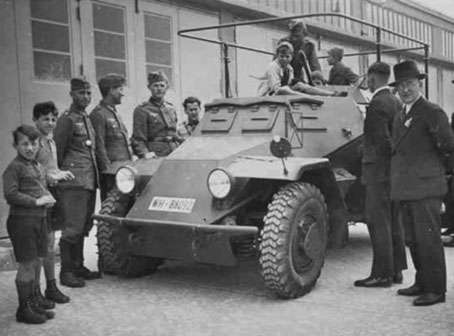 The rear-mounted petrol engine was originally a 3.5 Litre Horch V8 with 75 PS (55 kW; 74 hp) (Ausf. A chassis); from 1942, this was replaced by a 3.8 Litre with 90 PS (66 kW; 89 hp) (Ausf. B chassis), giving it a road speed of 80 km/h (50 mph) and a cross-country speed of 40 km/h (25 mph). It had a maximum range of 300 km (186 mi).
Used by the reconnaissance battalions (Aufklärungs-Abteilungen) of the Panzer divisions, the type performed well enough in countries with good road networks, like those in Western Europe. However, on the Eastern Front and in North Africa, this class of vehicle was hampered by its relatively poor off-road performance. In those theaters, it gradually found itself replaced in the reconnaissance role by the Sdkfz 250 half-track. The Sdkfz 250/9 was a Sdkfz 250 fitted with the same turret as used for the Sd. Kfz 222.
The Sd. Kfz. 222 was examined by Soviet designers before they created the similar BA-64 light armoured car.
Front and sides were made of 8 mm (0.3 in) RHA; thinner 5 mm (0.2 in) plates protected the top, rear, and bottom. Cast vision ports later replaced ports cut into the armour. The open-topped turret was fitted with wire mesh anti-grenade screens. Beginning in 1939, the front armour was increased to 14.5 mm (0.6 in). In 1942, the Ausf. B chassis was introduced; this had 30 mm of frontal armour, as well as a more powerful engine.