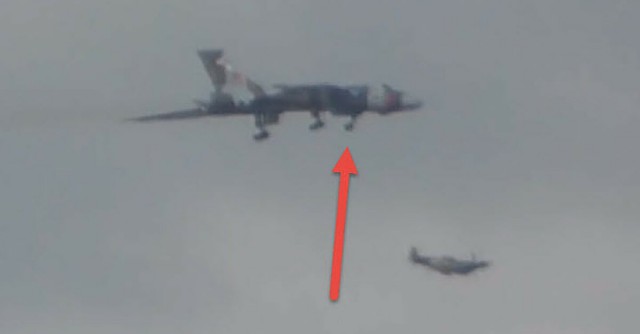 The Scottish Airshow based out of Prestwick airport featured the last flying Vulcan bomber.
As the bomber came into land it experienced a nose wheel failure. It had flown a flypast over the spectators and took a right turn so that it could come into land at Prestwick on runway 30. However as the bomber descended for its landing, its nose wheel didn't automatically dispatch as it should and became stuck half way.
The Vulcan ascended to perform a second flypast and then took to the north of the airport.
It was at that point that another aircraft taking part in the airshow came to the rescue of the Vulcan. A Spitfire which had been part of the Battle of Britain Memorial Flight saw that the Vulcan was getting into difficulty. The pilot called in to the control tower via radio to find out if he could assist the Vulcan in any way and thought that if he could get close enough to see the underside of the Vulcan he might be able to assess what was wrong, The Aviationist reports.
The Vulcan slowed to a speed of around 170 knots as the Spitfire was able to fly right next to its right wing. The Spitfire pilot confirmed via radio that he could see that the nose wheel was only half extended.
The Vulcan pilot decided to take ascend and go round again taking some tight turns. He hoped that this would ensure the nose wheel would free itself and enable it to fully extend. It did. The Spitfire then led the way for the landing and ensured a safe path for the bomber.
The entire incident was caught on camera, here is the video!
Image: YouTube