On May 10, 1945, two U.S. Marine pilots were on a combat air patrol when they came across a lone Kawasaki Ki-45. Realizing there was no other way to take the Ki-45 down, the Marine decided to use his propeller to destroy the enemy plane – understanding the risk that this posed to his own aircraft. This is the story of how Robert Klingman used his propeller to bring down a Japanese airplane and lived to tell the tale.
Who is Robert Klingman?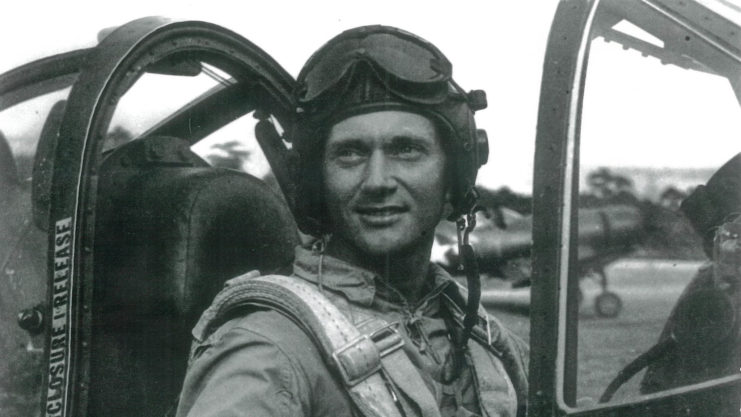 Robert Klingman was born on January 12, 1917, in Binger, Oklahoma. Robert was one of nine children in the Klingman family, and when the Great Depression hit, the Klingman's needed some relief. The family decided to send Robert to the Civilian Military Training program in Fort Sill, Oklahoma.
The Civilian Military Training program took young men to Army camps for a month to introduce them to military life. This allowed parents to get some sort of relief during the Great Depression, as they would not have to worry about feeding their sons for the summer months. This training program also gave young men a chance to experience different army drills, barrack life, and introduced them to common military weapons.
After being introduced to military life through the Civilian Military Training program, Robert Klingman decided to give the Marine's a try. In 1934, after finishing high school, he entered the Marine Corps. He spent four years with the Marines and went on to be qualified with the Browning automatic rifle (also known as the BAR), which was the best light machine gun in the American arsenal.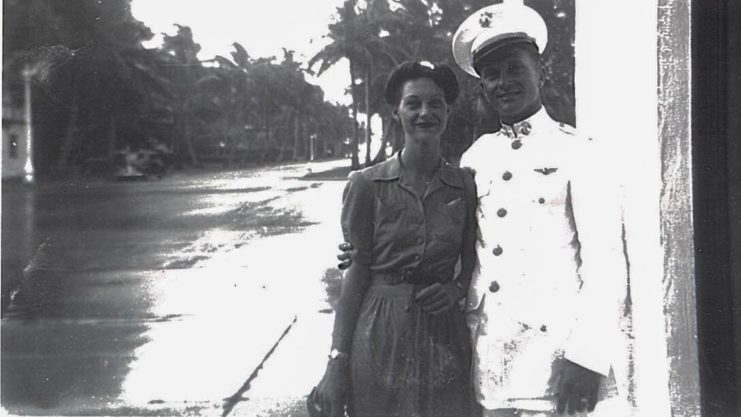 When Robert returned home four years later, he decided to open up a diner known as "Bob's Cafe." Although he had served in the Marines and now had a successful business, Robert found that he was growing bored of the mundaneness of his day-to-day life. Sensing Robert's growing irritation, his brother suggested returning to service but this time with the Navy.
When Robert joined the Navy, he was assigned to the USS Tennessee and sent to San Diego for further training. Robert arrived in California on December 7, 1941, and by the end of the day, Robert had lost many shipmates and all of his personal belongings still aboard the USS Tennessee.
Robert wrapped up training in carrier operations by September 1942, which meant that he was qualified for preflight school. The Navy discharged him as an enlisted man and he became an aviation cadet. At this point, Robert had been out of the classroom for seven years and was the oldest cadet in his program, going up against students fresh out of college. Nonetheless, he pushed himself and graduated in the top 10% of his class. After graduation, Robert was sent off to pilot training, and eventually, he was forced to choose between the Navy and the Marine Corps. For Robert, this choice was a no-brainer, and he decided to go with the Marine Corps.
Pacific Theatre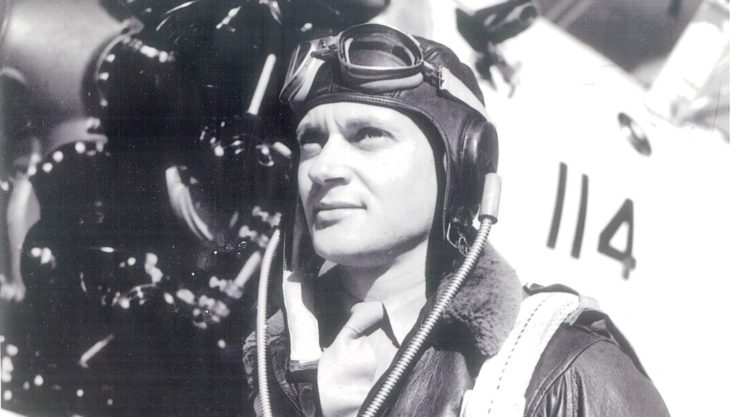 After deciding on the Marines, Robert was sent to Okinawa, where Japanese kamikaze squadrons were destroying American ships. The Japanese used photoreconnaissance, in which Japanese reconnaissance planes would make two full passes of an island or fleet before flying home. These reconnaissance planes would take photos of American ships and then assign kamikaze pilots to destroy these individual American ships.
The Japanese used Kawaski Ki-45, or "Nick" aircraft, to carry out their photoreconnaissance. These Japanese planes could fly higher than any American planes, meaning that any American interception of the reconnaissance missions was extremely difficult for the Americans.
The events of May 10, 1945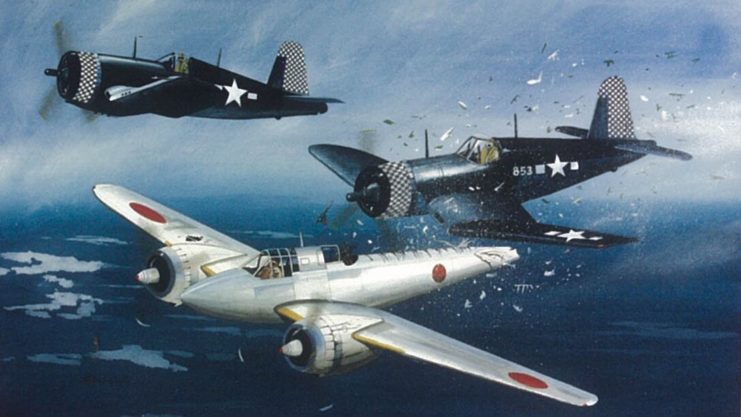 The Marines hatched a plan for the next "Nick" recon flight. On May 10, 1945, First Lieutenant Robert Klingman, Captain Jim Cox, and Second Lieutenant Frank Watson followed Marine Captain Ken Reusser 13,000 feet into the air to prepare to intercept the Nick reconnaissance planes. To put this in perspective, the F4u Corsairs that these men were plotting typically only operated at about 10,000 feet.
At Captain Reusser's command, the planes dropped their belly tanks which contained reserve fuel, to climb towards the lone Nick plane they had spotted, which was flying above 36,000 feet. The four planes reached 20,000 feet and began firing at the lone Japanese plane, without success.
It was at 20,000 feet in the air that Captain Jim Cox and Second Lieutenant Frank Watson's planes started to experience engine trouble, so Reusser ordered them back to CAP over the fleet. The "Nick" was completing its second pass when Captain Reusser decided to take a shot at it out of desperation. This warned the Japanese pilot, and the Nick took off at full speed for home base.
All of a sudden, Klingman and Reusser were off as fast as their planes would go, trailing the Nick. Reusser's Corsair was in range of the Nick first, and he quickly fired the rest of his ammunition at the Japanese plane, causing damage to the right side wing, and causing the right engine burst into flames.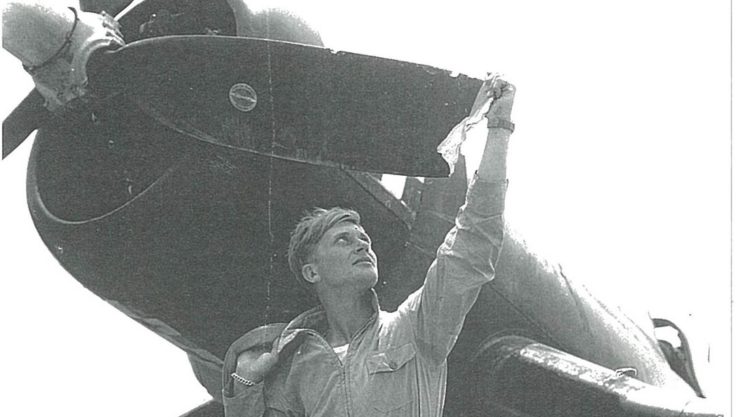 Reusser's ammunition was now empty, so he made room for Robert to finish the job. However, as Robert lined up for the shot, he discovered that his guns had frozen over due to the high altitude. Robert had to think fast and be creative. With no other choice, he came up behind the Nick and sliced into the plane's rudder with his Corsairs propeller.
More From Us: Pepsi Refused to Give a Fighter Jet to a College Student then he Sued them
As daring as this initial contact had been, it wasn't enough to completely bring the Nick down. Robert hit the Nick with his propeller two more times, slicing into the plane's tail and completely severing the rudder and the right stabilizer, causing the Japanese fighter to crash into the South Pacific Ocean. Robert was able to make a dead stick landing at Kadena Airfield and landed safely.
For their bravery, both Captain Ken Reusser and Robert Klingman were awarded the Navy Cross. Reusser would go on to be one of the most decorated Marine aviators in history while Klingman retired a Lieutenant Colonel. Robert Klingman passed away in 2004 and is buried at Arlington National Cemetery.