The first British light tank, the Mark I, evolved from the Carden-Loyd Carrier. The Mark II was produced in larger numbers and issued for service.
Light tanks were regarded as an alternative to armored cars with a better cross-country performance.
New, malleable cast iron tracks, which were far better wearing than earlier types, gave these tanks greater range and modern suspension systems, by Horstman, made them, faster and more comfortable.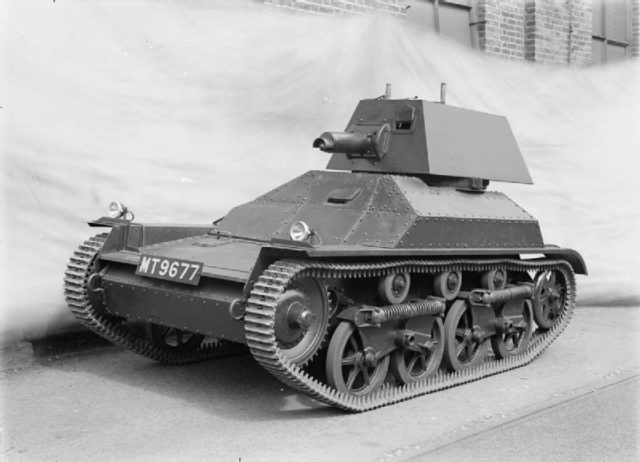 Early light tanks were first fitted with Meadows six-cylinder engines but these were later replaced by Rolls-Royce power units.
The turret, which is turned bodily by the gunner, contains a water-cooled Vickers machine-gun. The driver, who sits below and in front of the gunner is also located alongside the engine, so conditions inside are warm and noisy.
These light tanks served with the Royal Tank Corps in Britain, the Middle East, and India. Many were still in service when the Second World War began.
For a while, they were used for driver training while in Egypt they were issued to newly arrived Australian troops.
Contracts book records the original engine serial as 7619, later replaced by WOG 50. It is now missing. This tank has the No. 1 Mark II turret, with air louvres along the sides, but no anti-splash baffles.
It has the long, 'fish-tailed' silencer characteristic of the Rolls-Royce engined vehicles. 29 tanks on contract.
VEHICLES FEATURES
Full Tracked: Tracks/Wheels
Armament – Main Weapon Type: Machine Gun – .303 Vickers Machine Gun
Engine: Rolls Royce 20/25 6 cylinder
Transmission: 5 Forward, 1 Reverse
Suspension: Horstman Coil Spring
VEHICLE STATISTICS
Number (Crew): 2
Weight (Overall): 4.25tons
Maximum (Speed – Road): 30mph
Type (Fuel): Petrol
Maximum (Armour Thickness): 10.00mm
Caliber (Main Gun): .303in
Power (Engine Output): 66bhp
Volume (Fuel): 27gall
Radius (Range): 150ml
Length (Overall): 3.5m
Width (Overall): 1.9m
Height (Overall): 2.00m
A message from the Tank Museum:
"Please Support Us: As a charity, we rely on public support for all our activities. Our work is funded entirely by people like you. With your support, we can continue to create content. With the right support we might be able to do it more regularly – and can be even more ambitious. Please Click on the Banner Below"