Before the second world war, the Soviets developed several heavy tank prototypes. Other than the mentioned KV models there were the multi-turreted T-35 and the SMK tank. When the Soviet Union invaded Finland, they decided to test the tanks in the field. Both the T-35 and the SMK experienced mechanical malfunctions, and despite their superior firepower failed to pass the test. The KV 1 and 3, however, proved to be both deadly and reliable.
The tanks aligned themselves with the emerging Soviet deep battle doctrine which dictated the use of heavy tanks during a decisive breakthrough on the frontline. Once the breakthrough was achieved, the reserves would join in and push forward deeply behind enemy lines, disrupting the logistics network and ultimately causing the whole front to dissolve.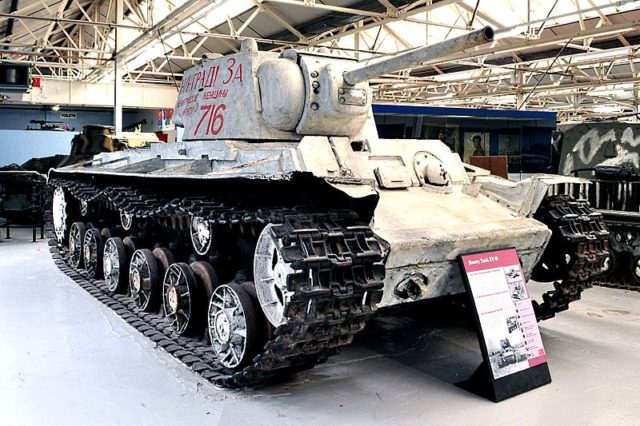 The KV-1 and two were designed to carry out such assaults, but the gap between the Soviet light tanks and its heavy counterparts proved to be one of the main disadvantages of the early years of the Eastern Front. In 1941, there was a limited number of heavy tanks in service, but wherever these war machines encountered the enemy, they left him devastated. So effective was its armor that the Germans were incapable of destroying it with their tanks or anti-tank weapons and had to rely on 88 mm anti-aircraft guns (flak) or 105 mm guns to knock them out.
On one occasion, near the Lithuanian city of Raseiniai, a KV-2 tank destroyed around two dozens of German tanks, delaying the advance on Leningrad. The German tanks were no match for these beasts, as most of the models used at the time were Panzer I, II, and III, all in the light tank category.
Another great example of KV-1 superiority happened in Krasnogvardeysk, near Leningrad, when a squad of five KV-1 tanks staged an incredible ambush that managed to take out 43 German tanks and two self-propelled guns, while not losing a single KV. On one of the tanks that participated in the ambush, there were 135 hits recorded, while not one managed to penetrate the KV-1 armor.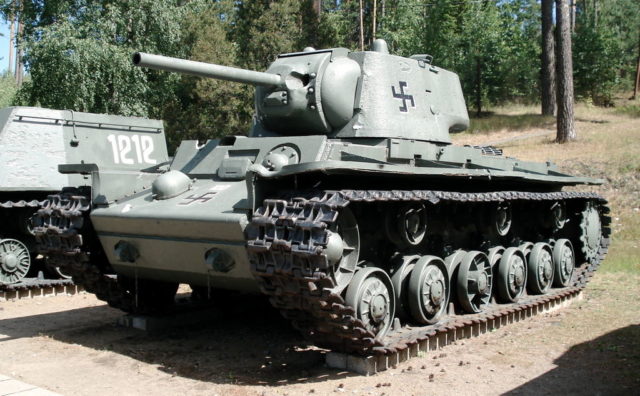 The tank was successfully replaced by the legendary T-34 which equaled the firepower, but excelled in speed and mobility, when compared to the KV tanks. Nevertheless, some of the KV-1 and KV-2 saw action until the end of the war, in theaters such as Manchuria and Crimea. The Finnish Army used two captured KV-1 tanks excessively until the very end of the war.