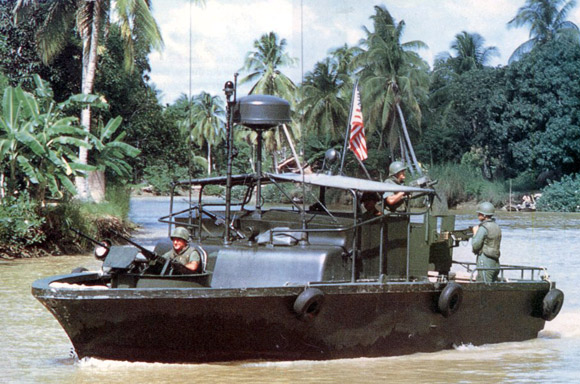 This is one of the PBR-2s as made famous by the 1979 Blockbuster Movie ( APOCALYPSE NOW ) starring Marlon Brando, Martin Sheen and Robert Duvall, Made in 1979 and was a testimonial to the insanity of the Vietnam War.
Patrol Boat, River or PBR, is the United States Navy designation for a small rigid-hulled patrol boat used in the Vietnam War from March 1966 until the end of 1971. They were deployed in a force that grew to 250 boats, the most common craft in the River Patrol Force, Task Force 116, and were used to stop and search river traffic in areas such as the Mekong Delta, the Rung Sat Special Zone, the Saigon River and in I Corps, in the area assigned to Task Force Clearwater, in an attempt to disrupt weapons shipments. In this role they frequently became involved in firefights with enemy soldiers on boats and on the shore, were used to insert and extract Navy SEAL teams, and were employed by the United States Army's 458th Transportation Company, known as the 458th Seatigers
The PBR 's were specifically designed to operate in as little as 2 inches of Water on the Macon Delta. They were propelled by two diesel motors driving Jet Pumps and were very successful. It is 31 Ft. long and 10 1/2 Ft. Wide. This is a Hull only but could be built into a nice speed boat or an inexpensive cosmetically complete static display for a Vietnam Era Museum.
LOCATION : SOUTHERN ALABAMA 36442