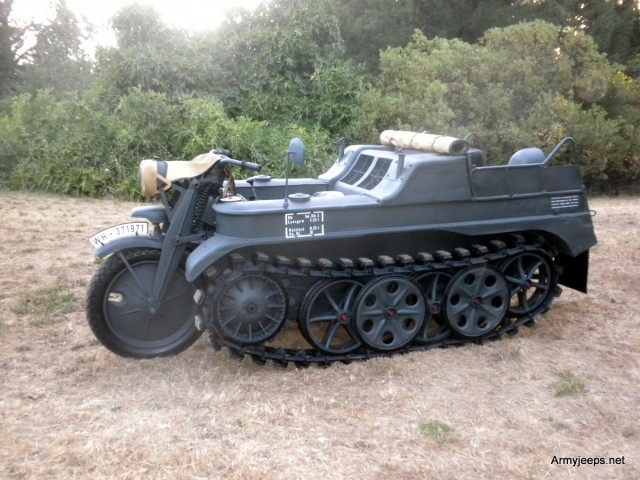 This 1943 Kettenkrad has a 4 cylinder Opel motor that runs great and cool, the transmission has been rebuilt, the Transaxle has been gone through with all new seals, some of the smaller parts are repros but overall a very nice Kettenkrad.
Underneath the primer on the tub you still see the original Panzer gray and two bullet holes on the right side.
Price: $135,000
See more on ArmyJeep.Net
The Kettenkrad
The Kettenkrad is one of the most interesting vehicles from the Second World War. They are loved by collectors all over the world and command a high price at any auction or sale.
The official designation in the German army was the SdKfz 2, Kleines Kettenkraftrad HK 101. The troops shortened this quickly to Kettenkrad.
Being designed as a light gun tractor for Airborne troops and able to be fit inside the hull of the Junkers Ju 52 aircraft. It was not meant to be dropped by parachute; the Ju 52 had to land on a captured airbase and then unloaded.
It was the lightest military vehicle to be mass produced that used the complex Schachtellaufwerk overlapped and interleaved road wheels. This system was used on almost all of Germany's half tracks.
Pictures
See more on ArmyJeep.Net