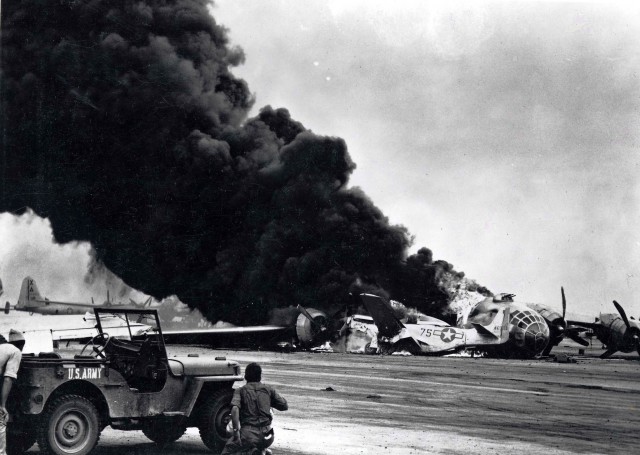 North American P-51 D Mustangs in dire need for help.
B-29 Superfortress crashed during emergency landing and ran into parked P-51 D Mustangs, damaging 9 of them. While all fighters had ammo on board, it was surely not safe to stay close to this scene. Personnel take shelter behind a Jeep expecting worse to come while others tow undamaged aircraft away from the fire.
Photo 1 and 2 are taken on Iwo Jima Apr 24, 1945 (source USAAF).
What less people know, is that this year, it was 75 years ago that the legendary WWII fighter made its Maiden Flight on 26 Oct.1940
Initially designed to use the Allison V-1710 engine, it was first flown operationally by the Royal Air Force (RAF) as a tactical-reconnaissance aircraft and fighter-bomber (Mustang Mk I). Later, an engine conversion to the very British Rolls-Royce Merlin yielded a marked improvement at altitudes above 15,000 ft, that made the aircraft fit to challenge the best of the Luftwaffe's fighters.
The definitive version, the P-51D (as shown on photo's and the prints) was powered by the Packard V-1650-7, a license-built version of the Rolls-Royce Merlin 60 series two-stage two-speed supercharged engine, and heavily armed with six .50 caliber (12.7 mm) M2 Browning machine guns.
The P-51 Mustang was to become a most effective long range and high altitude bomber escort. The aircraft had sufficient space for an unrivaled fuel load and with external fuel drop tanks, it could fly to Berlin and back as the first series made Allied fighter in WWII.
The Mustang made a remarkable career both in the Pacific and the European theater of war. The aircraft design and its engine were a winning combo and soon turned to be superior to earlier US designs. The 8th Air Force began to steadily switch its fighter groups to the Mustang and by the end of 1944, 14 of its 15 groups flew the Mustang. Up to the start of the Korean conflict in 1950, the Mustang was a key factor in aerial combat until the Migs and Sabres took over. But even in 1969, there was a very last aerial dog fighting between piston prop Mustangs and F4U Corsairs in the 4-day war between Honduras and Salvador. For more info and photos about that "Football" war, you should read my book "The Dakota Hunter", for sale as from 20 March at Amazon USA/ UK, Barnes & Noble etc.
For more info, also about the ordering of my book "The Dakota Hunter", please view my new website/ shop at www.dc3dakotahunter.com