The soldiers initially kept him hidden, but this proved to be increasingly difficult as he began to explode in size.
War history is full of stories of animals who have served heroically alongside their human companions. There are many tales of dogs, horses and even cats who have displayed great courage and grit, and who have shown tremendous loyalty to their human friends in times of war.
However, sometimes animals which are not known for their domestic traits get involved in wars too.
One such animal was Wojtek, the Syrian brown bear who accompanied a Polish artillery supply unit into battle in WWII, and who eventually earned himself an honorary rank in the unit and became an internationally-known celebrity for his war service.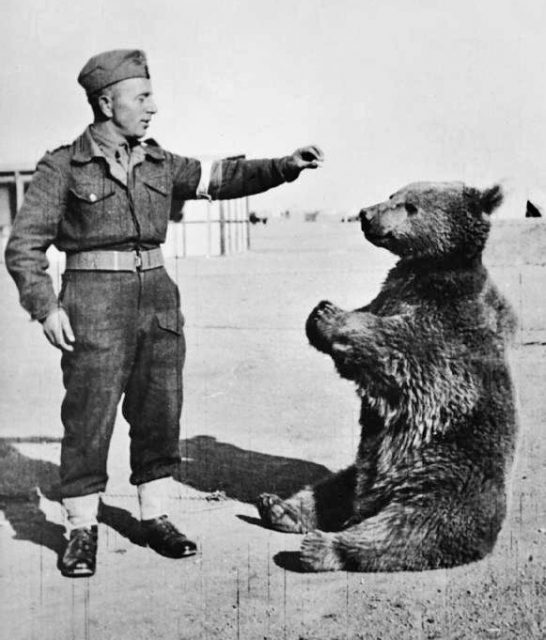 Wojtek's story began in the Hamadan province of Iran in 1942. Orphaned when hunters shot his mother, the cub was found by a young Kurdish boy in the mountains. Luckily for Wojtek – who the boy was not able to adequately care for – a number of Polish troops were moving through Iran at the time, enroute to Egypt.
They were part of Anders' Army, which consisted of Poles who had been imprisoned in the Soviet Union after the USSR's invasion of Poland, and subsequently released to join the Allied war effort. Some of these soldiers came across the Kurdish boy and the very malnourished and weak bear cub in his care.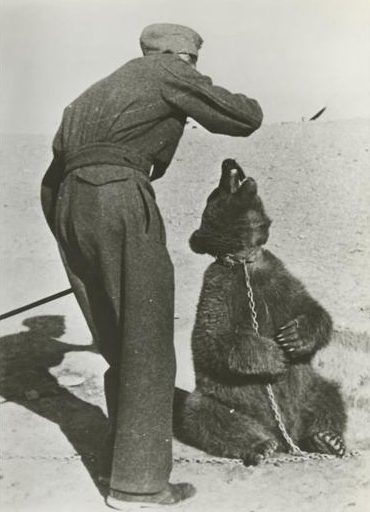 The soldiers took pity on the cub and offered to buy him from the boy. The boy accepted their offer of a few coins, a Swiss army knife and some rations, and handed over the bear cub. Wojtek – as the bear was soon christened – soon regained his health after the Polish soldiers fed him a diet of condensed milk (given via an empty vodka bottle with a rag teat), fruit and honey.
The soldiers initially kept him hidden, but this proved to be increasingly difficult as he began to explode in size. Syrian brown bears are related to European brown bears, and can grow to sizes of around 6 feet in height and 550 pounds in weight.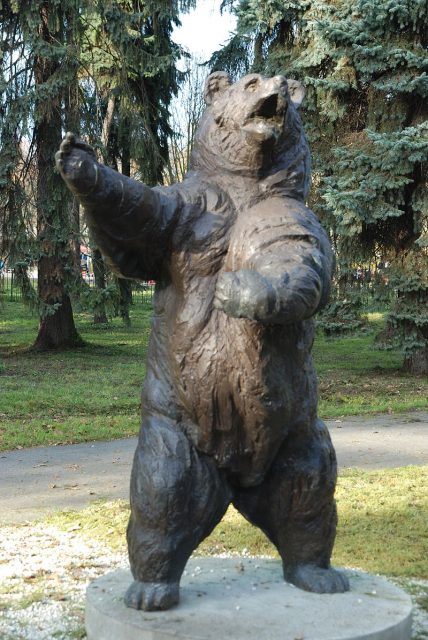 Polish officers eventually discovered Wojtek, but owing to the boost in morale his presence seemed to give the troops, he was allowed to stay. A soldier called Peter Prendys became his main caretaker, and taught Wojtek to salute.
As Wojtek grew larger and older, he was also given treats of beer – which he greatly enjoyed, drinking it from the bottle and downing entire bottles at a time – and cigarettes, from which he would take a puff before swallowing the still-burning cigarette. He also enjoyed wrestling with the soldiers, and chasing after the oranges they threw for grenade practice.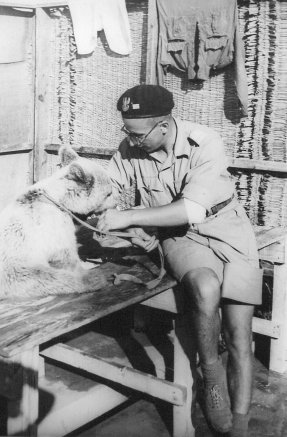 Wojtek struggled with the heat of the desert, and to cool off he learned how to enter the showers and turn on the water. It was because of this habit that he managed to capture an infiltrator who had broken into the camp to try to steal ammunition.
The man hid in the camp showers, but when Wojtek ambled in for his daily cool off session, the infiltrator began screaming with terror. Guards quickly captured the outsider, and rewarded Wojtek with extra beer and unlimited shower privileges.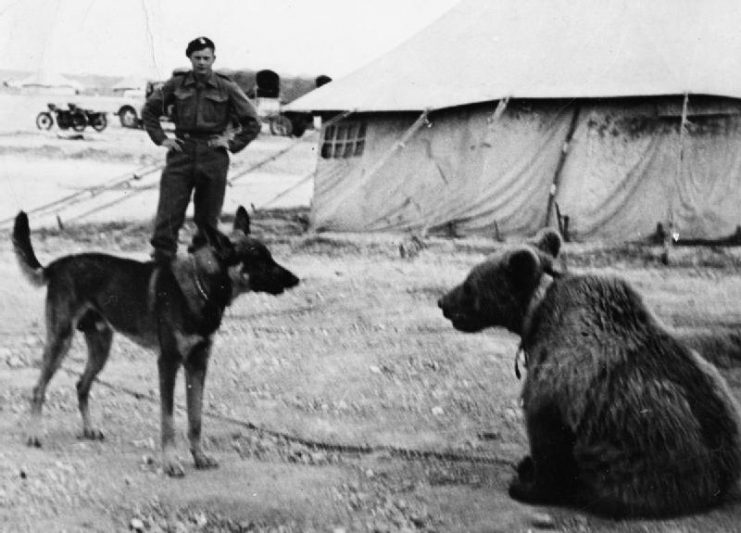 Soon the time came for the Polish troops to head into battle in Italy, but the British authorities in charge of the troopships refused to allow a bear onto their transports. To bypass regulations, Wojtek was "enlisted" into the Polish Army and officially listed as a private of the 22nd Artillery Supply Company, with his own paybook and serial number, with troops Dymitr Szawlugo and Henryk Zacharewicz registered as his official caretakers.
Wojtek was thus allowed to board the troopship, and headed to Italy to join the fight against the Axis Powers.
Wojtek was initially terrified by the noise of battle – which is totally understandable for an animal which hears so much more keenly than we humans do. When he and the Polish troops were exposed to heavy shelling during the Battle of Monte Cassino, he panicked and tried to climb trees to escape the noise.
However, after seeing his Polish friends remain resolute in the face of danger, Wojtek came down from the tree and, amazingly, started to assist them. He carried crates of mortar ammunition, as well as spent artillery shells.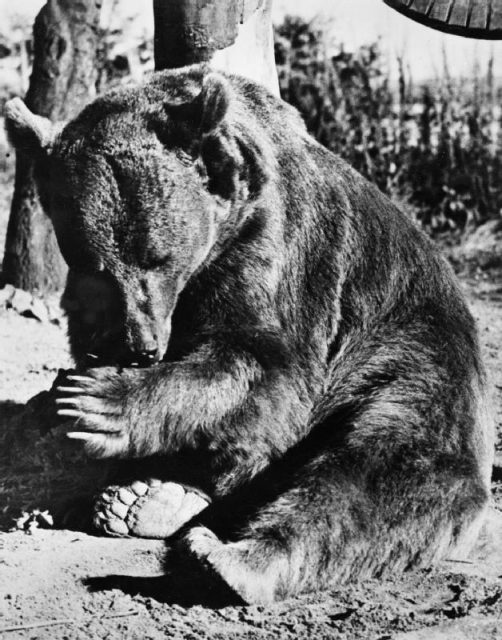 The Allied soldiers, after a tough battle, managed to capture the stronghold on May 18, 1944. In honor of Wojtek's service during the battle, the 22nd Artillery Supply Company changed their official badge to that of a bear carrying an artillery shell.
After the war, the Polish troops did not want to send Wojtek to Poland, as they feared that he might be taken by Soviet supporters and used as a mascot for communism. To ensure that the bear would have the best future possible, he thus accompanied some of the Poles who went to a settlement camp in Scotland.
Wojtek stayed there for a while and was quite happy, but one by one his Polish friends left the settlement camp to start new lives. Eventually, Wojtek had to go too.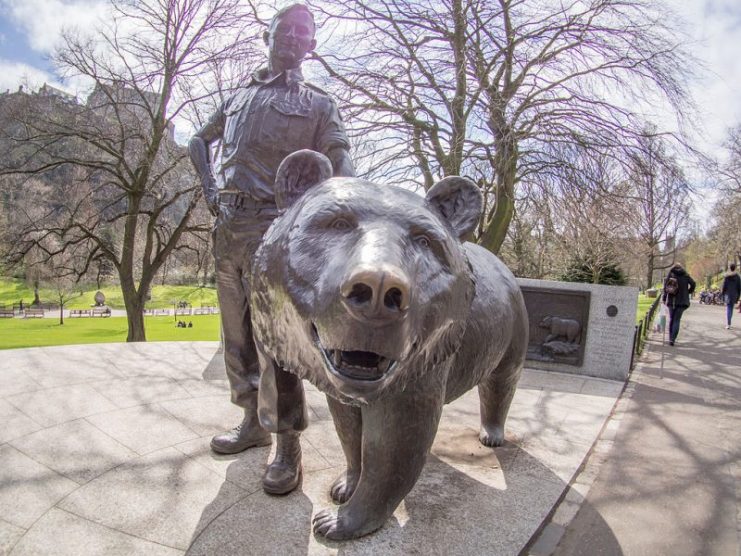 He was moved to the Edinburgh Zoo, but was visited regularly there by his Polish friends, and he became very popular with the locals as well. He didn't forget what he had learned, either: whenever he heard a Polish accent, or anyone speaking Polish, he would stand up and salute.
Read another story from us: Unusual Warriors – Animal Roles in the Military
Wojtek passed away in 1963. In 2013 a statue of Wojtek was erected in Jordan Park, Kraków, and in 2015 a bronze statue of Wojtek and a Polish soldier was unveiled in Edinburgh. A number of books have also been written about him, and an animated movie about his life is in the works.